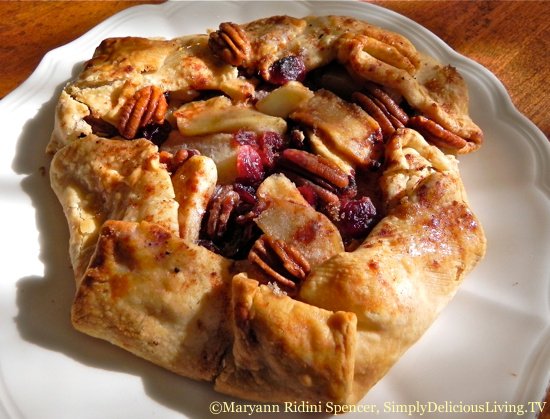 Rustic Pear and Apple Galette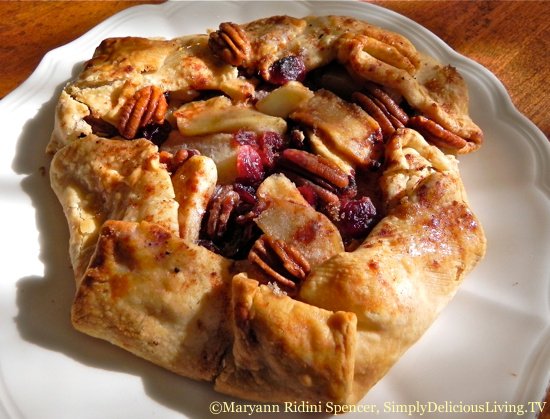 Who doesn't like a delicious dessert? I know I love them. 🙂 But everything in moderation right?  Well, at our house, we try to keep our sweets as healthy as possible and this Rustic Pear and Apple Galette is made with some wonderful, natural ingredients that deliver big on taste!  Enjoy! NOTE: To make this recipe VEGAN, skip the honey!
Rustic Pear and Apple Galette
Author:
©2013 Maryann Ridini Spencer
Ingredients
Pre-packaged (organic or all natural) pie crust
2 c. firm pears, cored, peeled and sliced thin
2 c. firm apples (sweet or tart), cored, peeled and sliced thin
1 c. dried cranberries
¼ c. candied pecans, chopped
3 T. fresh squeezed lemon juice
1 tsp. lemon extract
1 tsp. cinnamon
1 tsp. pumpkin spice
2 T. flour (& 1 T. more for dusting parchment paper)
3 T. honey (or 3 T. organic sugar)
Topping
1.5 T. Pumpkin spice
Instructions
Preheat oven to 350 degrees F.
Unroll pastry dough (at room temperature) to package instructions.
Cut a piece of wax or parchment paper the size of the bottom of the cookie pan you'll be using to bake the galette. Put paper on top of the cookie pan. Set aside.
Peel, quarter and core pears and apples. (1/2" thick slices).
Add pears and apples in a large bowl with lemon juice and lemon extract. Toss.
Add in 2 T. flour, mix.
Add in 2 T. honey (or sugar), cinnamon, pumpkin spice, salt, cranberries and pecans. Mix.
Lightly dust 1 T. flour over the top of the parchment paper.
Unroll the the pastry dough on the parchment paper.
Put fruit mixture in the center of the dough keeping a 1 inch border.
Drizzle 1 T. honey over the top of all the fruit.
Fold up edges of the dough around the fruit (overlapping edges on to each other) forming a circle.
Sprinkle a little bit of pumpkin spice over the top of the galette.
Bake galette for 55 minutes until edges of the galette are lightly brown and the crust is crisp.
Serve dessert hot or at room temperature – by itself or with a dollop of ice cream or whipped cream!
Notes
For this recipe slice the fruit thin (but not so the fruit falls apart). Additionally, if you'd like to make this recipe with only apples, use 4-5 apples only instead of adding in pears.
©2013 Maryann Ridini Spencer/SimplyDeliciousLiving.com
Nutrition Information
Serving size:
1 slice
Calories:
284
CLICK
Maryann's Cookbook
to VIEW a SAMPLE.
Over 40+ delicious and easy-to-make entrées for people on the go! 
Available Formats:
Ebook, Apple iPad, Soft and Hard Cover
.  For more information,
CLICK HERE.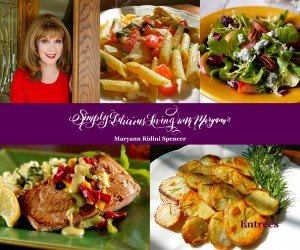 Google+