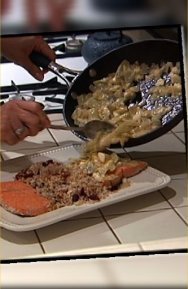 Salmon with Artichokes and Feta
Serves 2-4.
Prep time: 5-10 minutes approx.
Cooking time: 20-30 minutes approx.
Wild Alaskan Salmon is so good for you! It's rich in Omega 3 oils and it tastes divine! I prepare it so many different ways, but I'm always experimenting. A few years ago, when my parents were visiting, looking for a low cal and nutritious alternative, I decided to experiment with artichokes and feta. Needless to say, it became a family favorite! The recipe is simple, easy to make. It's great after you've had a long day at work and don't want to fuss in the kitchen (however, it tastes like you've been slaving over a stove for hours!). Below is also a link to a video of me preparing the recipe for a show no longer in production. However, stay tuned for my new series, "Simply Delicious Living with Maryann (.com)!" Enjoy!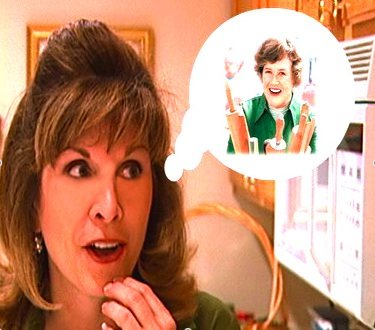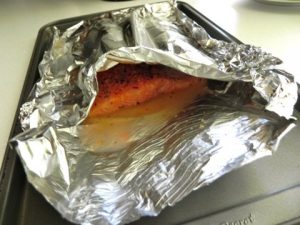 Salmon in a tin foil hut – bake approximately 30 minutes!
Salmon with Artichokes and Feta
Author:
Maryann Ridini Spencer
Ingredients
Salmon to serve 4
¾ bag frozen artichoke hearts
½ container (or 3-4 oz.) Feta crumbles
1 Yellow Onion, chopped
¼ c. fresh garlic, chopped
1-2 T. Olive oil
wild rice (serving for 2-4)
½ c. Dried Cranberries ½ cup Chopped Walnuts
2 T. freshly squeezed lemon juices
½ c. white wine
Instructions
Preheat oven to 400 degrees.
Boil rice following the directions on the bag/box.
Rinse Salmon, put aside.
On a tin foil covered cookie sheet (leaving enough tin foil to wrap over the salmon), sprinkle some fresh, chopped garlic on the tin foil, then drizzle olive oil over the garlic.
Place salmon on the garlic and oil. Pour a little white wine around the salmon
Cinch shut the tin foil around the edges of the salmon (it should look like the salmon is in a hut or a tent), leaving an opening in the front for venting.
Place the salmon in the oven at 400 degrees for approximately 20-30 minutes depending upon the size of the salmon.
About 5 minutes before the salmon is cooked, in a sauté pan on the stove top (over medium heat), pour in little olive oil.
Add in chopped garlic, onions and a splash of white wine. Cook mixture until brown.
Add in thawed artichoke hearts (with artichoke leaves separated a bit) and feta crumbles.
Stir over low heat until the crumbles melt. When the rice has finished cooking, add in dried cranberries and walnuts.
Stir in lemon juice.
Pour mixture into serving bowl. (Keep warm).
When the salmon is cooked, pour the artichoke and feta cheese mixture over the top.
Serve salmon and rice immediately.
Make every meal a gourmet experience!
©2006 – Maryann Ridini Spencer
Google+