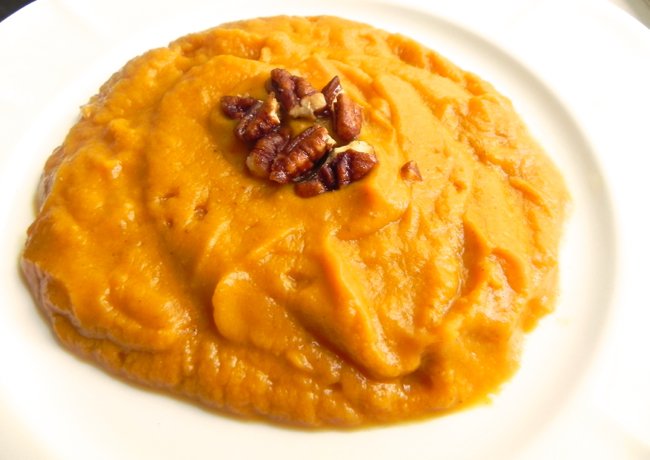 Sweet Potato Puree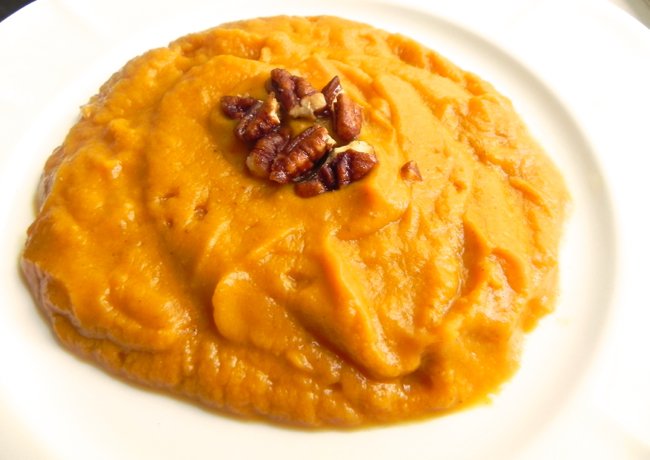 My "Sweet Potato Puree" goes great with a meat or fish entrée — especially during the holiday season!  As a matter of fact, for Thanksgiving, it's become one of the Spencer family's traditional holiday recipes! Its texture is so rich, naturally sweet and dreamy, I also have to admit that I enjoy it as a snack or a dessert! 🙂
Sweet Potato Puree
Author:
Maryann Ridini Spencer
Ingredients
3 sweet potatoes
1 large ripe (or soft) banana
1 can pineapple chunks
¼ tsp. ginger
¼ tsp. pumpkin spice
¼ unsweetened vanilla almond milk
candied pecans
Instructions
Peel and boil sweet potatoes until soft.
Add potatoes, banana, pineapple chunks, ginger, cinnamon, and pumpkin spice into a blender. Puree.
Serve as a side dish with slivers of candied pecans on top. I also love to enjoy as a snack. It's so delicious you can also have it for dessert with extra slices of banana, pecans (and even whipped cream!) on top! Enjoy!
©2015 – Maryann Ridini Spencer, SimplyDeliciousLiving.com
Google+