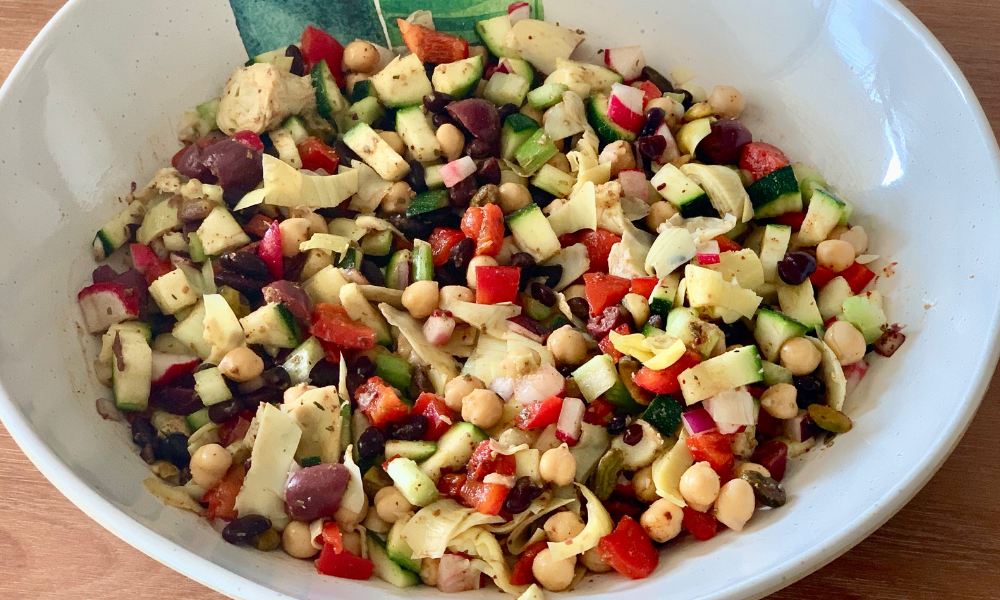 Vegan Antipasto
I grew up in a large Italian-Irish family on the East Coast. Like most families of Italian descent, we customarily enjoyed a delicious antipasto as the first course to our Sunday dinners.Typical antipasto trays include such ingredients as cured meats, olives, anchovies, pepperoncini, various cheeses, artichoke hearts, and veggies in oil or vinegar. Today, my family enjoys a Vegan Antipasto, which has many yummy, clean, heart healthy ingredients.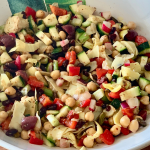 Ingredients
1/2 c. artichoke hearts

1 zucchini, diced

1 red bell pepper, diced

1 c. chickpeas

1 c. black beans

1/4 c. black or Greek olives

¼ c. red onion, diced

¼ c. pistachios

2 c. lettuce mix, chopped

¼ c. lemon juice

1 tsp. Italian Seasoning

½ tsp. garlic powder

¼ tsp. chipotle powder
Instructions
Place ingredients together in a bowl and toss with lemon juice and seasonings to taste. Serve with Multigrain Wasa bread, crostini, or other crackers or bread of your choosing.
Notes
For a dressing, my go-to for this recipe is white wine vinegar and Italian seasonings to taste.
***
FREE SUBSCRIBE TO MARYANN'S LIST: https://bit.ly/2RvA3tG
View & Purchase Maryann's novels & cookbooks: "Lady in the Window" Hardcover, Paperback and eBook — BARNES & NOBLE: http://bit.ly/2FlOBWT AMAZON: http://amzn.to/2qD4YVO
"The Paradise Table" Hardcopy, Paperback & eBook – AMAZON: https://amzn.to/2nl4XZv BARNES & NOBLE: http://bit.ly/2n0aiFw
"Simply Delicious Living with Maryann® – Entrées" Cookbook Hardcopy & eBook — AMAZON: https://amzn.to/2wVSMaW BARNES & NOBLE Hardcover: http://bit.ly/36uJPRU & eBook: http://bit.ly/2PKo0ar
Google+