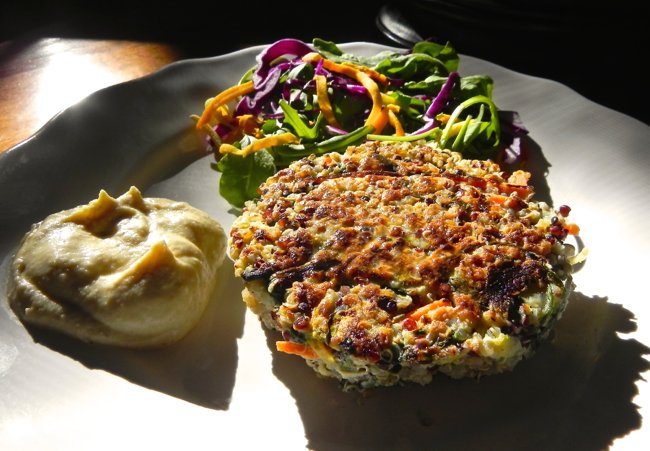 Vegetable Quinoa Cakes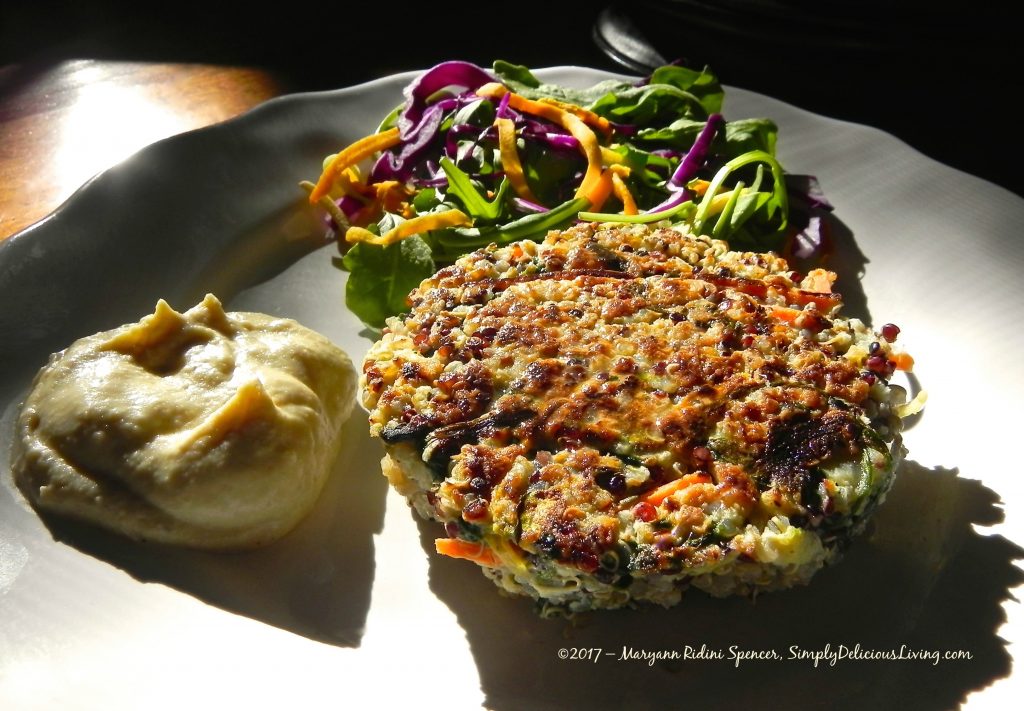 On Sundays, at our house, we love to enjoy a breakfast that's more like a brunch. Sometimes I'll make hash browns or potato latkes to serve with scrambled eggs or an omelette. However, this inspiration for "Vegetable Quinoa Cakes" came to me one day, and it has turned out to be one of my go-to foods — for breakfast, lunch and even a healthy snack. I especially enjoy it with my "Middle Eastern Hummus," although they also go great with my "Chunky Guacamole" or my "Chunky Applesauce."
To make this recipe Vegan, add 2-3 T. extra virgin olive oil to replace the eggs.
This recipe can also be found on this blog in The Plumeria Café. The Plumeria Café is a charming little cafe found in my novel, "Lady in the Window." The book will be in stores May 9, 2017 (from SelectBooks), and it is now available via Pre-Order with FREE shipping:
Click here for Barnes & Noble
Click here for AMAZON
Join me on Goodreads.com
Click here to Find out about & Join my BOOK & COOKING CLUB (Free)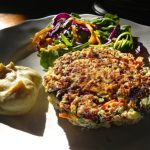 Ingredients
1 c. quinoa (cooked to package instructions)

½ c. onion, diced

1 Italian squash, shredded

1 c. carrots, shredded

¼ c. fresh basil leaves, chopped

2 eggs

½ c. Italian seasoned panko bread crumbs

¼ tsp. Himalayan sea salt

Italian seasoning blend

Garlic powder

1 tsp. fresh lemon juice

Extra virgin olive oil
Instructions
On a stovetop over low heat, drizzle olive oil over the bottom of a skillet.
Add in onions and sauté until soft and slightly golden.
Remove cooked onions from the heat and set aside.
In a large bowl, add in cooked quinoa, onions (cooled to room temperature) squash, carrots, basil, eggs, breadcrumb, salt, Italian seasoning, garlic powder, and lemon juice.
With your hands, mix the ingredients together and form individual patties.
In the skillet you used to cook the onions, add a little more extra virgin olive oil if needed, and place patties around the bottom.
Cook for a few minutes on both sides until the patties are slightly golden.
Notes
SEARCH the recipe names for Middle Eastern Hummus, Chunky Guacamole or Chunky Applesauce to get the recipe print outs. If you'd like to make this recipe VEGAN, substitute the eggs for 2-3 T. of extra virgin olive oil.
Google+