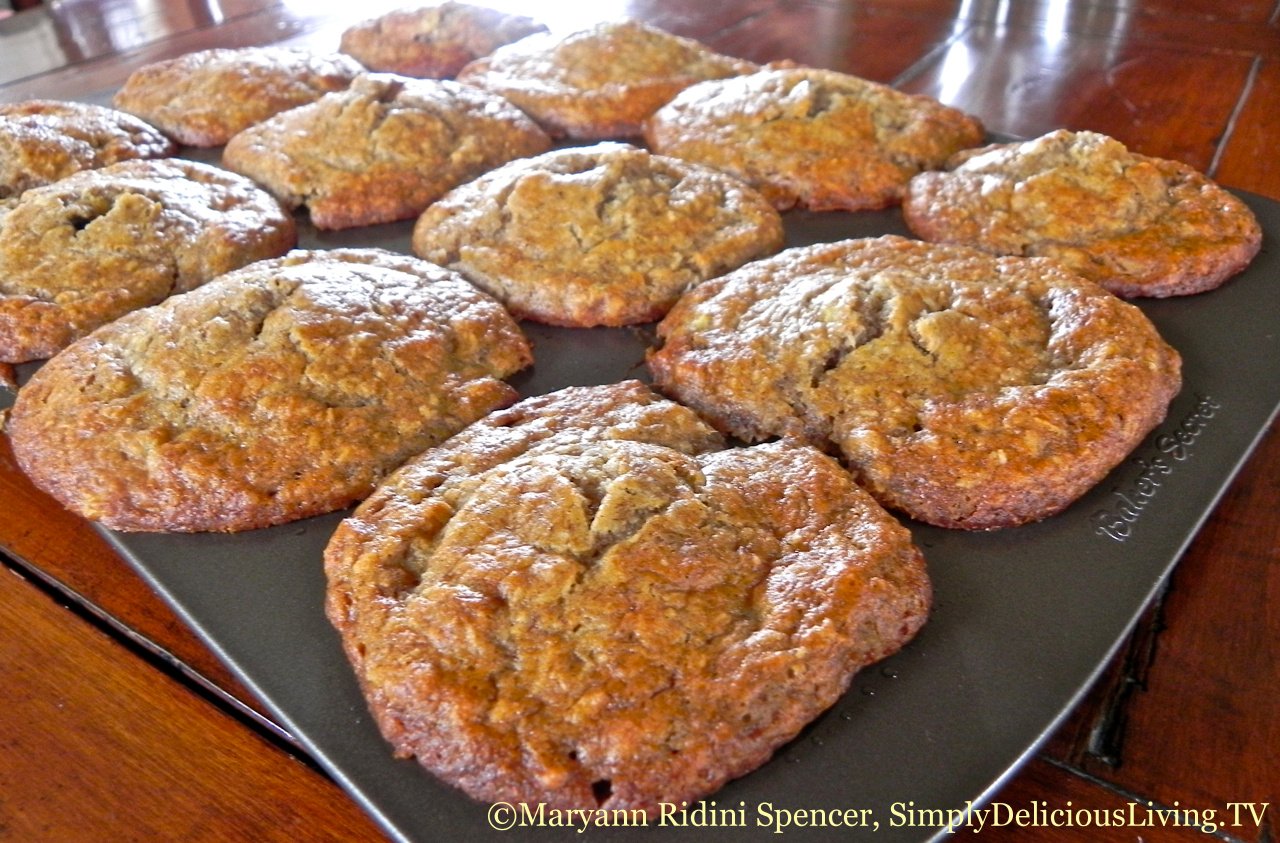 Banana Pineapple Coconut Muffins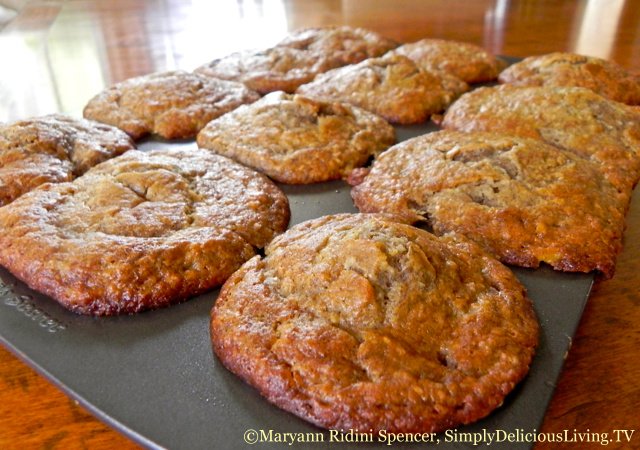 Start your day off with some wonderful ingredients from the tropics! My Banana Pineapple Coconut Muffins are simply yummy to enjoy for breakfast with eggs, an omelette or quiche. They're also great with a cup of Earl Grey for afternoon tea. Additionally, whenever I serve cakes, breads or dishes with banana, my husband likes me to mix in a little bit of pineapple. I made these muffins for a special Father's Day breakfast. They were sooooo delicious! Enjoy!
(Note: To make these muffins gluten free, Whole Foods sells The Pure Pantry's gluten free Organic All Purpose Baking Mix that you can substitute for flour. The mix is gluten free, dairy free, soy, nut and egg free! It's made with organic brown rice flour, corn flour and tapioca flour, etc.

Banana Pineapple Coconut Muffins
Author:
Maryann Ridini Spencer
Ingredients
1 ½ c. all-purpose flour (or Pure Pantry's Organic & Gluten Free Baking Mix)
¾ c. sugar
2 tsp. baking soda
¼ tsp. salt
2 T. cinnamon
¾ c. macadamia nuts (or walnuts), coarsely chopped
½ c. coconut oil
2 eggs
3 medium to large ripe bananas, mashed
1 c. pineapple, crushed
½ c. shredded sweet coconut
1 tsp. lemon extract
3 T. coconut milk
Instructions
Preheat oven to 350 Degrees F.
In a bowl, stir together flour, sugar, baking soda, salt, cinnamon, and nuts.
In another bowl, with an electric mixer, beat together oil, eggs, bananas, pineapple, shredded coconut, lemon extract and coconut milk. Mix.
Add in half of dry mixture to wet mixture. Mix. Add in second half of dry mixture and mix.
Spoon batter into greased muffin tins. Muffin tins will be full.
Bake in the oven for 20-25 minutes.
After 25 minutes, insert a toothpick into the center of one of the muffins. If the toothpick comes out clean, the muffins are done.
Cool muffins in the muffin tin for approximately 5 minutes.
Serve warm or at room temperature with honey or butter.
©2013 — Maryann Ridini Spencer
Banana Pineapple Coconut muffins are inspired by the place my family loves – Hawaii!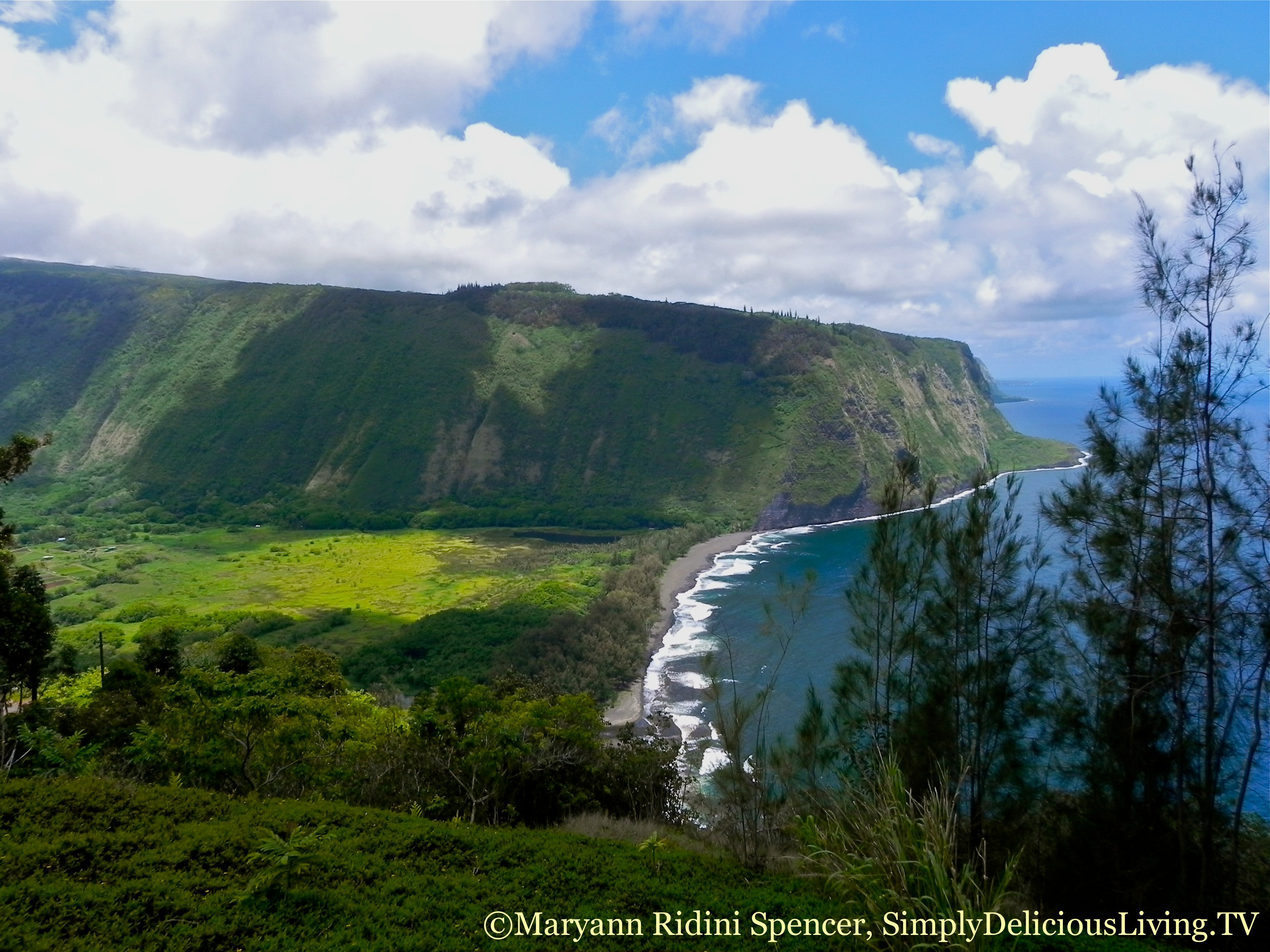 Pictured Above: Hawaii's Waipio Valley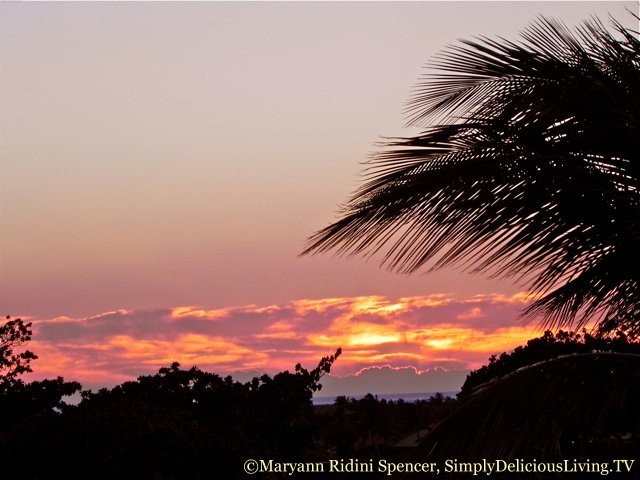 Pictured Above: Kona Sunset
LIKE Simply Delicious Living with Maryann® on Facebook, CLICK HERE.
SIGN UP for our FREE monthly newsletter – lots of great articles, cooking videos, decorating tips and body•mind•spirit inspirations!, CLICK HERE.
WATCH US on YouTube on your computer, on your mobile device or iphone at SimplyDelishLiving Channel (and/or Maryann Ridini Spencer)
WATCH Simply Delicious Living with Maryann® on PBS Television in Southern California and in First Run Television Syndication. For more information, visit: SimplyDeliciousLiving.TV and RidiniEntertainment.com
Google+