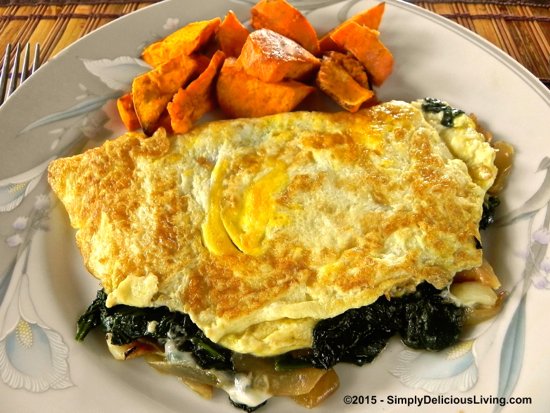 Did you know that in the United States the average American family of four will toss out $1600 dollars worth of groceries every year?  A great way to curb the food waste in your home is to create great tasting dishes with any leftovers you might have.  For this recipe, I used some dinner leftovers — vegetables (sauteed spinach and onion) and roasted sweet potatoes.  I put the spinach and onions into the center of my breakfast omelette, adding a bit of feta cheese for extra taste.  I served the dish with warmed leftover roasted sweet potatoes as a side. The result was a simply memorable and yummy breakfast!
Find creative ways to use your leftovers and help reduce the amount of food you and/or your family wastes!  Feel free to comment below and let me know some of your leftover ideas.

Breakfast Veggie Omelette
Author:
Maryann Ridini Spencer
Ingredients
leftover sauteed spinach and onions
4 eggs
¼ c. coconut milk
feta cheese crumbles
leftover roasted sweet potato wedges
extra virgin olive oil
Instructions
Crack 4 eggs into a glass bowl and add coconut milk. With a fork, whisk the ingredients together.
In a 7-10 inch non-stick skillet on the stove top over medium heat, add a few drops of olive oil to coat the pan.
Pour in egg mixture.
With a spatula, GENTLY PUSH cooked portions from edges toward the center with inverted turner so that uncooked eggs can reach the hot pan surface.
When the top surface of the eggs is thick, and no visible liquid remains, place leftover sauted spinach mixture on one side of the omelet. FOLD omelet in half with a spatula or pancake turner. With a quick flip of the wrist, turn pan and INVERT omelette onto a serving plate.
Serve immediately with leftover roasted sweet potatoes and toast.
©2015 –
Maryann Ridini Spencer,
SimplyDeliciousLiving.com
Google+