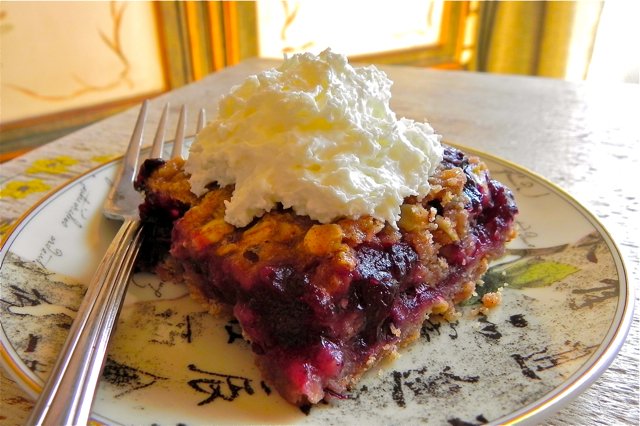 Cranblueberry Squares
When I was growing up, my Mom made a delicious dessert known as "Cranberry Squares" that our family just loved after a meal or enjoyed as a snack. However, a few years ago, after I enjoyed the flavors of cranberries mixed with blueberries, I decided to alter Mom's recipe a bit adding both of these delicious ingredients into the mix. The result was so scrumptious that it's now become our new family favorite!
Cranblueberry Squares
Author:
Maryann Ridini Spencer
Ingredients
1 c. organic brown sugar
1¼ c. organic rolled oats
1½ c. organic flour (whole wheat, all-purpose or gluten free)
½ tsp. salt
2 T. cinnamon
1¼ tsp. pumpkin pie spice
2 T. lemon extract
1½ sticks butter
1 c. organic whole berry cranberry sauce**
2-3 c. fresh blueberries (to generously distribute)
2 diluted egg yolks
coconut oil
Instructions
Preheat oven to 350 degrees F
Put all the dry ingredients in a large bowl with the butter.
Cut the dry ingredients and butter with a knife until they form small lumps (mixture will be crumbly).
In a separate bowl, mix the cranberry sauce and blueberries lightly.
Spread a little coconut oil over the bottom of a 9 x 13 inch non-stick pan, then line the bottom of the pan evenly with half of the mixture. Pack the mixture down so it forms a firm crust.
Spread the cranblueberry mixture evenly over the crust.
Put the second ½ of the dry mixture over the top of the cranblueberry sauce. Lightly sprinkle some additional cinnamon over the top.
With a pastry brush, spread diluted egg yolks over the top of the dry mixture topping. (Note: dilute the egg yolk with a few sprinkles of water and beat with a fork).
Bake in the oven at 350 degrees F for approximately 35-45 minutes (top will be golden).
Cool cranblueberry squares in the pan on a baking rack until at room temperature. Cut mixture into 2″ squares and refrigerate for several hours.
Notes
Cranblueberry squares can be served cold or warm. Keep in refrigerator to keep fresh. This recipe goes great with vanilla ice cream or a dollop of whip cream!

**Cranberries are in season September – December. So if you're making this dish during the cranberry season, you can use fresh cranberries. To do so, instead of using the can of whole berry cranberry sauce, Substitute: 12 ounces of fresh cranberries and mix in ½ c. brown sugar, 1 tsp. of vanilla extract and 1 tsp. lemon extract. Then add this mix to the other ingredients following the recipe above. Taste test the cranblueberry mixture when all the ingredients are mixed together and before you pour it onto the rolled oats. If you find you'd like it a little sweeter, add in a little more brown sugar.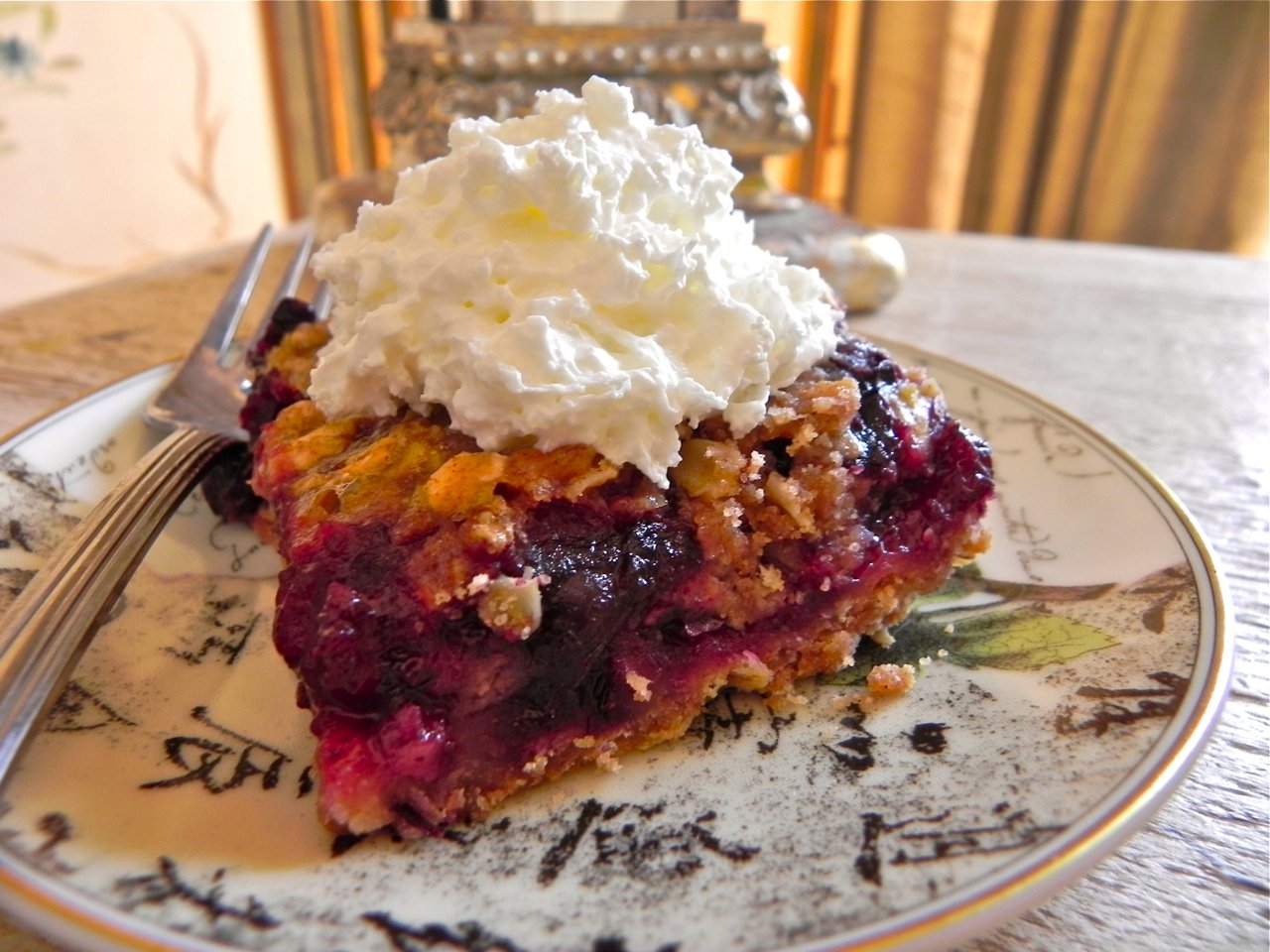 Enjoy!
©2012 – Maryann Ridini Spencer
Google+