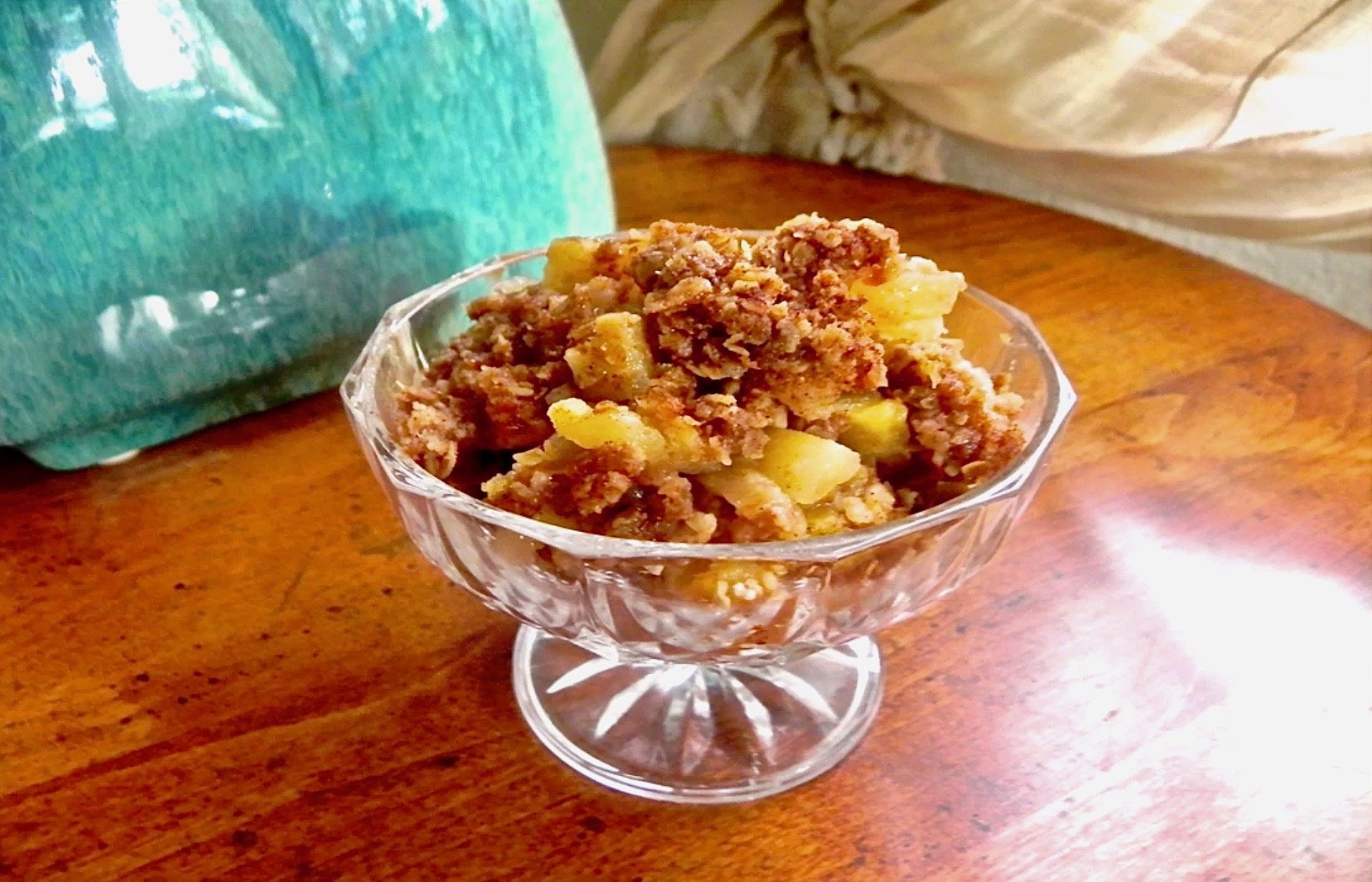 Lo-cal Fruit Crisp (no sugar added!)
I love sweets, but I try to avoid processed sugar. The only sweetness you'll find in this simple and healthy recipe is from fresh fruit mixed with some delicious spices. (New updated recipe below from November 2020 adds walnuts and coconut oil vs. butter)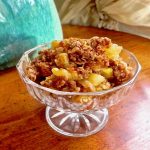 Ingredients
4-6 sweet large apples (Jazz, Fuji, etc.) approx. 3 c., peeled and diced

2 T. freshly squeezed lemon juice

2 c. pineapple, diced (fresh or canned in its own juice and drained - you can also use frozen blueberries if you prefer)

1 c. unsweetened applesauce

1 tsp. cinnamon

1 tsp. pumpkin pie spice

1/4 tsp. allspice

1 tsp. lemon extract

coconut oil

coconut oil spray

Topping Ingredients:

1/4 c. organic unrefined cold-pressed extra virgin coconut oil (make sure it's in solid form).

1/2 c. oatmeal (quick. oats)

1/2 c. almond meal (or whole wheat flour)

1/4 c. diced walnuts

1/4 c. coconut flakes

1 tsp. cinnamon

1 tsp. pumpkin pie spice

1/4 tsp. allspice
Instructions
Pre-heat oven to 350 Degrees F.
Rub coconut oil over Pyrex dish.
Add in apples, lemon juice, pineapple, applesauce, and lightly mix.
Mix in spices and lemon extract and set aside.
Topping Directions

In a bowl:
Add in coconut oil (solid form), oats, flour, spices, walnuts, and coconut flakes.
Cut coconut oil into flour mixture with two knives and cut until butter forms into. small balls.
Spread mix over the top of the fruit in the Pyrex dish.
Generoussly coconut oil spray over top of dish (this will keep the dry topping moist while cooking).
Bake in the oven at 350 Degrees F for 40-45 minutes.
Serve dish by itself (warm) and with coconut milk ice cream or whipped cream (optional).
Notes
©https://MaryannRidiniSpencer/SimplyDeliciousLiving
Google+