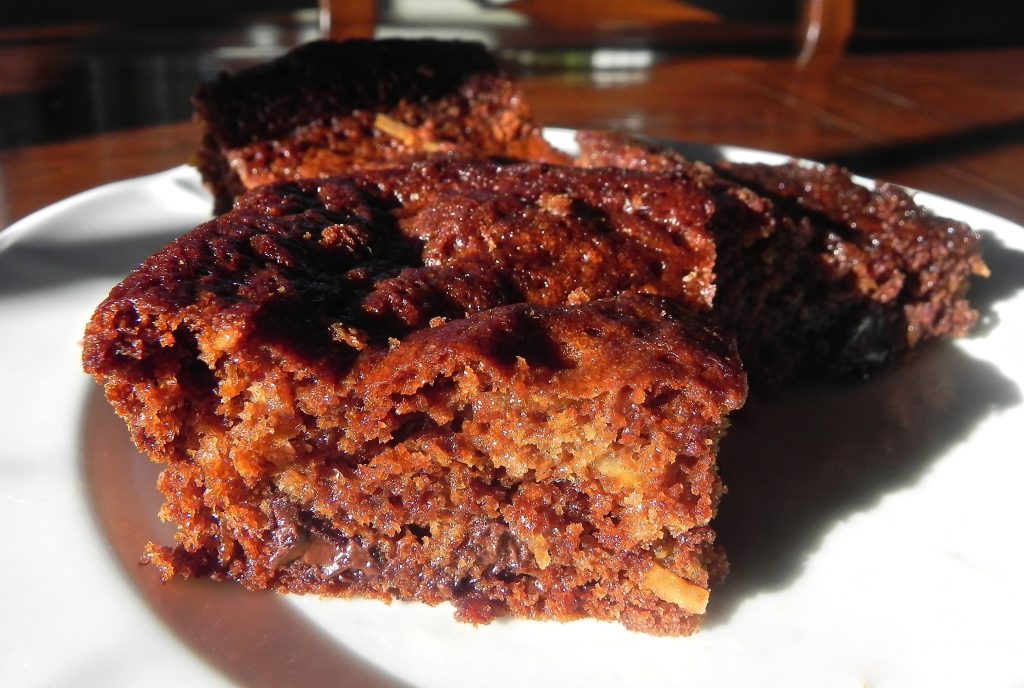 Whenever I get a craving for sweets, it's usually for something chocolate. However, most brownie recipes call for processed granulated sugar or artificial sweeteners.
In our house we like to keep it fresh, natural and organic …why? It's healthier for you.
So, for this Chewy Coconut Brownie recipe, I use a natural sweetener – raw honey and instead of butter, and I use coconut cream concentrate, also called coconut butter, which is pureed coconut meat. (Not to be confused with "Cream of Coconut"). With coconut cream concentrate you get all the healthy fats and fiber.
To make this recipe Gluten Free use a Gluten Free Flour that you can purchase from markets like Whole Foods or The Pure Pantry.

Chewy Chocolate Brownies
Author:
Maryann Ridini Spencer
Ingredients
½ c. coconut cream concentrate
2 squares of baker's chocolate (unsweetened)
¾ c. organic honey
2 eggs
½ tsp. baking soda (if want recipe to rise)
¼ c. organic whole wheat flour
½ tsp. Himalayan sea salt
1 tsp. vanilla extract
⅓ c. shredded sweet coconut
1¼ c. semi-sweet chocolate morsel chips
Instructions
Preheat oven to 300 degrees F
Grease and flour an 8x8 or 9x8 baking tin.
In a large bowl, add in eggs, vanilla and honey. Beat well with an electric mixer.
In a saucepan on the stovetop over low heat, add in coconut cream concentrate and chocolate, melt (stirring constantly) and remove from heat and add to the egg mixture, beat well.
Fold in the flour, baking soda, salt, ½ c. chocolate morsels and shredded coconut.
Pour into greased pan.
Spread a ¼ c. of the chocolate morsels over the top of the brownies.
Bake for approxiately 30-35 minutes.
Note: At about 25 minutes into cooking the brownies, sprinkle the remaining ½ c. morsels over the top of the brownies.
(Check brownies to see if they are baked by inserting a toothpick or knife into the center and if it comes out clean, brownies are done. Be careful not to over bake or you will dry out the brownies. The brownies will be moist, not completely dry.).
Serve hot or cold.
Notes
These brownies are fantastic as is. However, if you really want to be decadent, top with fresh strawberries or blueberries or So Delicious Vanilla Almond Chip ice cream (made with coconut milk!).
Google+