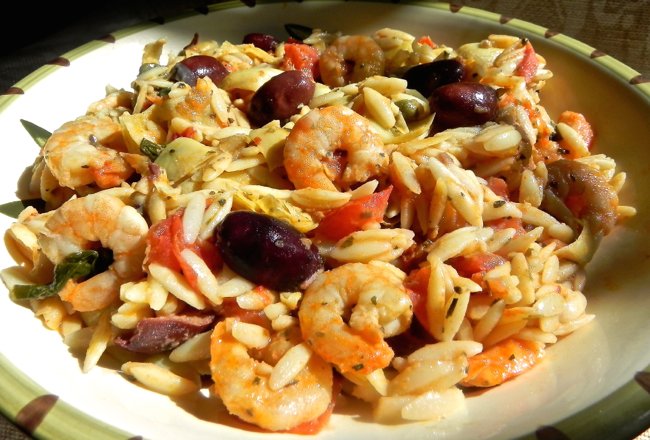 Kate's Orzo Salad (PBS-TV, VenturaCountyStar.com)
In addition to my passion for cooking, if you don't already know this about me, I have a passion for writing – everything from screenplays, to television, cookbooks, newspapers, and magazines…and in Spring 2017, my first novel, "Lady in the Window" was published.
"Lady in the Window" is available in bookstores and online:
In "Lady in the Window," the main character, Kate Grace, a lifestyle journalist, loves to cook. She makes this yummy recipe, a tasty Orzo Salad, for her friend Olivia. I hope you enjoy the recipe.
CLICK the PHOTO BELOW to WATCH "Kate's Orzo Salad" Recipe video in Maryann's Simply Delicious Living column @VenturaCountyStar.com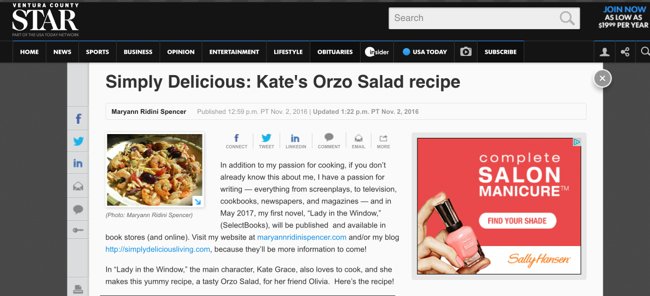 HOW TO WATCH Simply Delicious Living
WATCH the show on PBS-TV (Southern California), Roku, YouTube & right here! Click here for more information on Show Markets.
CLICK HERE to Find out more about "Lady in the Window" a novel by Maryann Ridini Spencer
Find out more & JOIN Maryann's Book & Cooking Club (FREE)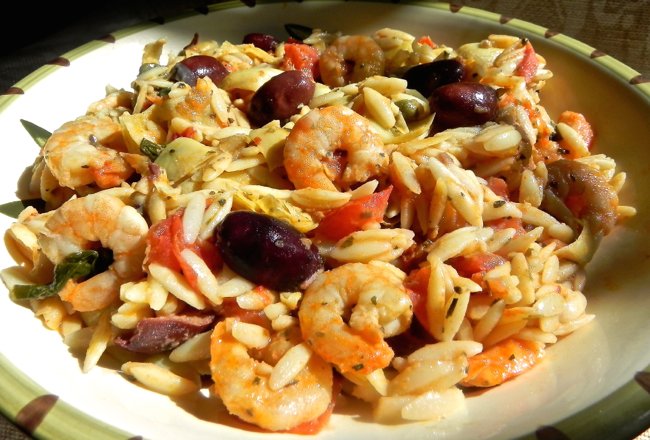 Kate's Orzo Salad
Ingredients
1.5

lbs.

jumbo shrimp, cooked, deveined, and thawed (minus shrimp for Vegans or Vegetarians)

1.5

c.

orzo for 4 cooked to package instructions

1/2

c.

onions, diced

4

garlic cloves, diced

1 1/4

c.

Roma tomatoes, diced

2

T.

butter (vegan or other)

1/3

c.

fresh basil, diced

red chili pepper flakes, a dash or two

1

c.

artichoke hearts (in water, drained) and diced

1/2

c.

sundried tomatoes (in oil, drained)

2

T.

capers (optional)

1/2

c.

Kalamata olives, sliced in half

1

T.

Italian seasoning blend

1/4

c.

freshly squeezed lemon juice

organic extra virgin olive oil
Instructions
Cook orzo to package instructions

Drizzle olive oil into a skillet on the stovetop over low heat.

Add onion and garlic and sauté until slightly golden.

Add Roma tomatoes, basil, butter, pepper flakes, artichoke hearts, shrimp, and sundried tomatoes and stir for 2-3 minutes.

Add capers (optional), olives, Italian seasoning, lemon juice, Mix and taste. If needed, mix in more seasonings to desired taste.
Notes
This dish is excellent as a main course or side dish. Serve it hot or cold! Store leftovers in the fridge. It's incredible the next day after the flavors marinate.
Tip for leftovers: This dish can also be served with balsamic or white wine vinegar (to taste).
©2017, Maryann Ridini Spencer/Ridini Entertainment Corporation

For other RECIPES from Maryann's novel, "Lady in the Window," visit The Plumeria Café on Maryann's Simply Delicious Living blog, RIGHT HERE!
Google+