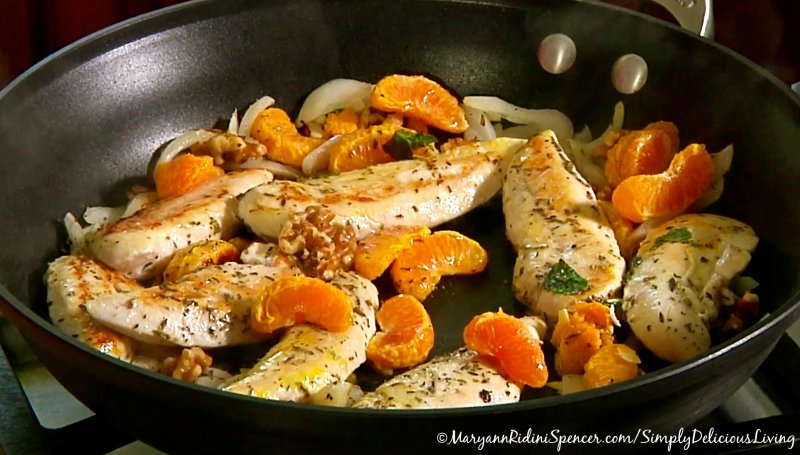 Mandarin Chicken with Walnuts
Radio Personality (and my neighbor!) Kim Pagano recently visited me in my kitchen during a taping of Simply Delicious Living. We had a blast!
You can make "Mandarin Chicken with Walnuts," for a yummy, easy-to-make lunch or dinner in 30 minutes or less. The sweet Mandarin oranges mix well with the freshly squeezed lemon making the chicken moist and tender and the sprigs of fresh mint add a cool pop, which mixes divinely with the other ingredients.
If you haven't tuned in to Kim's popular radio show, you must. Listen to "The Kim Pagano Show" on KVTA 1590 AM Radio, Saturdays, 6:00-7:00 am and 7:00-8:00 am. You can also listen LIVE and find out more about Kim and the show at KimPaganoShow.com.
WATCH "Mandarin Chicken with Walnuts" below:
Mandarin Chicken with Walnuts
Author:
Maryann Ridini Spencer
Ingredients
organic boneless chicken tenders
½ c. sliced onions
3-4 garlic cloves, diced
lemon juice, freshly squeezed (1/2 of a large lemon)
2 c. fresh Mandarin orange slices (approx)
⅓ c. walnut pieces
fresh mint sprigs
organic extra virgin olive oil
Instructions
drizzle organic extra virgin olive oil in a skillet over low heat.
Add in onions and garlic and sauté until soft.
ADD IN:
chicken tenders (or chicken breasts thinly sliced)
a few dashes of Herbs de Provence
garlic salt and garlic powder
freshly squeezed lemon juice
fresh Mandarin orange slices
walnut pieces
fresh mint sprigs
Notes
Note: Serve chicken with quinoa or rice and with a large green salad
©2017 Maryann Ridini Spencer,
SimplyDeliciousLiving.com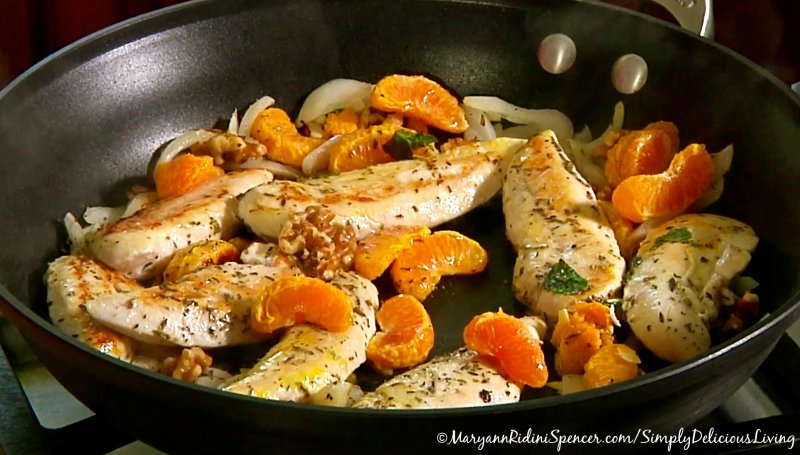 Google+