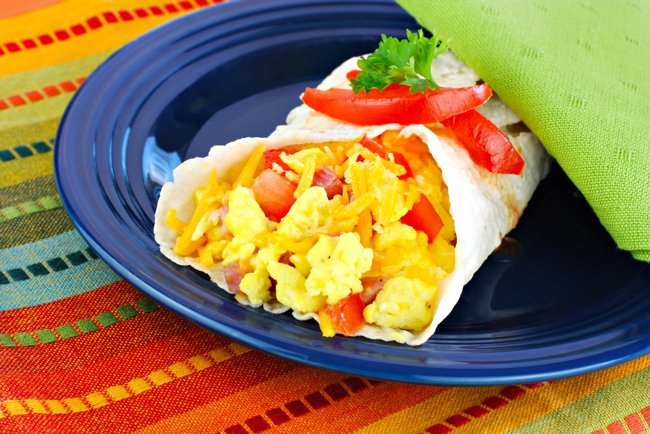 At our house, we love eggs for breakfast.  However, sometimes we want to change up the typical omelette or scrambled eggs and have something a little more spicy to start the day!  This Mexican Egg Wrap, with sauteed red and green peppers, onions, avocado, cilantro, and other goodies, is just the thing.  It's easy to make, healthy and delicious!
Mexican Egg Wrap
Author:
Maryann Ridini Spencer
Ingredients
4 eggs
¼ c. coconut milk
¼ c. diced white or red onion
¼ c. diced green pepper
¼ c. diced red pepper
2 garlic cloves diced
½ c. diced tomatoes
few sprigs of cilantro
½ avocado, sliced
¼ c. shredded sharp cheddar cheese
2 large organic whole-wheat tortillas
extra virgin olive oil
Instructions
Drizzle oil in skillet on the stovetop over low heat.
Add in peppers, onion and garlic and sauté until slightly golden. Remove skillet from the stovetop and put cooked ingredients into a bowl and set aside.
In a small bowl, add in eggs and coconut milk. Blend eggs and milk with a fork.
Without washing the skillet, drizzle a little more olive oil into a skillet on the stovetop over low heat.
Add in eggs.
With a spatula, fold eggs over to make scrambled eggs. When eggs are done, set aside.
Place 2 large tortillas on two separate plates.
Put equal amounts of scrambled eggs on each tortilla shell.
Divide the following ingredients equally on both shells: onion and pepper mixture, cheddar cheese, tomatoes, and cilantro.
Roll the shells forming a long cylinder.
With a sharp knife, cut each cylinder in half, so on each plate, there are two halves of the egg wrap.
Serve by itself and/or with your favorite salsa.
©2015 –
Maryann Ridini Spencer,
SimplyDeliciousLiving.com
Google+