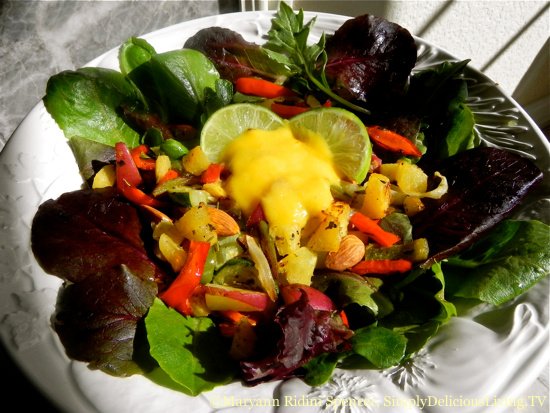 Roasted Veggie Salad with Mango Coconut Purée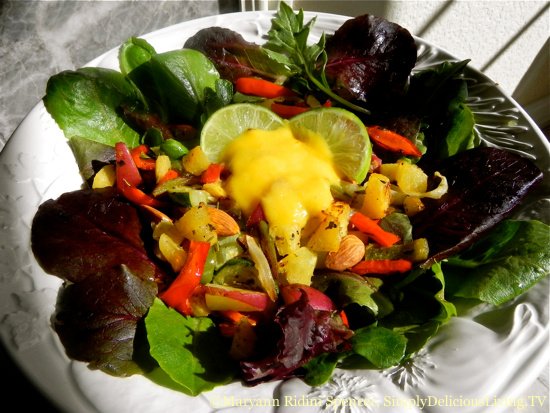 Roasted Veggie Salad with Mango Coconut Purée
Salads are a great way to enjoy a variety of leafy greens and nutritious veggies. This salad has a blend of super foods that taste delicious when combined with a fresh mango coconut purée. What's more, the purée gives it a natural sweetness that is sure to delight your taste buds. Serve it by itself and/or with grilled chicken or fish. Enjoy! 🙂 NOTE: To make this recipe Vegan, do not use honey in the dressing. Sweeten with organic Stevia if you choose.
Roasted Veggie Salad with Mango Coconut Purée
Author:
Maryann Ridini Spencer
Ingredients
Roasted Veggies
3 red potatoes, diced
2 zucchinis, sliced into rounds
½ c. red pepper, diced
½ c. green pepper, diced
½ c. raw almonds
¼ c. red onion, peeled and diced
¼ c. white onion, peeled and diced
½ c. yellow pepper, diced
1 c. fresh pineapple, diced
fresh rosemary sprigs
fresh oregano sprigs
lemon pepper
sea salt
garlic powder
Extra virgin olive oil
Mango Sauce
1 good size mango – peeled and cored
1 T. white balsamic vinegar
2 T. coconut oil
1 tsp. honey
Salad
3-4 c. mixed greens
Instructions
Roasted Veggies
Preheat oven to 425 degrees F.
Drizzle a bit of olive oil onto the bottom of a baking sheet, spread it around.
Place diced red potatoes, zucchini, peppers, onion, pineapple and raw almonds evenly over the pan.
Spread fresh rosemary and oregano sprigs over the top of the vegetables.
Sprinkle lemon pepper, sea salt and garlic salt over the top of the veggies.
Drizzle a little more olive oil over veggies. Mix.
Roast veggies for 35 to 40 minutes in the preheated oven, stirring every 10 minutes, or until vegetables are slightly golden.
Mango Sauce
In a Cuisinart, add in the mango, coconut oil, balsamic vinegar and honey (to taste). Blend.
Salad
In a large bowl, add in mixed greens and several helpings of the roasted veggie mix.
Top with Mango sauce and mix.
Serve immediately.
Notes
NOTE: If you have left over roasted veggies, serve them for breakfast with scrambled eggs or in an omelette!

©2014 Maryann Ridini Spencer, Simply Delicious Living.com
Google+