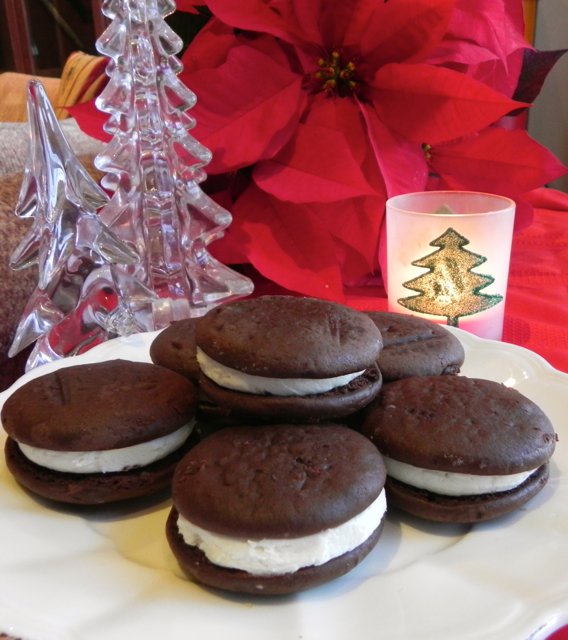 Whoopie Pies
Growing up, Whoopie Pies were always a favorite in my family's dessert repertoire. Here's a great little twist – using healthy coconut oil instead of lard or butter!

Whoopie Pies
Author:
Maryann Ridini Spencer
Ingredients
½ c. soft coconut oil
1 c. coconut milk
1 c. sugar
2 c. flour
5 T. coca
2 egg yolks
1 tsp. baking soda
1 tsp. baking powder
½ tsp. salt
1.5 tsp. vanilla extract
WHOOPIE PIE FILLING
2 egg whites
2 c. confectioner's sugar
1 tsp. vanilla
¼ tsp. salt
½ c. coconut oil
Instructions
Preheat the oven to 375 degrees F.
Sift dry ingredients together.
Add in the rest of the ingredients and mix until smooth and well blended.
Drop by teaspoon on an ungreased cookie sheet.
Bake 10-12 minutes in 375 degree oven until set, but not crisp.
When the cakes are cool, put together the whoopie pies adding in the sandwich filling.
WHOOPIE PIE FILLING Mix ingredients together until smooth. Add whoopie pie filling between whoopie pie cake tops and bottoms.
©2012 – Maryann Ridini Spencer
"Simply Delicious Living with Maryann®" is a FUN and Enchanting journey serving up simply delicious recipes and dedicated to all things home, hearth and joyous living!
Watch the show in TV syndication.
To watch the show Online and PRINT OUT the RECIPES, visit our RECIPE & VIDEO blog at: http://www.SimplyDeliciousLiving.tv
Read the SIMPLY DELICIOUS LIVING Monthly SYNDICATED COLUMN in Natural Awakenings Magazine and in the Ventura County Star, "VC Style" at http://blogs.venturacountystar.com/vcstyle
CLICK HERE to Listen to our SimplyDeliciousLiving Podcasts in iTunes!
Google+