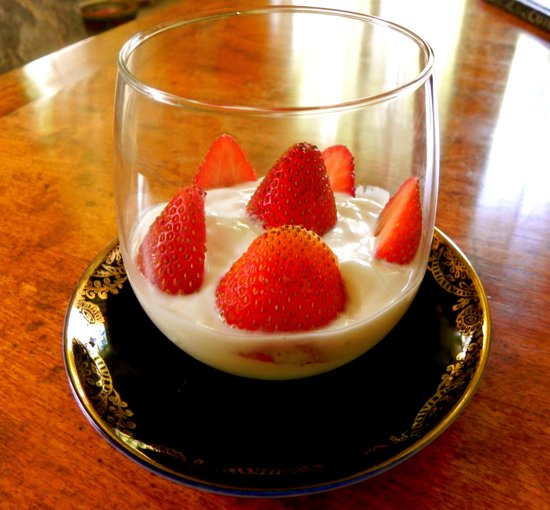 Strawberries with Yogurt Cream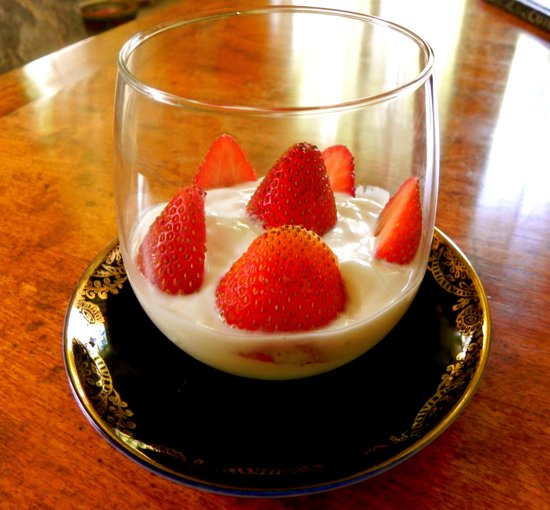 "Clotted Cream" is a a thick cream made by indirectly heating full-cream cow's milk using steam or a water bath and then leaving it in shallow pans to cool slowly. During this time, the cream content rises to the surface and forms 'clots' or 'clouts'. According to Wikipedia, clotted cream was originally made by farmers in South West England to reduce the amount of waste from their milk. Over time, clotted cream has become so deep-rooted in British culture, that it's processing is now even a popular tourist attraction.
One favorite British dessert, Strawberries with Clotted Cream is a well-known and loved worldwide. However, clotted cream has a very high saturated fat content. Here's a version of that recipe with O% saturated fat that you can enjoy minus the guilt! 🙂

Strawberries with Yogurt Cream
Author:
Maryann Ridini Spencer
Ingredients
4 c. fresh strawberries, sliced
3 T. fresh squeezed lemon juice
4 c. cold Fage Total O% Greek Yogurt (plain)*
4 tsp. vanilla extract
4 tsp. honey
Instructions
In a large bowl, add sliced strawberries and lemon juice. Mix.
In another large bowl, add in yogurt.
Mix in vanilla extract and honey into the yogurt.
In four pretty serving bowls or dishes, line the bottom of each dish with slice strawberries.
Add 1 c. of yogurt cream to each dish on top of the strawberries.
Top each dish with more sliced strawberries.
Serve immediately!
Notes
You can also top each dish off with some walnut or pecan pieces for added taste, crunch and healthy nutrition!
*I use Fage O% because it's low in calories and it's fantastic tasting, rich and creamy. If you've never had it, once you do, you'll be hooked.
Google+