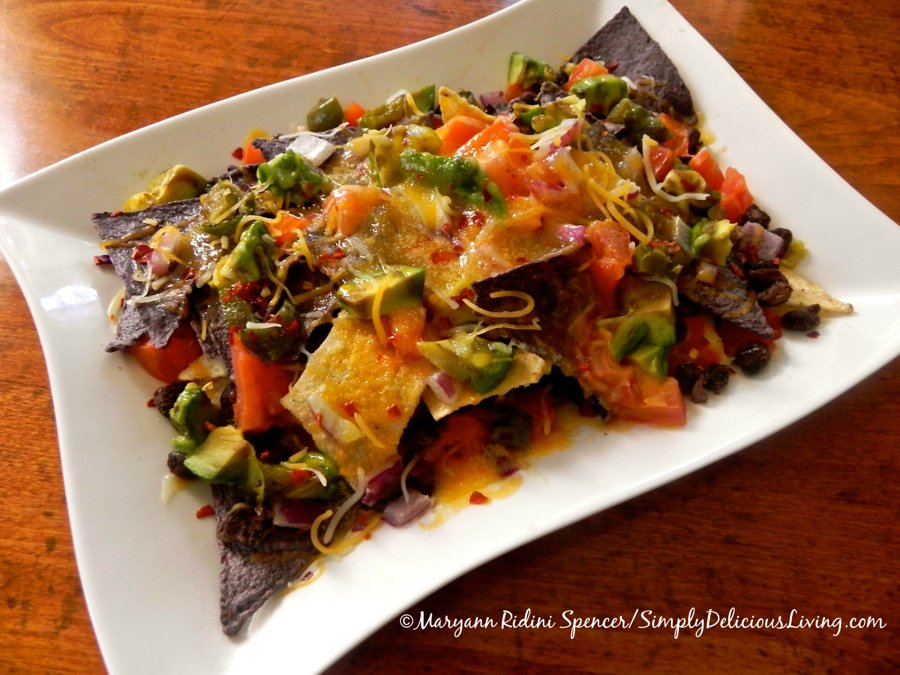 For a fun appetizer when I'm having guests over for a casual affair, or when my family wants to kick back and enjoy a yummy snack, I'll make my Super Quick Natural Nachos!
Super Quick Natural Nachos
Author:
Maryann Ridini Spencer
Ingredients
1 c. red onion, diced
3 garlic cloves, diced
½ -1 c. green pepper, diced small
Whole Foods 365 Lightly Salted NON-GMO Tortilla Yellow & Blue Corn Chips
1 c. black beans (drained)
2-3 Roma tomatoes, diced
1 large avocado, peeled and diced
1 c. sharp cheddar cheese, shredded
red chili pepper flakes
dash garlic salt
juice of one lime
fresh cilantro sprigs, diced
extra virgin olive oil
Instructions
Pre-heat oven to 350 degrees F
In a skillet on the stovetop over low heat, drizzle some olive oil in the pan.
Add in onions, and peppers and sauté until onions are slightly golden and peppers are soft.
While the onion and pepper mixture is cooking, spray a 2-quart Pyrex dish with extra virgin olive oil spray.
Arrange chips in the Pyrex dish. Top with a portion of the cooked peppers and onions, black beans, tomatoes, avocado, and shredded cheese, and some cilantro sprigs.
Repeat layers of chips and other ingredients until you've used all the ingredients.
Sprinkle nachos with more cheese, a dash of garlic salt, red chili pepper flakes, and some fresh cilantro sprigs.
Warm nachos in the oven until cheese is bubbly and chips are slightly golden (approximately 10-15 minutes).
Serve Immediately!
Notes
**For the peppers in this recipe, you can also use Trader Joe's Fire Roasted Bell Pepper and Onion mix (found in the frozen foods section). If you do, still saute the 1 c. fresh diced onions with the pepper mix. Serve with my Chunky Guacamole, Search: Chunky Guacamole at simplydeliciousliving.com or your favorite salsa!
©
Maryann Ridini Spencer/
SimplyDeliciousLiving.com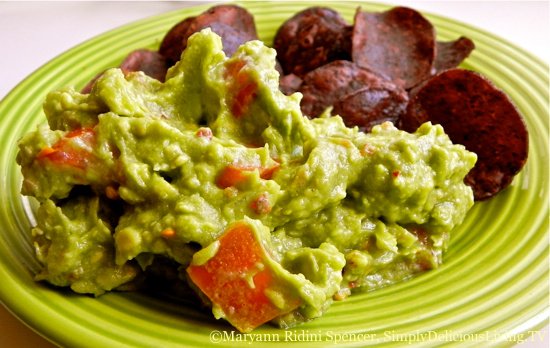 For my "Chunky Guacamole" Recipe print out, click here!
Google+