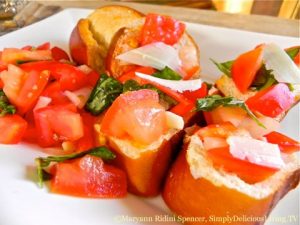 Enjoy this tasty appetizer before the "main event"!  It's bursting with delicious flavor and it's a fresh and natural beginning to any meal.
I love these flavors so much, I have used them in another one of my go-to recipes, Tomato, Basil and Cheese Pasta (see image below).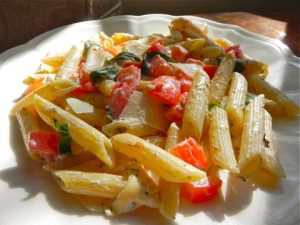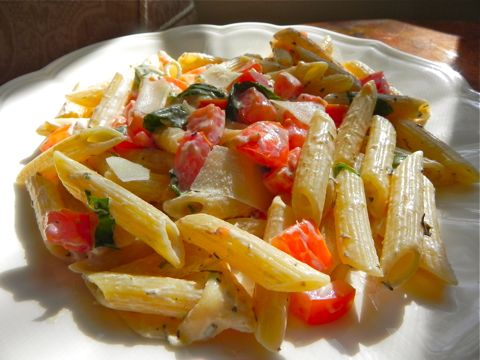 Bruschetta
Author:
Maryann Ridini Spencer
Ingredients
1 sourdough crusty French baguette, sliced in ½" slices
5 Roma tomatoes, diced
3 garlic cloves, diced small
9 fresh basil leaves, chopped
½ c. Parmesan/Romano cheese, shaved
1 T. balsamic vinegar
4 T. extra virgin olive oil
garlic powder (to taste)
garlic salt and black pepper (to taste)
Instructions
In a large bowl, add in tomatoes, garlic, basil leaves, shaved cheese, oil and vinegar. Mix.
Add in garlic powder, garlic salt and pepper to taste.
Serve Bruschetta with baguette slices.
NOTE: If you'd like to toast the bread, put bread slices on a cookie sheet covered with oil. Sprinkle a little garlic salt over the top of each slice of bread. Bake in the oven at 450 degrees F for approximately 5 minutes until slightly golden. Remove immediately.
Google+