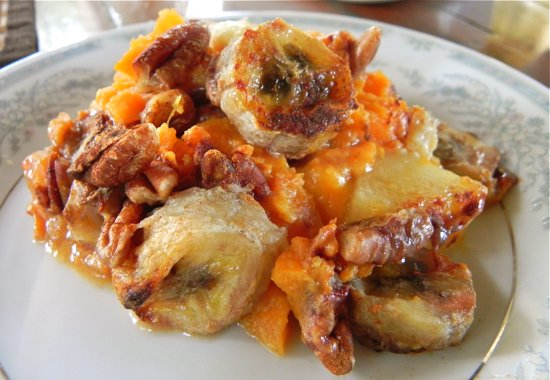 Sweet Potato Medley with Pineapple & Pecans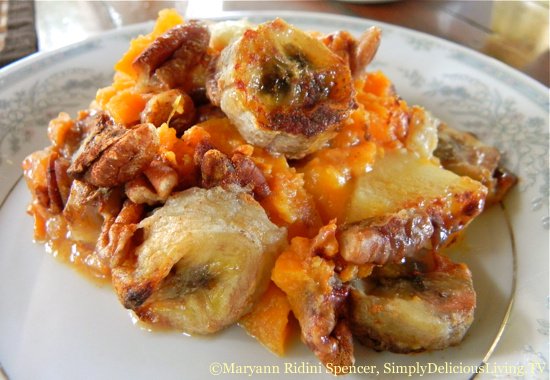 At the holidays, my family LOVES this yummy dish, Sweet Potato Medley Casserole, as a side dish to turkey, chicken, meat or fish.  It's so delicious that sometimes, IF we have leftovers, I enjoy it even for dessert!  Try it and let me know what you think.  🙂
Sweet Potato Medley with Pineapple and Pecans
Author:
©2013 Maryann Ridini Spencer
Ingredients
4-5 sweet potatoes or yams
3-4 bananas, sliced in circle rounds
2 c. diced or crushed pineapples (no sugar added, pineapples in their own juice)
1 c. candied pecans
1 tsp. pumpkin pie spice
1 tsp. cinnamon
Instructions
Preheat oven to 350 degrees F.
Peel and slice (in half inch circles) sweet potatoes. In a pot on the stove, boil potatoes until soft.
In a pyrex baking dish, line bottom of the pan with cooked sweet potatoes.
Add a layer of bananas to cover the potatoes.
Add a layer of diced and/or crushed pineapple.
Sprinkle pumpkin spice and cinnamon over top of potato layer.
Sprinkle candied pecan pieces over top.
Repeat all layers – potatoes, bananas, pineapple, spices and pecan pieces. Sprinkle a little more pumpkin spice on top. If you like, you can also sprinkle a little brown sugar over the top.
Bake casserole for approximately 25-30 minutes until bubbly.
Notes
I serve this dish as a side dish and sometimes I even have leftovers for dessert (with a dollop of fresh whipped cream!).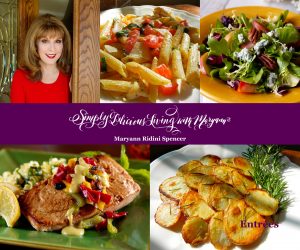 CLICK
Maryann's Cookbook
to VIEW a SAMPLE.
Over 40+ delicious and easy-to-make entrées for people on the go! 
Available Formats:
Ebook, Apple iPad, Soft and Hard Cover
.  For more information,
CLICK HERE.
Google+