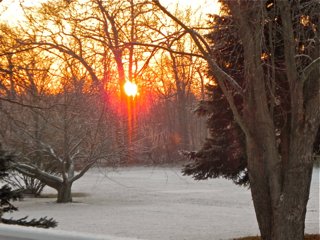 Tune into YOU for the New Year Podcast
In recent years, I've been thankful that during the week between Christmas and New Year's, I work with clients that take that WEEK as vacation to enjoy with their family and friends. So, happily, I do the same.
I really look forward to this time not only to share the joys of the season, but also to slow down and recharge my batteries. I find it's a great time to think about the year that's just passed as well as to ponder the things I'd like to accomplish moving forward into the New Year.
So how do you tune into you? Here are some of the ways I find helpful that I'd like to share with you.
•Take a walk in nature or around your neighborhood. Use the time not to chat on your phone, but rather to enjoy the scenery and whatever thoughts pops in to your head.
•Meditate. One of my favorite things to do is to pick up a book I was given years ago, a bestselling book that is still a favorite, Meditations for women who do too much by Anne Wilson Schaef. In the book you'll find Daily meditations to help women break the cycle of doing too much—it's been billed as a book for today's women—many of whom are overextended—either addicted to work, rushing and/or taking care of "other" people's needs. These concise meditations will open new doors to new ways of living.
You might also want to go to your local bookstore or library to check out other books on meditation and see what might work best for you.
•Try yoga. It's been practiced by cultures for over 5,000 years and there's good reason. The health benefits are many — relaxation and getting rid of stress, better breathing, improved flexibility and balance and increased strength, are just a few. Take a class at your local gym or yoga studio. Dr. Larry Payne has some great books & videos – Yoga for Dummies, Yoga Rx. Visit: samata.com
•Take a hot bubble bath to music. Take a bath by candlelight to sooth your body and listen to some Mozart to clear your mind and to relax.
•Get away for a day or long weekend. Take a trip to the mountains or to the beach. A change of scenery can change your perspective. For me, taking a long drive to get to my weekend destinations has also been a great time to get in touch with my creative side.
•Visit a day spa. Can't get away? What about a few hours at a day spa? Let your cares slip away in the sauna, get a massage to sooth your stress away. A few hours of pampering will make you feel like a new you.
•Scrapbook your dreams and goals. Once you've relaxed and rejuvenated, you might enjoy Scrapbooking your goals. This is great to do on your own, or with a trusted friend. Purchase a scrap book and then designate pages for your personal life, your work life, hobbies and things you'd like to for example. Then cut images, words and photos out of magazines that best represent what you'd like to have in your life, change in your life and do in your life.
Look at your scrapbook in the morning when you wake up and the evening before you retire. Review it often and make updates as necessary. For more information on scrapbooking go to my blog and CLICK HERE.
I wish you a beautiful holiday season and a happy New Year!
Visit my blog at simplydeliciousliving.com for some great recipes for your table and for life and enjoy simply delicious living, today and every day.

LISTEN to this PODCAST,

CLICK HERE

!
And watch the video below!
*****
"Simply Delicious Living with Maryann®" is a FUN and Enchanting journey serving up simply delicious recipes and dedicated to all things home, hearth and joyous living!
Watch the show in TV syndication.
To watch the show Online and PRINT OUT the RECIPES, visit our RECIPE & VIDEO blog at: http://www.SimplyDeliciousLiving.tv
Read the SIMPLY DELICIOUS LIVING Monthly SYNDICATED COLUMN in Natural Awakenings Magazine and in the Ventura County Star, "VC Style" at http://blogs.venturacountystar.com/vcstyle
CLICK HERE to Listen to our SimplyDeliciousLiving Podcasts in iTunes!
Google+