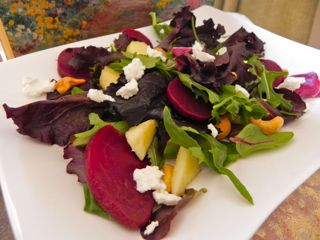 Beet, Cashew and Goat Cheese Salad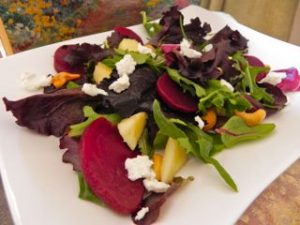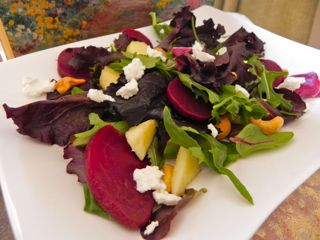 Beet, Cashew and Goat Cheese Salad
Author:
Maryann Ridini Spencer
Ingredients
1 bag fresh mixed lettuce (red and green romaine, arugula, baby spinach, etc.)
½. c. canned beets (drain the juice)
2 small sweet apples, peeled, cored and sliced (or cubed)
⅓ c. of Woolwich Chevrai Goat Cheese (or ⅓ small log)
⅓ c. unsalted cashews
½ small red onion, diced
Instructions
In a large bowl, put beets, apples, cashews and onion.
Place lettuce mix on top.
Mix ingredients well.
Crumble goat cheese on top of salad. Mix well.
Top with salad dressing (see below) and serve!
For a salad dressing, try my Raspberry Vinaigrette
Notes
For a gluten-free dressing, use extra virgin olive oil, freshly squeezed lemon juice and garlic salt & pepper to taste.
©2012 – Maryann Ridini Spencer
"Simply Delicious Living with Maryann®" is a FUN and Enchanting journey serving up simply delicious recipes and dedicated to all things home, hearth and joyous living!
Watch the show on Time Warner Cable ON DEMAND® throughout Southern California (approximately 1.8 million digital subscribers). With your remote, Go to ON DEMAND, FIND IT ON DEMAND, COOKING & DINING and scroll to the SIMPLY DELICIOUS tab. In Ventura, the show can also be seen on CAPS-TV, Mondays, 8:00pm with rebroadcasts weekly.
To watch the show Online and PRINT OUT the RECIPES, visit our RECIPE & VIDEO blog at: http://www.SimplyDeliciousLiving.tv
Read the SIMPLY DELICIOUS LIVING Monthly SYNDICATED COLUMN in Natural Awakenings Magazine and in the Ventura County Star, "VC Style" at http://blogs.venturacountystar.com/vcstyle
Google+