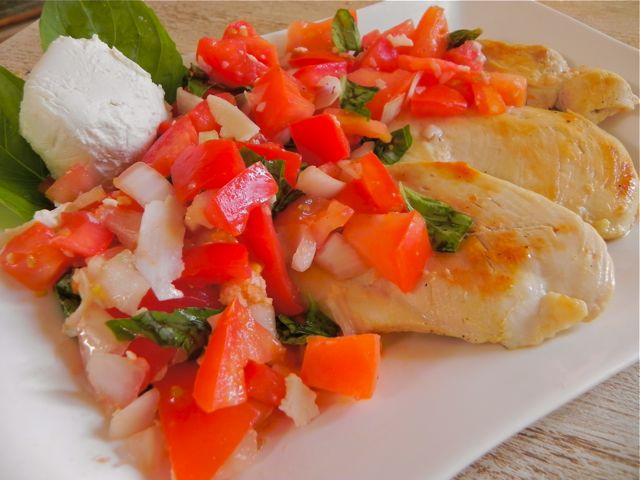 Chicken with Tomato, Basil and Goat Cheese
Chicken with Tomato, Basil and Goat Cheese
Author:
Maryann Ridini Spencer
Ingredients
4 chicken breasts
4 Roma Tomatoes, diced
½ c. fresh basil, chopped
3 garlic cloves, diced
½ small onion, diced
1 c. goat cheese crumbles
1T. olive oil
¼ c. white wine
garlic salt
Instructions
In a skillet on the stovetop over medium heat, drizzle a little olive oil in the pan.
Place chicken breasts in the pan and cook for a minute or two.
Add in white wine and cook chicken until golden brown.
In a large bowl, place diced Roma tomatoes.
Add in chopped basil, diced garlic cloves, diced onion, ½ c. goat cheese crumbles and olive oil. Mix.
Add in garlic salt to taste. Set aside.
On a pretty plate, place cooked chicken breasts.
Top chicken with tomatoes, basil and goat cheese.
Sprinkle the rest of the goat cheese crumbles over the top.
Notes
This dish is wonderful served by itself and/or with pasta or rice. (For gluten-free options use rice or rice pasta).
©2012 – Maryann Ridini Spencer
"Simply Delicious Living with Maryann®" is a FUN and Enchanting journey serving up simply delicious recipes and dedicated to all things home, hearth and joyous living!
Google+