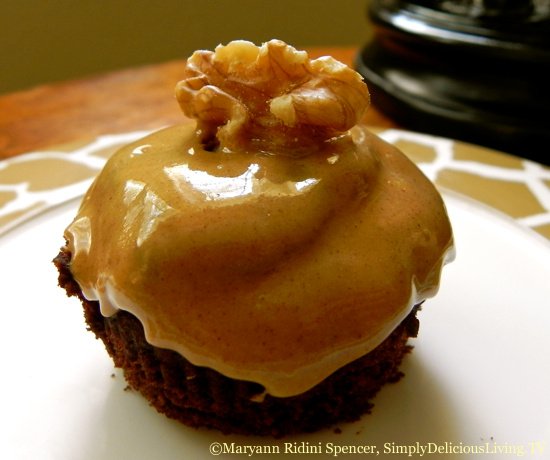 Chocolate Peanut Butter Cupcakes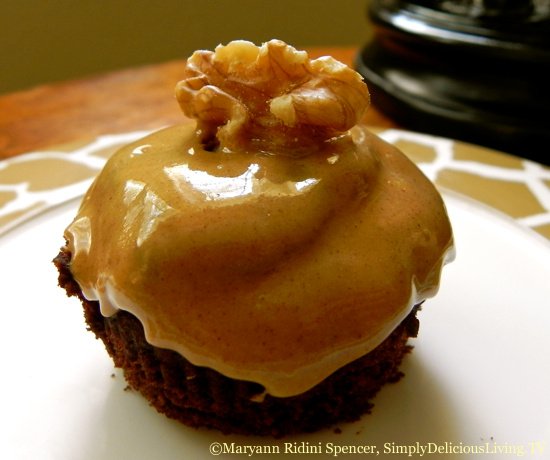 Growing up, my Mom used to make this recipe for a moist, dark chocolate cake. She would make the recipe as a small sheet cake and frost it with vanilla frosting (which is also very delicious!). However, I wanted to try this recipe in cupcake form and top it with a frosting that was not only delicious, but made without white sugar. Enjoy it with a glass of very cold almond or coconut milk! NOTE: To make this recipe VEGAN substitute honey for 1-2 packets of organic Stevia.
Chocolate Peanut Butter Cupcake
Author:
Maryann Ridini Spencer
Ingredients
Chocolate Cake
1.5 c. flour (I use Pure Pantry's Organic & Gluten Free All-Purpose Baking Mix)
1 c. organic coconut sugar
1 tsp. soda
1 c. cold water
1 T. apple cider vinegar
1 tsp. vanilla
⅓ c. canola oil
coconut oil (for greasing cupcake tin)
Peanut Butter Frosting
¾ c. creamy, organic peanut butter
3 T. coconut oil (In liquid form. If it is solid, heat up until it is liquid)
1 T. honey
1 tsp. vanilla
3 T. gluten-free flour or corn starch
Instructions
Instructions for the Cake
Preheat oven to 350 degrees F.
Grease the inside of a cupcake tin (each individual cup) with a bit of coconut oil.
In a large bowl, using an electric mixer, blend all ingredients together.
Spoon mixture into individual cupcake tins.
Bake in the oven for approximately 20 minutes. (Make sure the cupcakes spring back a bit when touched. You might also insert a toothpick to check readiness. Be very careful not to over cook the cupcake or it will dry out).
Cool cupcakes in the tin. Once the are completely cooled, remove delicately from the tin and place cupcakes side by side in a container. Refrigerate for one hour.
Instructions for the Peanut/Coconut Butter Frosting
In a small cuisinart, add in all ingredients and pulse. The mixture will not be solid, but it should not be too runny. If it is, add in a bit more flour or corn starch.
After cupcakes have been completely cooled, frost each cupcake and top with a large walnut.
Serve immediately!
Notes
Storage: These cupcakes are best stored in the refrigerator. When serving, serve cupcake at room temperature.
I don't like to use cupcake papers with this recipe because the papers get a little spotted due to the oil in the recipe and I find they look prettier when not in a foil.
©2014 Maryann Ridini Spencer/SimplyDeliciousLiving.com
Google+