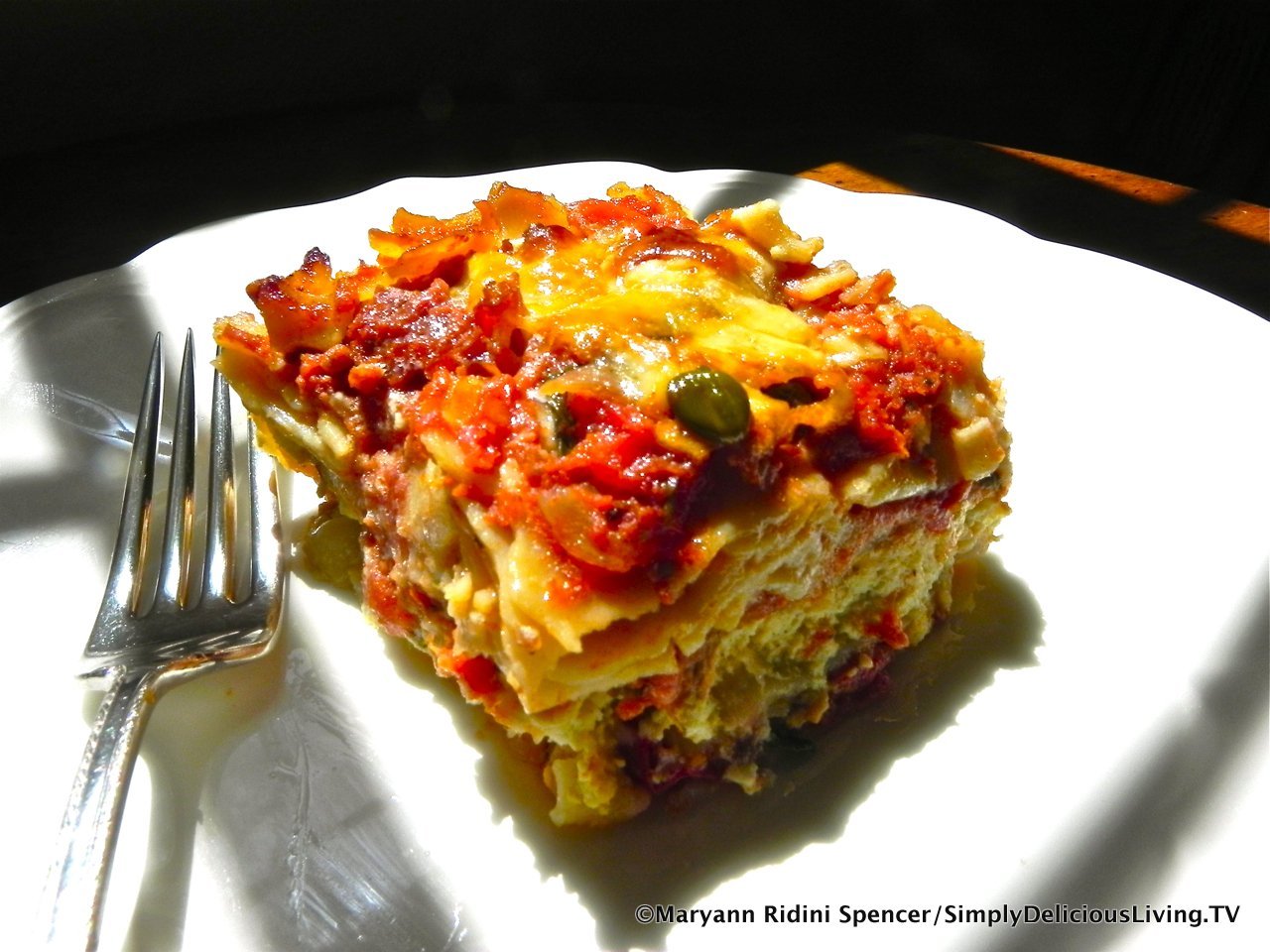 Classic Cheese Lasagne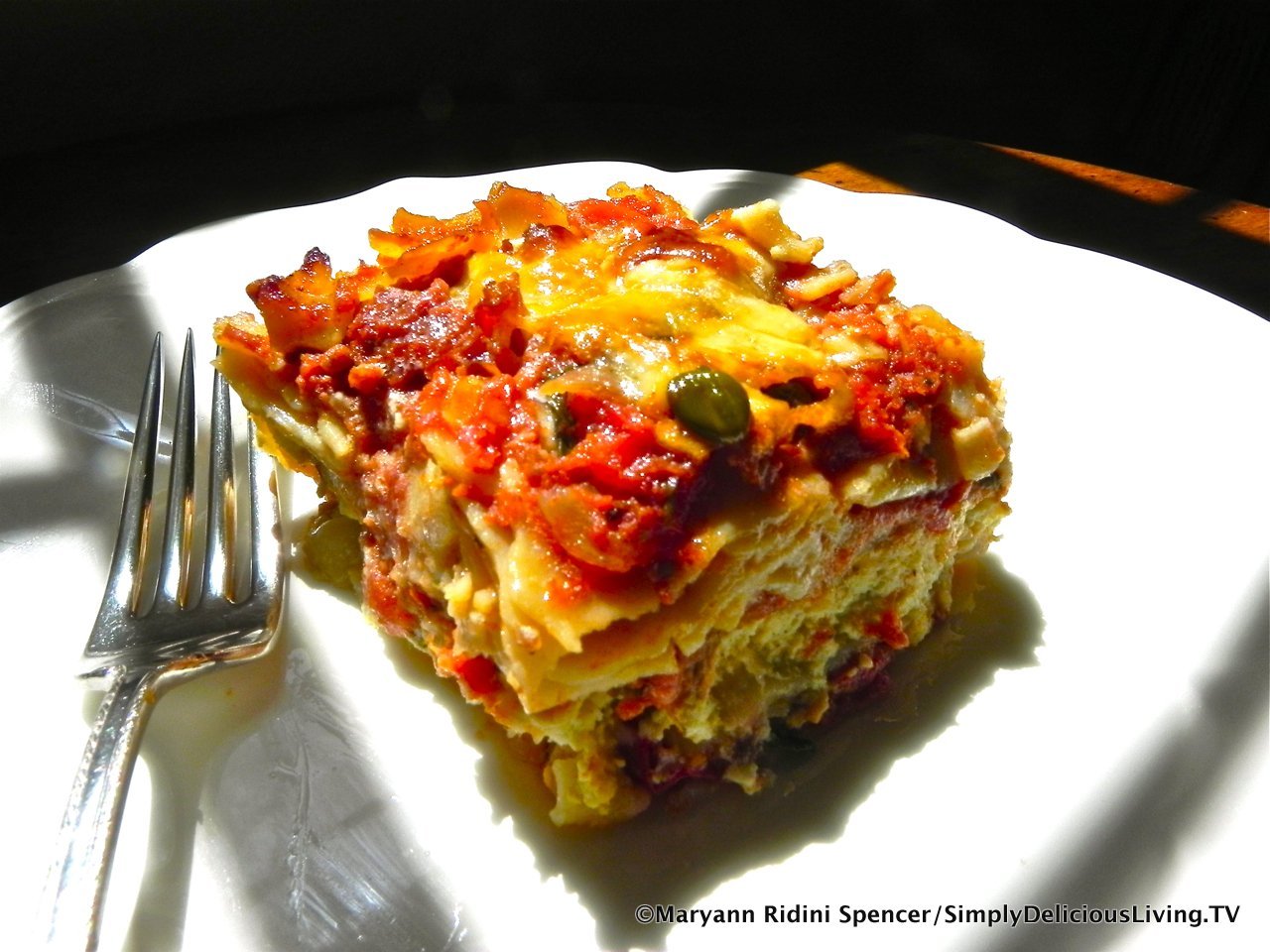 Classic Cheese Lasagne
Author:
Maryann Ridini Spencer
Ingredients
4 c. Maryann's Quick and Easy Marinara Sauce
1 onion, diced
5 cloves garlic, diced
extra virgin olive oil
24 ounces ( or 1.5 lbs) ricotta cheese
10 fresh basil leaves, chopped
3 large eggs
2 T. Italian seasoning
garlic salt and pepper
3 c. mozzarella cheese, shredded
1 c. Parmesan/Romano Cheese
Lasagne noodles, cooked al dente (about 2 boxes) – Note: To make this recipe gluten-free, use gluten-free lasagne noodles.
Instructions
Prepare Maryann's Quick and Easy Marinara Sauce.
In a skillet on the stove top, sauté the onions and garlic in olive oil until slightly golden. Set aside.
In a large bowl, pour in the ricotta cheese, add in the chopped basil, eggs, garlic salt and pepper, Italian seasoning and mix well. Set aside.
Boil Lasagne noodles to package instructions.
Pre-heat oven to 375 degrees F.
To assemble lasagne, spread approximately 1 ½ c. of sauce in the bottom of a 9×13 inch baking dish.
Arrange pasta noodles lengthwise, side by side, over sauce.
Evenly spread some of the ricotta cheese mixture over the noodles along with some of the mozzarella cheese and a portion of the onions and garlic saute. Repeat layers two more times - lasagne noodles, sauce, cheeses and sauté mixture.
Top dish with remaining sauce and mozzarella cheese.
Sprinkle parmesan/romano cheese blend over the top of the dish.
Spray canola oil over dish.
Tent dish with aluminum foil (spraying the side of the tin foil facing the dish with canola spray. Take care so that the foil does not touch the cheese. Bake in a preheated oven for approximately 35 minutes.
Remove foil and bake in the oven an additional 15 minutes.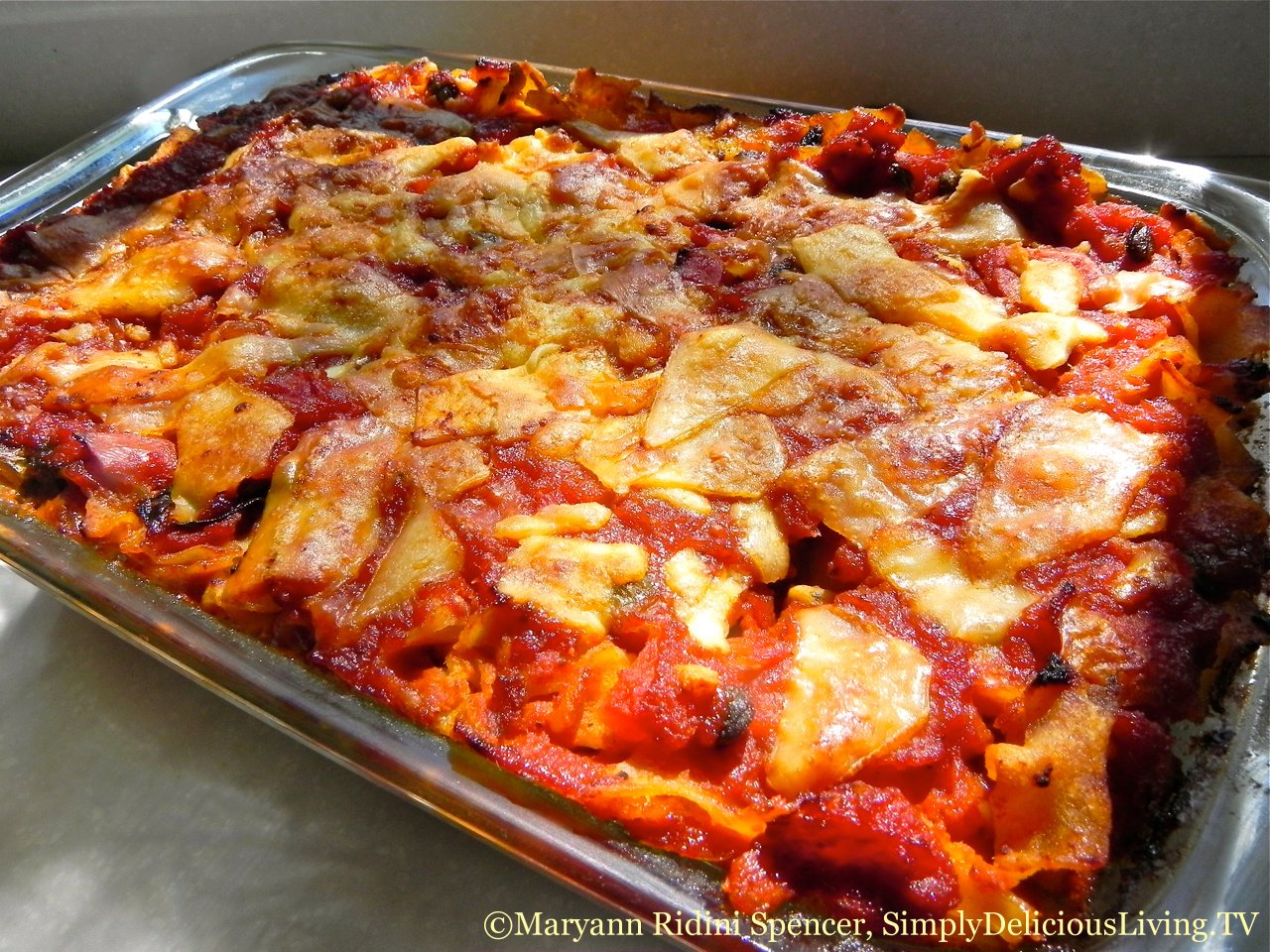 ©2013 — Maryann Ridini Spencer
LIKE Simply Delicious Living with Maryann® on Facebook, CLICK HERE.
Watch Simply Delicious Living with Maryann® on PBS Television in Southern California and in First Run Television Syndication. For more information, visit: SimplyDeliciousLiving.TV and RidiniEntertainment.com
Google+