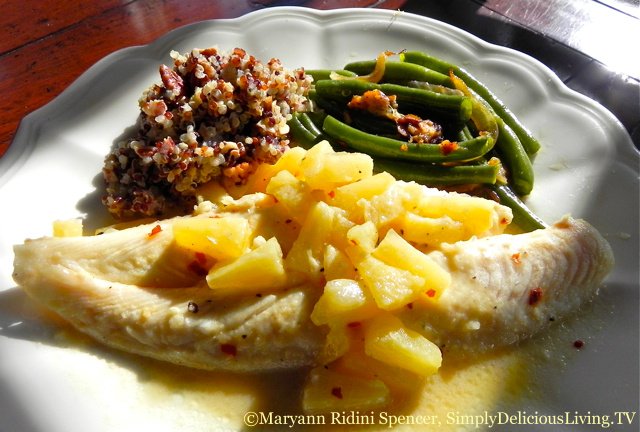 Pineapple Swai with Pecan Quinoa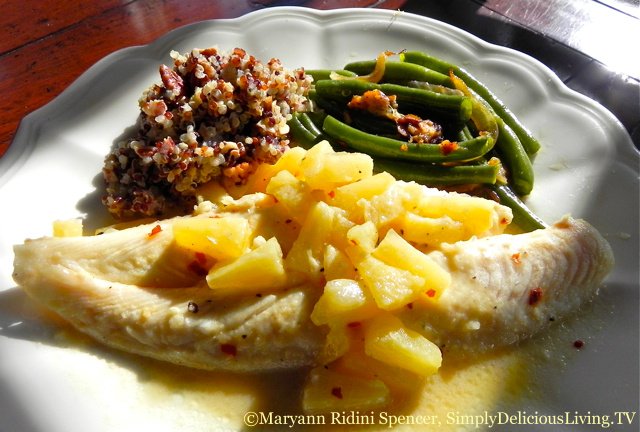 As a working woman, wife and stepmom, conserving time is a constant cherished goal. After a busy day at the office, I really love to kick back and enjoy a delicious meal with my family. So, with that thought in mind, I'm always looking to cook something that will taste great as well as conserve on my kitchen cooking time. Here's a great complete meal that you can make in 30 minutes or less. When I cook it, I always have left over Green Beans Almondine and Pecan Quinoa that can be enjoyed the next day for a quick and healthy lunch. I hope you enjoy it too!
©2013 – Maryann Ridini Spencer
***
LIKE Simply Delicious Living with Maryann® on Facebook, CLICK HERE.
SIGN UP for our FREE monthly newsletter – lots of great articles, cooking videos, decorating tips and body•mind•spirit inspirations!, CLICK HERE.
WATCH US on YouTube on your computer, on your mobile device or iphone at SimplyDelishLiving Channel (and/or Maryann Ridini Spencer)
WATCH Simply Delicious Living with Maryann® on PBS Television in Southern California and in First Run Television Syndication. For more information, visit: SimplyDeliciousLiving.TV and RidiniEntertainment.com
Google+