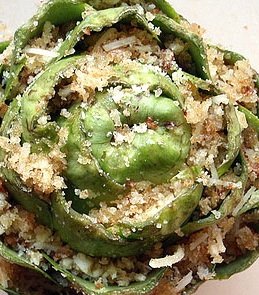 Grandma Mary's Stuffed Artichokes
Happy Sunday, Everyone!
Growing up, Sundays were always a great time to share with the family.
After church, our family (my Mom and Dad with us six kids) would  visit with both maternal (Murphy) and paternal (Ridini) Grandparents for the day.
The second I stepped into my Grandma and Grandpa Ridini's home (and later, the 2 story family home they shared with my Uncle Mike, Aunt Jo and cousins), you could smell the wonderful aroma of pasta sauce (tomatoes, garlic and meats) simmering on the stove top.
The usual delicious fare for the  afternoon lunch (1pm or so), was a delectable constant — a green salad  mixed with olive oil and vinegar (or if we really got lucky, Stuffed Artichokes – the recipe below!) followed by a yummy pasta dish (always a red sauce of some kind with such meats — or a combination of — sweet sausage, pork, meatballs), leading into a  fish or meat entrée. As if that weren't enough, the mouth-watering meals culminated with a selection of the most scrumptuous Italian pastries (canolis, Italian cheesecake, biscotti and pizzelle cookies and more! ) from Boston's North end!  Save a cream puff for Gram!
I loved when my Grandmother let me grate the fresh Provolone or Parmesan cheese for the table.  I always felt so important.  (This, and cooking at with my Mother,  is where my joy of cooking began!).
Later in the afternoon,  we  would then visit with Grandma and Grandpa Murphy for a time before we had dinner at their home.
During these visits, I remember my Grandparents and Aunts, Uncles and cousins (with numbers of family & friends totaling well into the 30s and more),  always sitting around a huge kitchen or dining room table entertaining/eating with lots of laughter and playful teasing of one another.   No one was free from the potential of being "roasted."  
It was also a great time to get everyone's view on world affairs and catch up on other family news.  Friends of the family — a variety of Priests and Nuns — were also usually on hand to join in on the fun!!
One time I remember being the focus of a playful jousting.  When I was maybe 6 or 7, after one dinner, my Grandpa Murphy asked me with a straight face, "Would I like to pay the bill, now?"  I looked at him incredulously.  He said, "I think it's your turn to pay the bill, Maryann."  Everyone present agreed.
However, my Grandfather said that in order to pay my bill, if I "didn't have any money," (which I obviously didn't!), he was willing to accept payment in the form of me wiping the dishes while he washed.
I, of course, protested.  After all, I was a little "princess," the eldest grandchild  decked out in my Sunday best (and during this particular time period, the only other grandchild was my year younger brother Len).
To remedy this situation,  I was given my Grandmother's oversized apron to wear to complete the assignment.
To make my "labor" easier on me, while my Grandfather washed and I wiped, he told me some funny stories and jokes (sometimes employing a funny Irish brogue) which made  me laugh and the time fly by.
I didn't realize then, but this particular Sunday turned out to be more than just enjoying the family meal, it turned out to be the creation of  a cherished lifetime memory.

Grandma Mary's Stuffed Artichokes
Author:
Maryann Ridini Spencer
Ingredients
4 artichokes
1½ c. bread crumbs (Italian seasoned)
½ c. freshly grated Romano cheese
½ c. freshly grated Parmesan cheese
¼ c. fresh basil, chopped
garlic salt and pepper to taste
1/ 2 c. olive oil
Instructions
Wash artichokes. Pat dry. Cut off stems and thorns.
Mix breadcrumbs, cheeses, basil, salt & pepper.
Pour ½ c. water in frying pan on stove top.
Place artichokes in frying pan. Cover. Turn on heat to medium.
Check every so often, add in more water if it evaporates.
Cook artichokes for approx. 40-50 minutes. You can tell if they are done if a leaf comes off easily.
Serve hot or cold. (My personal favorite is room temp!)
Serve hot or cold.  (
My personal favorite is room temp!
)
©2005 – Maryann Ridini Spencer
###
Google+