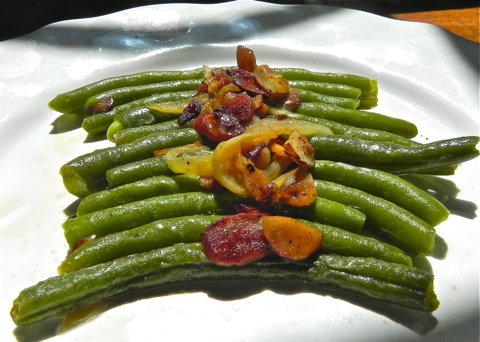 Green Beans Almondine
Green Beans Almondine
Author:
Maryann Ridini Spencer
Cuisine:
Veggie Side Dish
Ingredients
1 pound of fresh green beans
3-4 cloves fresh chopped garlic
1 small-medium yellow onion, sliced
1 T. olive oil
½ c. of white wine
1 c. of freshly shaved Parmesan/Romano cheese
½ c. slivered almonds
garlic salt and pepper to taste
Instructions
Wash and cut off tips of the green beans.
On a stovetop, steam or boil green beans until soft, but still a little crunchy.
Drain and set aside.
In a frying pan on the stovetop, over low to medium heat, pour in olive oil.
Place onions, garlic, almonds, and ¾ c. of the cheese in the pan and sauté together until golden brown.
Add in the cooked green beans and wine.
Stir and cook until some of the wine evaporates.
Add garlic salt & pepper to taste.
Sprinkle the remaining cheese on top to serve.
Notes
For an easy dinner, serve this dish mixed with cooked sweet Italian sausage over brown rice!
Google+