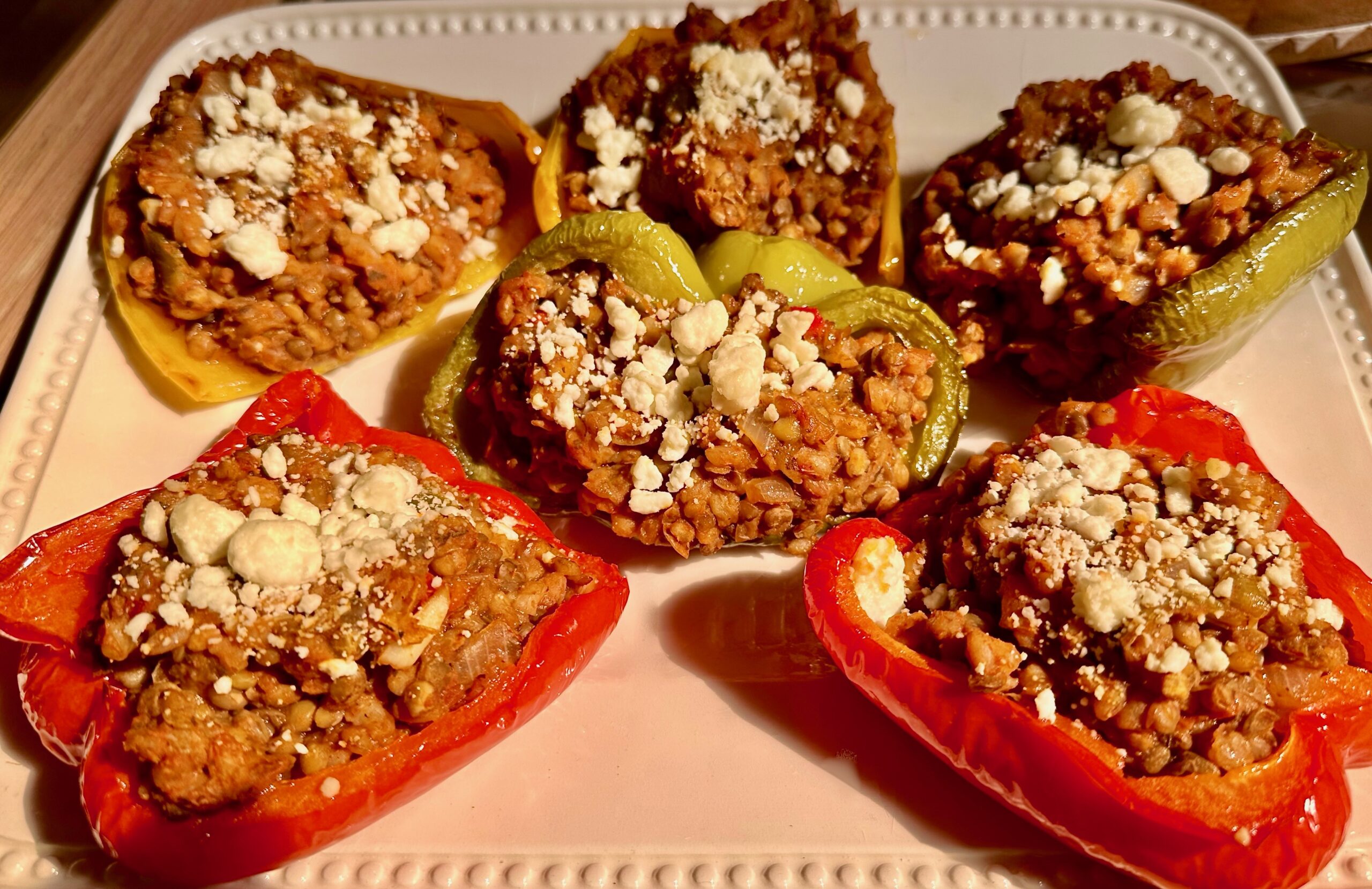 Lentil Stuffed Peppers
Lentil Stuffed Peppers make a great healthy meal! Enjoy them alone, with a large green salad, a side of grilled or roasted veggies, with pasta, or as a side with chicken or fish.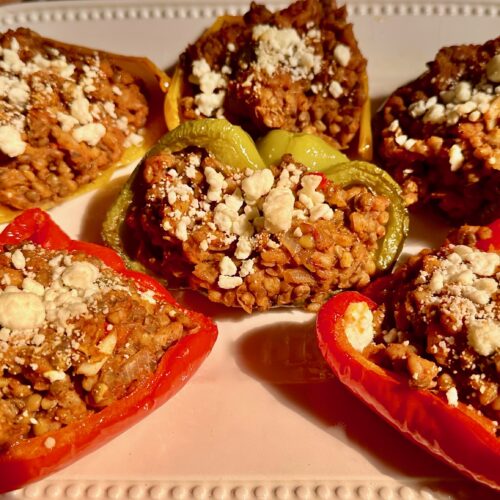 Lentil Stuffed Peppers
Ingredients
1/4

c.

onions, diced

3

garlic cloves, diced

3

one green, one red, one yellow pepper

1

c.

peppers, sliced (fresh or frozen)

1/2

c.

farro, cooked to package instructions

3

c.

lentils, cooked to package instructions

1/2

tsp.

garlic salt

1

tsp.

garlic powder

1

T.

Italian seasoning

1

c.

marinara sauce

1/2

c.

goat or feta cheese (Vegan or regular)

olive oil

olive oil spray
Instructions
Lentil and Farro Stuffing Preparation
In a skillet on the stovetop, add in oil and saute onions and garlic

Add garlic salt and powder

Stir mix, then turn off heat and set pan aside.
Roasting the peppers
Pre-heat oven to 425 Degrees F

Slice whole peppers in half and remove seeds and membranes

Wash and dry pepper halves

Spray or oil cookie sheet

Arrange pepper halves on cookie sheet

drizzle olive oil over peppers

Roast peppers in the oven for approximately 35 minutes until soft
Filling the peppers
Fill each pepper half with a generous portion of the lentil mixture

Sprinkle cheese on top of each stuffed pepper

Serve peppers hot—heat peppers in the oven for 25-30 additional minutes
Notes
Serve this dish hot or cold. Lentil Stuffed Peppers can be enjoyed alone, with a side salad or a side of vegetables, pasta, or accompanying chicken or fish. I love to use my Dad and Mom's Pasta Sauce with this recipe (https://maryannridinispencer.com/dads-and-moms-pasta-sauce). However, you can use your favorite store-bought marinara.

Google+