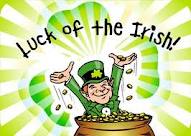 Luck of the Irish? You Decide.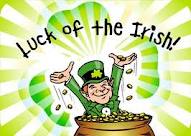 PODCAST DOWNLOAD:   Luck of the Irish? You Decide.
by Maryann Ridini Spencer, SimplyDeliciousLiving.tv Recipe & Video Blog
According to Wikipedia, the term luck – "is good fortune which occurs beyond one's control, without regard to one's will, intention or desired result."
Do you believe in "luck"?  The month of March, with the celebration of St. Patrick's Day on March 17, brings the meaning of the word to the forefront.
St. Patrick's Day is customarily celebrated with parades, wearing green,  and for some, a toast at the local pub in honor on Ireland's patron St. Patrick.  A favorite iconic symbol of the day is the 3-leaf clover, the shamrock, which St. Patrick used to teach the Irish about the doctrine of the Holy Trinity (three divine persons in one God).
The 3-leaf clover also has a very lucky relative, the four-leaf clover – which, according to legend, brings about good luck if found accidentally.  Each leaf of the four- leaf clover represents something wonderful  – the first leaf – faith, the second leaf – hope, the third – love and the fourth – luck.
On St. Patty's Day, one often hears the term, "the luck of the Irish" professed.  However, examining Ireland's turbulent history, with invasions, colonizations, famines and mass emigrations, one has to wonder about the "luck" part.
For it wasn't until the Irish did immigrate to America, especially during the gold rush years in the latter part of the 19th century, that some lucky Irish prospectors achieved extreme wealth.  Hence, the actual origin of the term, "luck of the Irish."
While these prospectors may have been lucky, they also created their own luck.
So, this St. Patty's day, while true luck may find you, why not begin creating your own luck setting personal and professional goals and start "visualizing" abundance and that rainbow leading to your pot of gold?!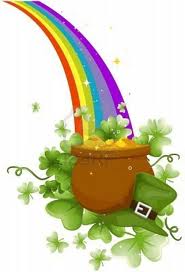 Suggested Reading:
Creative Visualization by Shakti Gawain
The Power of Positive Thinking by Norman Vincent Peale
The Power of Your Subconscious Mind by Joseph Murphy
And visit SimplyDeliciousLiving.tv, Maryann Ridini Spencer's Recipe & Video Blog!
Google+