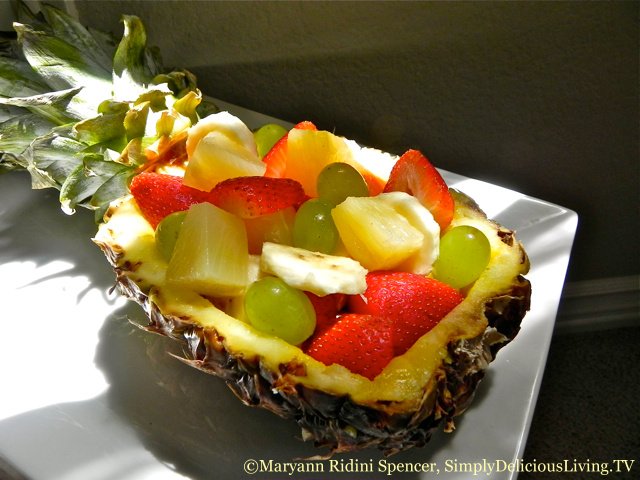 Pineapple Fruit Salad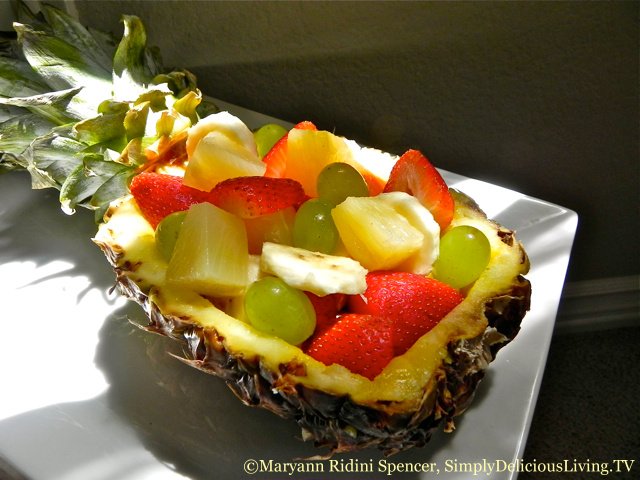 While Hawaiian pineapples can be obtained year-round, their peak season is from March through June. This delightful and refreshing pineapple fruit salad is a stunner when you're having a small dinner party. You can serve it as an appetizer or a dessert.

Pineapple Fruit Salad
Author:
Maryann Ridini Spencer
Recipe type:
Appetizer or Salad
Ingredients
2 large pineapples
1 bunch of seedless green grapes
2 large Fuji (or other sweet apple), washed, cored and sliced (keeping skins on)
2 large bananas, sliced
2 c. strawberries, sliced in half
1 c. freshly squeezed lemon juice
Instructions
Cut pineapples in half (slicing right down the center of the top).
With a knife, take one of the pineapple halves and cut around the edges with a knife (being careful to not damage the pineapple edge).
Take the knife and then cut the inside of the pineapple as if you were cutting vertically, then horizontally.
With a spoon (or fork), scoop out the inside of the pineapple.
Once the pineapple meat is out of the center, scrape the inside of the pineapple with a spoon, getting the edges as smooth as possible (see photograph below).
Cut the pineapple meat into small chucks.
In a large bowl, add in all the fruit.
Pour lemon juice over the mixture and gently toss.
Place a generous helping of fruit salad into the pineapple shell and serve immediately.
Below is a shot of a pineapple leaving most of the stem. If you want your plate to look like this. You'll need 4 pineapples for 4 people.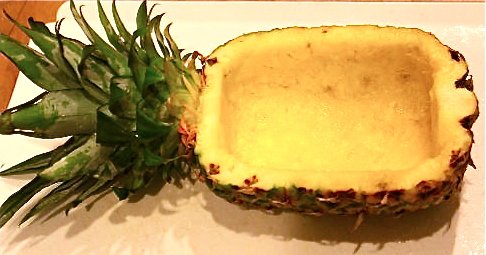 Below, the pineapple is cut right down the center. Each side of the pineapple is sharing part of the stem. For a plate like this, you'll need 2 pineapples.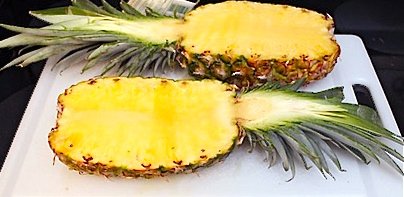 ©2013 — Maryann Ridini Spencer
Watch Simply Delicious Living with Maryann® on PBS Television in Southern California and in First Run Television Syndication. CLICK HERE: Market List Information. Also visit: SimplyDeliciousLiving.TV and RidiniEntertainment.com
Google+