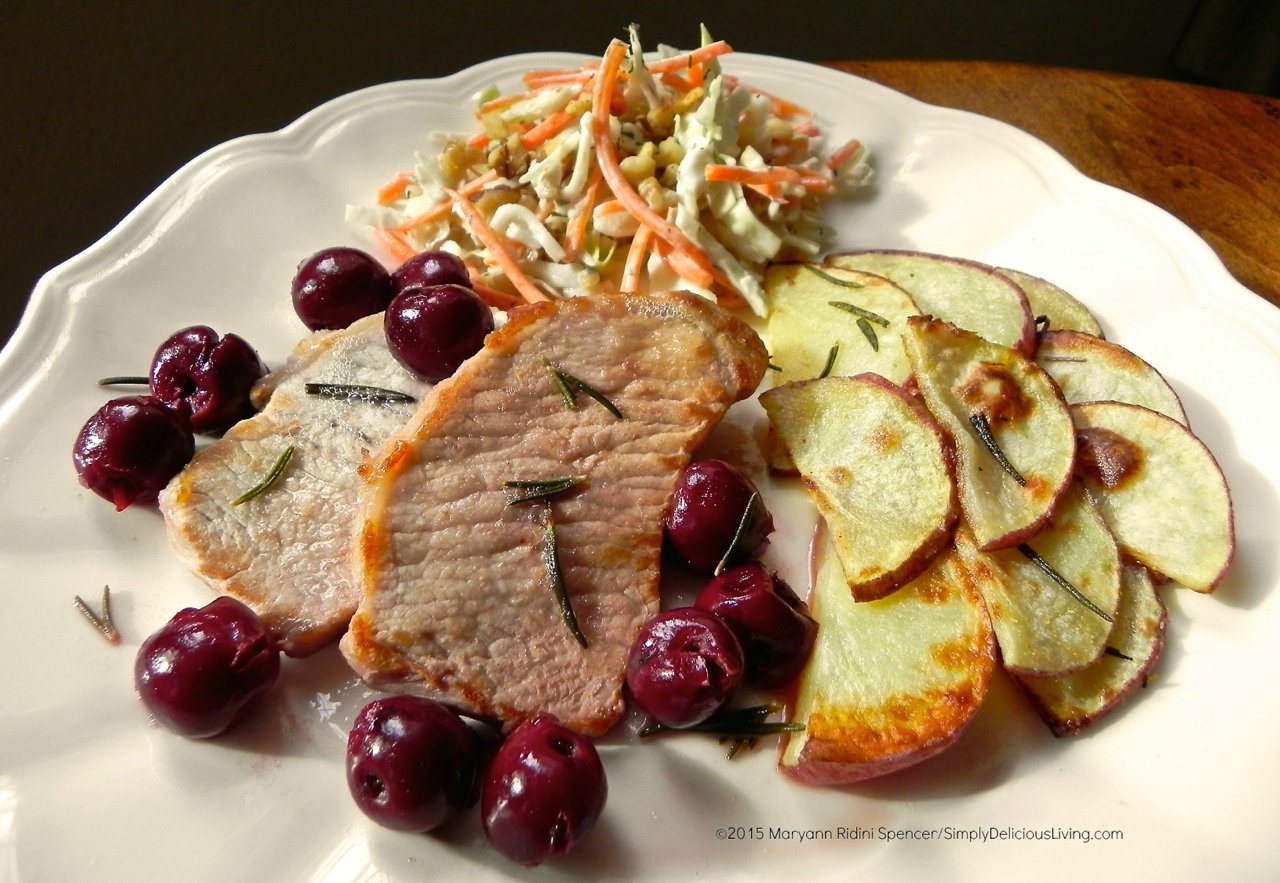 Pork Chops with Cherries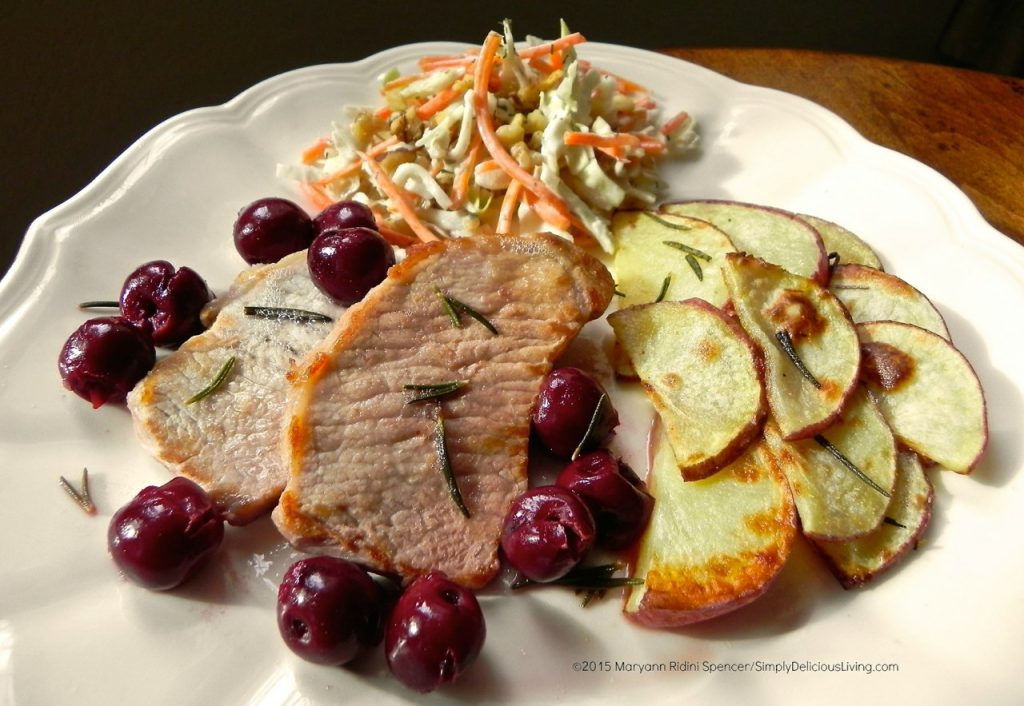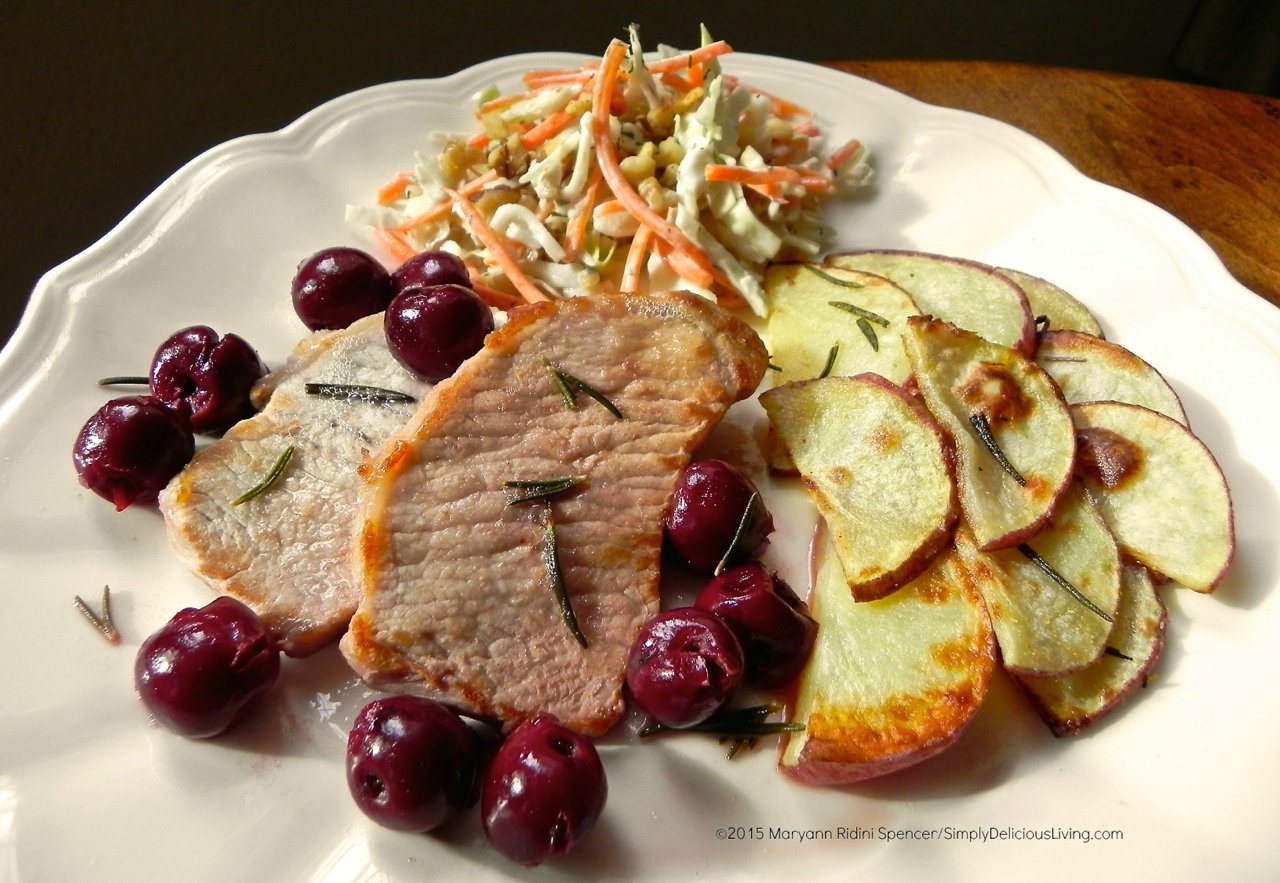 Looking for great meals in 30 minutes or less? I make this pork chop recipe with fresh rosemary and fresh dark red cherries. However, if cherries are out of season, find good quality dark cherries in a jar (not frozen!). Enjoy!
Pork Chops with Cherries, Fresh Rosemary & Coleslaw
Author:
Maryann Ridini Spencer
Ingredients
PORK CHOPS
4 organic, skinless, boneless pork chops
1 ½ c. freshly squeezed orange juice
½ c. good Chardonnay
1 tsp. Dijon mustard
2 T. fresh rosemary sprigs
1 c. fresh dark cherries (or in a jar if out of season)
garlic salt and pepper
ROASTED RED ROSEMARY POTATOES
4-5 red potatoes, peeled, thinly diced
3-4 T. fresh rosemary sprigs
garlic salt and pepper
extra virgin olive oil
CABBAGE AND CARROT COLESLAW
4 c. cabbage (one cabbage head shredded)
1 c. shredded carrots
¼ c. diced red onion
½ c. walnut pieces
1-2 T. mayonnaise
2-3 T. white balsamic vinegar
1 T. Dijon mustard (optional)
salt and pepper to taste
Instructions
Preheat oven to 425 degrees.
In a large bowl, add in potato wedges.
Drizzle a little extra virgin olive oil over potatoes.
Add in fresh rosemary sprigs and garlic salt and pepper. Mix.
Drizzle a little more extra virgin olive oil onto a cookie sheet, spread potatoes over the sheet and bake in the oven for approximately 20 minutes (or until wedges are golden on both sides).
While the potatoes are roasting, in a skillet on the stovetop over low heat, drizzle a little extra virgin olive oil in the pan.
Trim fat off pork chops and place in the skillet. Cook until slightly golden on both sides.
While the pork chops are cooking, prepare coleslaw by placing the cabbage, carrots, red onion, walnuts, mayo, mustard (optional), and balsamic vinegar. Mix, adding in garlic salt and pepper to taste and place in the fridge until ready to serve.
Add orange juice to cooking pork chops, place skillet on simmer.
Add in wine to pork chops, then Dijon mustard and rosemary sprigs. Stir liquid around chops.
Add in cherries, cover skillet and simmer for approximately 5-10 minutes.
Serve pork chops (adding some of the juices and cherries on top of the chops), with the coleslaw and Roasted Potato Wedges.
Notes
©2015 Maryann Ridini Spencer/SimplyDeliciousLiving.com
Visit
Maryann's shop
and check out her "As Seen on TV"
Simply Delicious Living aprons
!
Google+