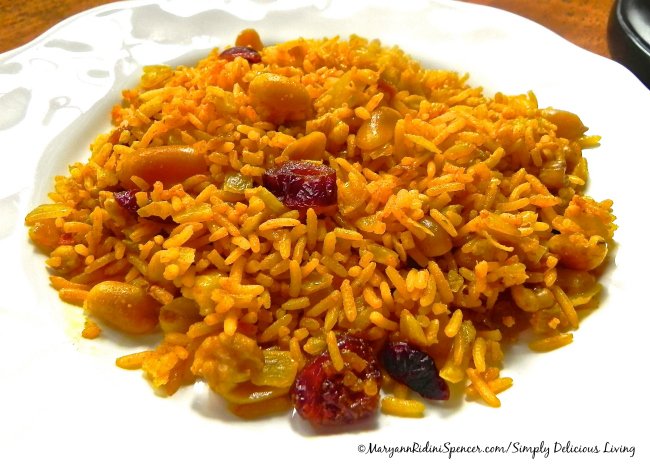 Curried Veggie Rice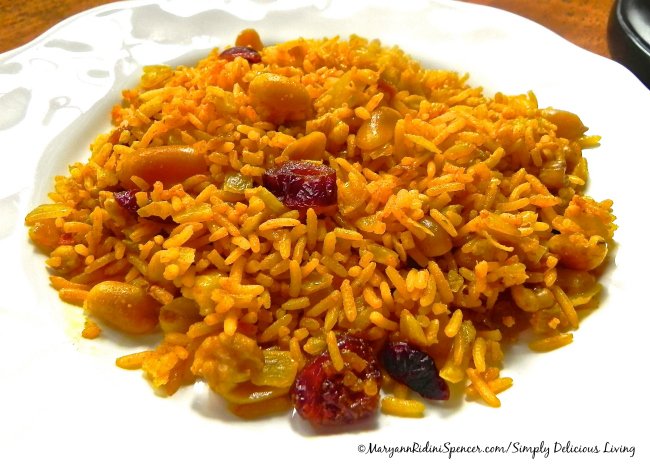 Curry powder, turmeric, ginger, and cardamom are all wonderful spices with anti-oxidant properties. "Food is Medicine" as my husband always says, so you always want to make sure you're eating simply healthy & delicious!
This recipe is inspired by The Plumeria Café (featured in my new novel, "Lady in the Window," in bookstores May 9, 2017, from SelectBooks @ Barnes & Noble OR Amazon.
Curried Veggie Rice
Author:
Maryann Ridini Spencer
Ingredients
Jasmine rice (Serving for 4 cooked to package instructions)
1 small white onion, peeled and diced
3 garlic cloves, diced small
1 zucchini, diced into small cubes
1 c. English peas
⅓ c. peanuts
½ c. diced carrots
⅓ c. dried cranberries
3 T. freshly squeezed lemon juice
1 tsp. turmeric
2 T. curry powder
¼ tsp. cardamom
¼ tsp. ginger
¼ tsp. coriander
¼ tsp. garlic salt
¼ c. water
organic extra virgin olive oil
Instructions
On the stovetop over low heat, drizzle olive oil over skillet bottom and add in cooked rice.
Add in onion, diced garlic, zucchini, peas, peanuts, carrots, dried cranberries, lemon juice, spices, and stir.
Add water. Cook mix for a while (Veggies will be soft but not mushy).
Add garlic salt and red chili pepper flakes (and other spices as needed) to taste.
Notes
Serve dish by itself or with grilled tofu, chicken, meat, or fish.
©2017 — Maryann Ridini Spencer, Find out more about Maryann's Award-Winning Simply Delicious Living TV Series & Blog and "Lady in the Window" (SelectBooks, 2017) a novel by Maryann Ridini Spencer at
https://MaryannRidiniSpencer.com
Google+