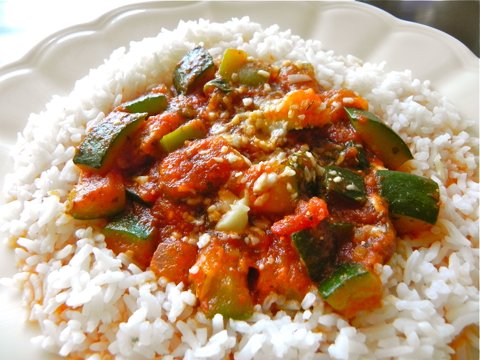 How to Make Ratatouille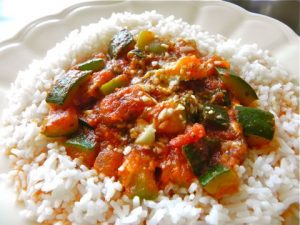 How to Make Ratatouille
Author:
Maryann Ridini Spencer
Ingredients
2 jars (26 ounces each jar) of your favorite pasta sauce or Dad's or Mom's Pasta Sauce
1 large onion, diced
5 cloves of garlic, diced
2 green peppers, diced
1 large eggplant, peeled & diced
2 zucchinis, peeled & diced
¼ c. fresh basil leaves, chopped
1 c. Parmesan/Romano cheese blend
½ c. red wine
2 T. extra virgin olive oil
garlic salt & pepper to taste
Instructions
On the stovetop in a pot of boiling water, add in eggplant, zucchini, and green pepper and cook until al dente.
Drain vegetables and place back in empty pot.
Pour in 2 jars of your favorite pasta sauce (or pre-prepared Dad's and Mom's Pasta Sauce). Simmer on stovetop on low heat.
In a skillet on the stovetop, add in olive oil, onions and garlic. Sauté until light brown.
Add in the onion and garlic mixture to the pot of vegetables and tomato sauce.
Add in red wine, fresh basil leaves and cheese. Stir.
Add in garlic salt & pepper to taste.
Simmer over low heat for 30 minutes, stirring occasionally and/or until veggies are soft (but not too mushy!)
Serve hot or cold!
This dish goes great on top of your favorite pasta or rice. It's also a great side dish to accompany meat, chicken and/or fish. Once, cooked this dish can also be served cold!
©2010 – Maryann Ridini Spencer
Google+