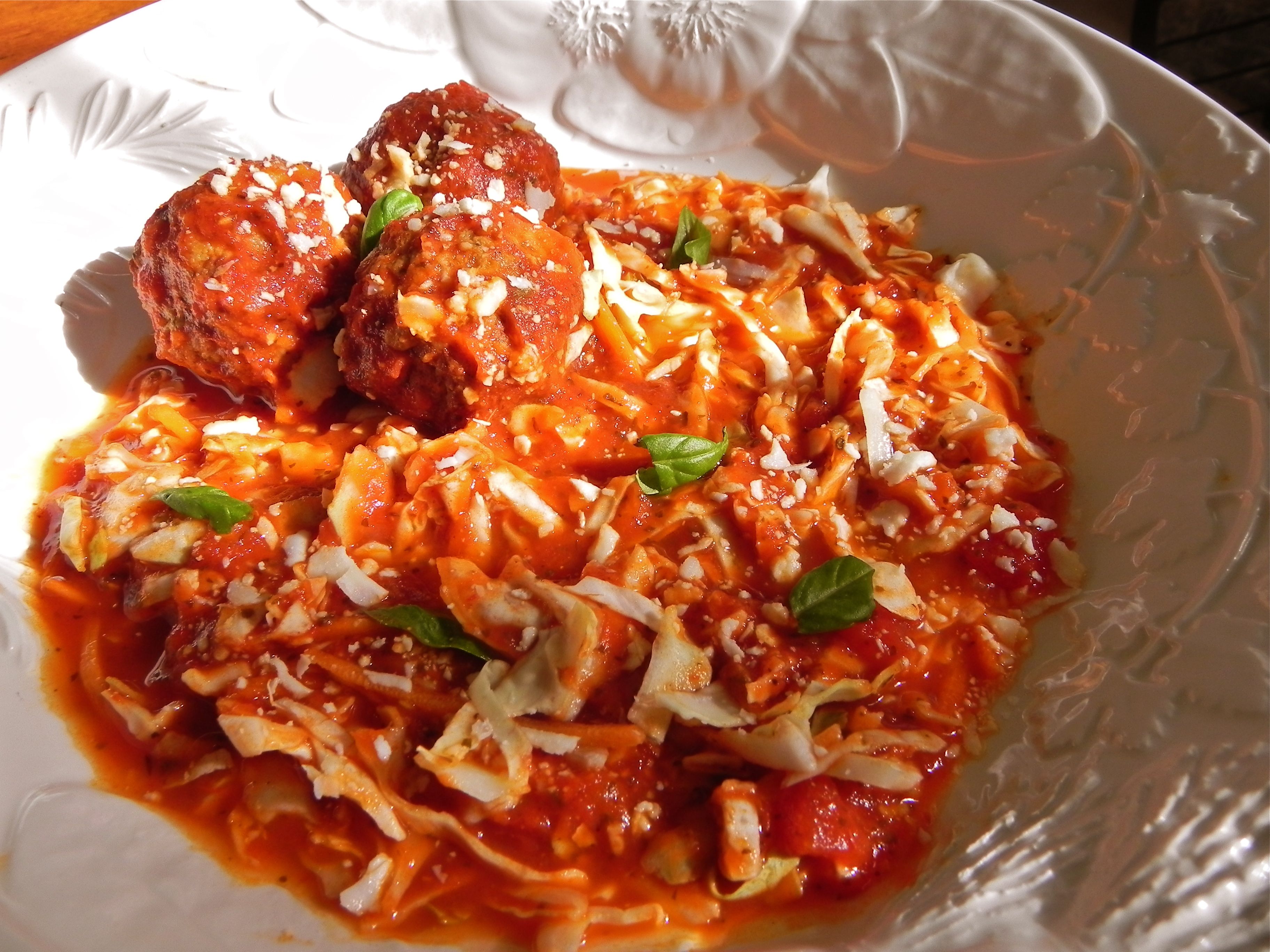 I love pasta with meatballs.  However, sometimes I like to stay light with my dinner.  So instead of cooking up some pasta, I serve pasta sauce (with or without meatballs) over green and red cabbage and carrots.  It may sound strange — but it is DELICIOUS!
Skinny Pasta & Meatballs
Author:
Maryann Ridini Spencer
Ingredients
2 ½ c. Your Favorite Pasta Sauce (or Mom's and Dad's Pasta Sauce)
Emma's meatballs (optional)
3 c. cabbage
1 c. red cabbage
½ c. shaved carrots
4 fresh basil leaves, chopped
Garlic Gold® Parmesan Nuggets
garlic salt and pepper to taste
2 T. shaved Parmesan cheese
Instructions
Make and/or heat up your favorite pasta sauce in a pan on the stovetop. (For a great homemade pasta sauce, try my Mom's and Dad's Pasta Sauce.)
In the pan with the pasta sauce, add in the meatballs. Try my Emma's Meatball recipe.
In a large bowl, put cabbage, red cabbage, carrots and fresh basil leaves.
When pasta sauce and meatballs are hot (about 5-8 minutes on the stovetop over medium heat), sprinkle Garlic Gold Parmesan Nuggets over the top of the sauce to taste and stir.
Sprinkle in garlic salt and pepper to taste and stir.
With a large spoon, spoon HOT pasta sauce over the bowl of cabbage and carrots.
Mix well for about a minute letting the cabbage/carrot mixture absorb the hot pasta sauce.
Spoon helpings of the cabbage mixture and pasta sauce on to two plates.
Add 2 meatballs per plate.
Sprinkle Parmesan cheese over the top and ENJOY!
Notes
This recipe can be made with or without meatballs. If you're making Mom's and Dad's Pasta sauce or Emma's Meatballs, allow more time to prepare this dish.
Google+