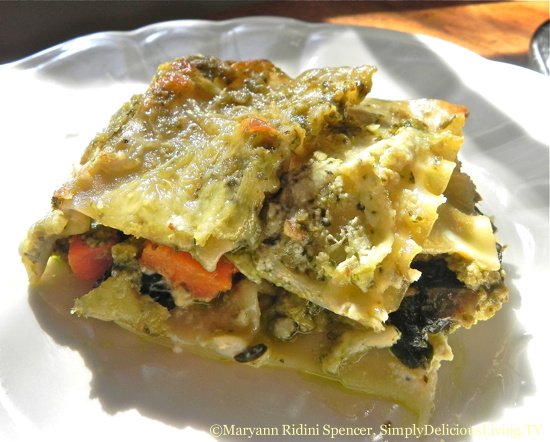 Growing up in a large Italian/Irish household, my family enjoyed a variety of pasta dishes on a regular basis.  Traditionally, lasagna is made with a red sauce.  However, this delicious dish is made with a fresh pesto sauce combined with a variety of organic vegetables and ricotta and mozzarella cheeses. It tastes great right out of the oven — and fabulous served the next day too! Serve it with a my
Simple Side Salad.
Vegetable Lasagna
Author:
Maryann Ridini Spencer
Ingredients
PESTO:
2 c. fresh basil
⅓ c. walnuts
2 cloves garlic, diced
¾ c. freshly grated Parmesan cheese
½ c. extra virgin olive oil
2 T. freshly squeezed lemon juice
LASAGNA:
13-14 organic lasagna noodles (Whole Wheat or Gluten-Free)
6 c. fresh, organic baby spinach
½ c. onion, diced
3 garlic cloves, diced
2 yams, peeled and sliced into ¼" rounds
2 zucchini squash, sliced into ¼" rounds
15 oz. whole milk ricotta cheese
½ tsp. fresh oregano sprigs, chopped
½ tsp. salt
1 tsp. garlic powder
dash of ground black pepper
1 egg
1 c. Mozzarella cheese (non-GMO)
extra virgin olive oil
Instructions
PESTO:
Put all ingredients in a Cuisinart blender. Blend well. Scrape down sides with a spatula. Blend again. Set aside.
LASAGNA:
In a pot on the stovetop, cook lasagna noodles to package instructions. Cook lasagna so it is soft, but a little firm.
In a skillet on the stovetop over low heat, add in a little olive oil, garlic, and onions. Sauté until slightly golden.
Add in spinach, sauté until spinach is wilted. Set aside.
Wash and cut zucchini in to ¼" rounds and set aside.
Wash and peel yams. Cut yams into ¼" rounds.
In a large pot on the stovetop, place 2-4" of water and a steel steamer. Place yams in the steamer and steam until soft, but not crumbly. Set aside when cooked.
In a large bowl, add in Ricotta, oregano, salt, garlic powder, pepper and l egg. Mix well.
Coat a 9x6 glass Pyrex dish with a thin layer of olive oil.
Line the bottom of the Pyrex dish with 3 lasagna noodles so there is no space between the noodles.
Add a layer of Ricotta cheese.
Add a layer of zucchini rounds.
Sprinkle ½ c. freshly grated mozzarella over the top of the dish.
Add another layer of lasagna noodles.
Add another layer of Ricotta cheese, reserving ½ c. for the top of the lasagna.
Add a layer of the spinach mixture, spread over the top.
Add a layer of yam rounds.
Add a layer of fresh pesto
Add another layer of lasagna noodles.
Top noodles with remaining pesto and ricotta.
Sprinkle the other ½ c. of mozzarella cheese over the top.
You can cover the lasagna dish with Saran wrap and place it in the fridge (same day or overnight) until you are ready to make dinner.
When you are getting ready to serve the lasagna, bake the dish in a preheated oven at 350 Degrees F for 30 minutes until warm and bubbly. Serve immediately.
Notes
©2014 Maryann Ridini Spencer, Simply Delicious Living.com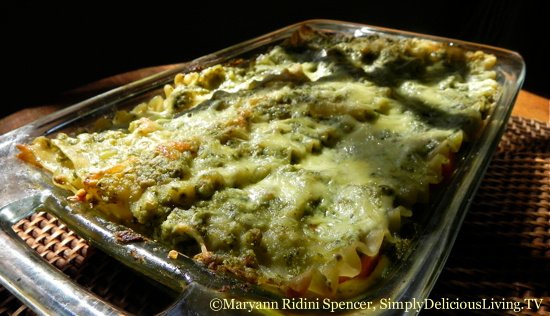 ©2014 Maryann Ridini Spencer, Simply Delicious Living.com
Google+