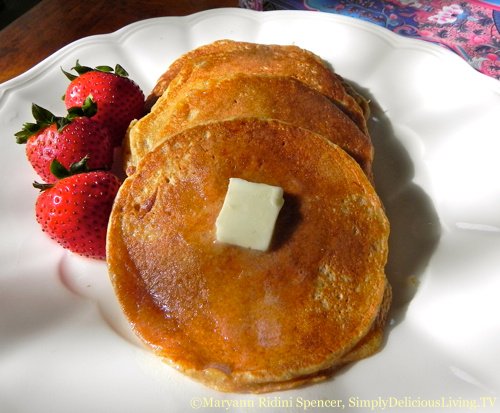 All-Natural Homemade Pancakes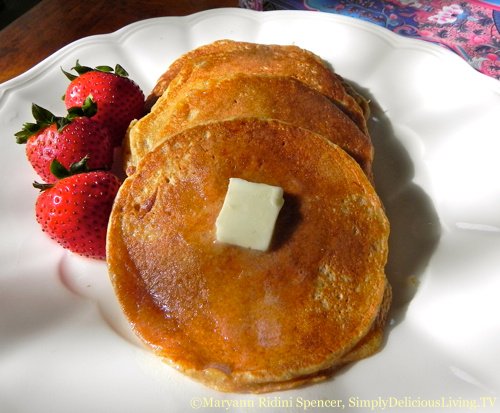 Instead of buying pancake mixes (read the list of ingredients — you'll find all types of preservatives and ingredients you can't even pronounce!), try my easy-to-make (really!) All-Natural Homemade Pancake recipe that you can also make gluten-free. At our house, we love pancakes for breakfast with a dollop of plain Greek yogurt, fresh fruit (or my Homemade Chunky Applesauce) and cinnamon or just butter and maple syrup. So here's to a yummy breakfast that's good for you too! 🙂

All-Natural Homemade Pancakes
Author:
Maryann Ridini Spencer
Cuisine:
Breakfast, Brunch
Ingredients
2¼ c. unbleached flour or whole wheat flour (for a gluten-free option use The Pure Pantry Organic All Purpose Baking Mix)
¼ c. organic sugar
2½ tsp. baking powder
¾ tsp. salt
1 tsp. pure vanilla extract
1 tsp. pure lemon extract
4 large eggs
2 c. coconut milk
coconut oil for greasing the pan
Topping
plain Greek yogurt
fresh fruit (strawberries, pinapple, banana or other) or applesauce
ground cinnamon
Instructions
In a large bowl, add in flour, sugar, baking powder, and salt.
In another large bowl, add in eggs and milk. Whisk.
Then to the egg and milk mixture add in vanilla and lemon extracts and whisk.
In a blender. Add in ½ of egg and milk mixture and half of flour mixture. Blend.
Add in the remaining egg and milk and flour mixtures. Blend.
In a skillet on the stovetop over low to medium heat, drizzle coconut oil over the pan. Pour a few tablespoons full of batter on to he pan forming individual pancakes. Cook pancakes until golden on each side.
Serve immediately with fresh fruit, Greek yogurt and/or honey, maple syrup and cinnamon. In season, my family enjoys it with apple, pumpkin and/or cranberry butter!
Notes
I really love this recipe with the gluten-free Pure Pantry flour. However, enjoy with whole wheat or all purpose. While cooking, if you find that the batter is a little thick, just add in more coconut milk and mix to desired consistency. I love serving these pancakes with a dollop of plain Greek yogurt, fresh fruit (or my
Chunky Applesauce
), and cinnamon. My family also likes to drizzle either honey or maple syrup over the top. PLEASE note that originally I posted this recipe to include 4 T. coconut oil (melted) in the pancake mix. However, the pancakes come out lighter and fluffier!
© Maryann Ridini Spencer
Google+