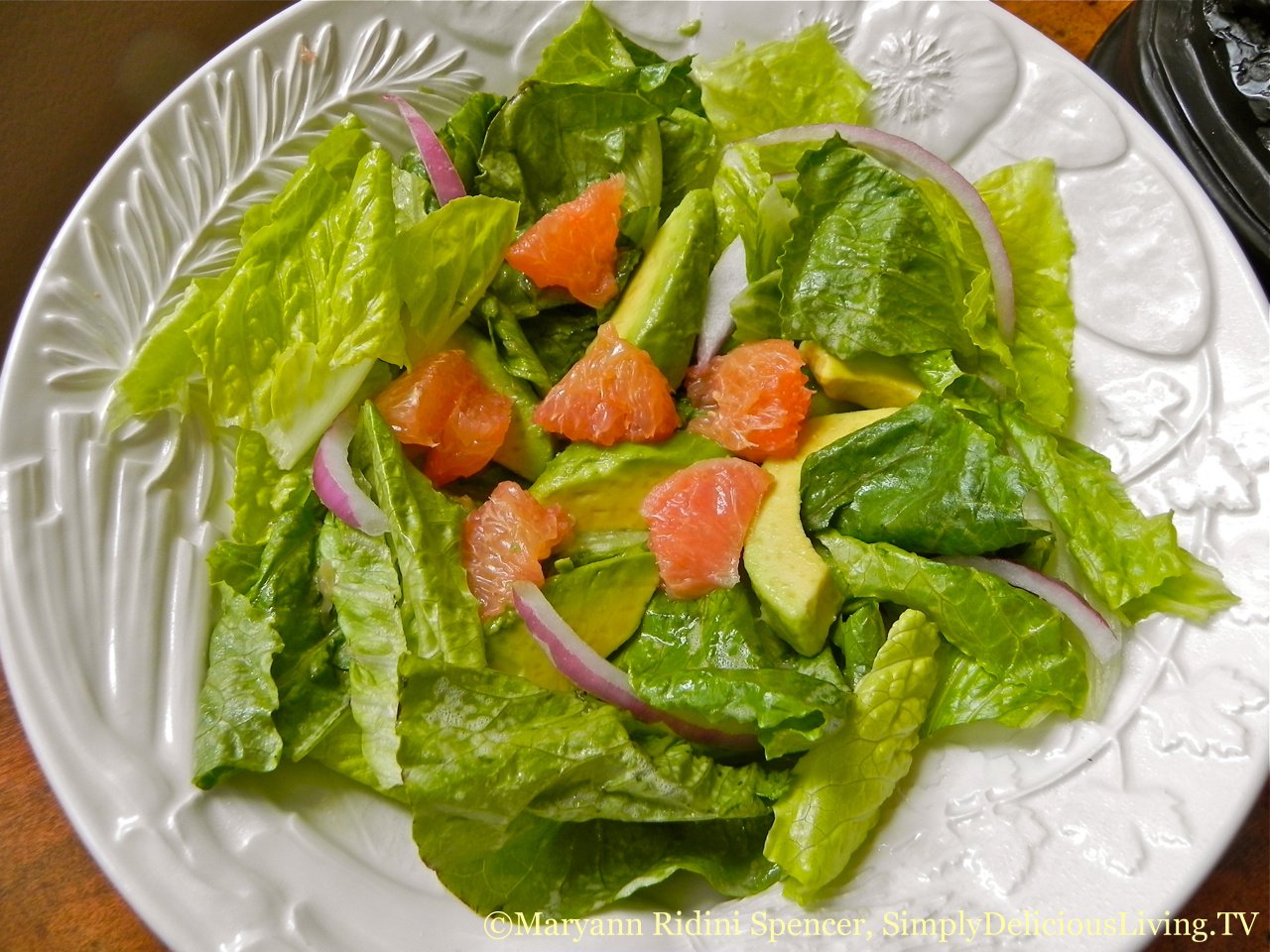 Grapefruit and Avocado Salad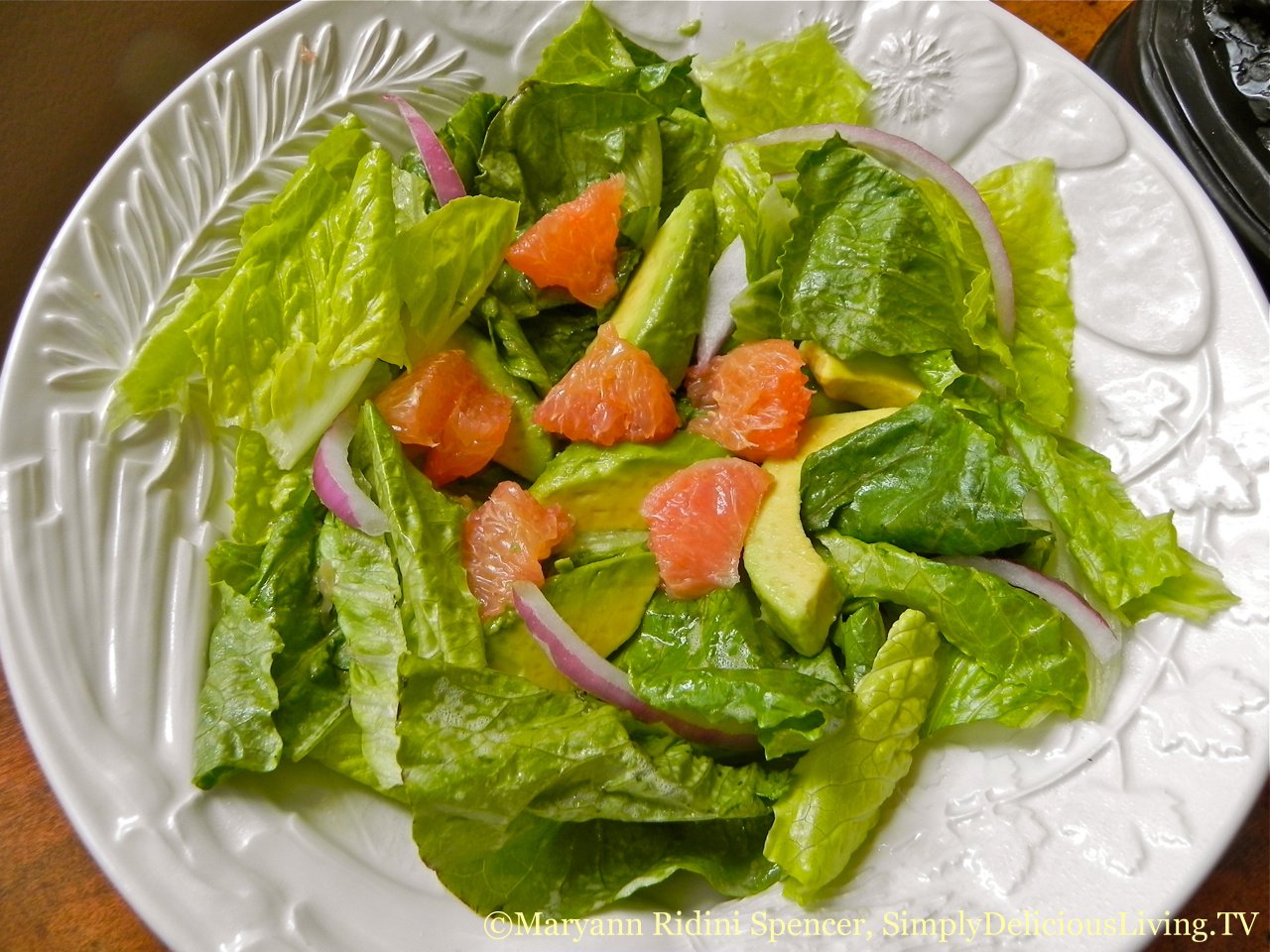 My husband and I live on a citrus and avocado orchard. Right now in May, we have so many gorgeous avocados, lemons and grapefruits just ready for the picking! I'm always trying to come up with recipes where I can use fresh, natural and local (it helps when it's our back yard!) produce. My sister-in-law mentioned that she loves eating avocado with grapefruit and that inspired me! Here's an amazing salad that you can serve for lunch or dinner. It's so light, refreshing and satisfying.
You can eat it for lunch as is, and/or you may want to serve it with some hard boiled eggs or tuna salad. It's also divine for dinner with a piece of grilled salmon or a tender filet mignon. I hope you like it just as much as I do friends! 🙂

Grapefruit and Avocado Salad
Author:
Maryann Ridini Spencer
Ingredients
3 hearts romaine lettuce, washed and chopped
1.5-2 pink (red) grapefruits
¼ c. red onion, sliced or diced
2 avocados, scooped and sliced
¾ c. extra virgin olive oil
¼ c. white wine (or distilled white) vinegar
garlic salt and pepper to taste
1 small lemon, sliced in half
1 small key lime, sliced in half
2 T. honey
Instructions
In a large bowl add in the chopped romaine hearts.
Peel the pink grapefruit. Gently pull apart the individual grapefruit sections.
With a knife, gently remove (cut away) any of the white skin membrane that remains on each grapefruit section.
Add grapefruit sections into the salad bowl.
Add in sliced or diced red onion.
With a sharp knife on a cutting board, cut the avocados in half working around the inner seed. Open the avocado halves to expose the seed.
With a spoon, gently scoop out the avocado meat leaving the skin intact to be thrown away. Then slice the avocado into lengthwise pieces. Add avocado slices into the salad mix.
Add in extra virgin olive oil.
Add in white wine (or distilled white) vinegar.
Add in a dash of garlic salt and pepper.
Squeeze the lemon and key lime wedges over the salad so that the juice goes over the salad.
Drizzle honey over salad.
Toss well.
Add in more garlic salt and pepper to taste.
Serve immediately.
©2013 — Maryann Ridini Spencer
Watch Simply Delicious Living with Maryann® on PBS Television in Southern California and in First Run Television Syndication. For more information, visit: SimplyDeliciousLiving.TV and RidiniEntertainment.com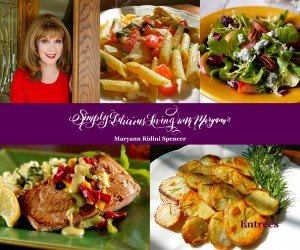 CLICK Maryann's Cookbook to VIEW a SAMPLE. Over 40+ delicious and easy-to-make entrées for people on the go! Available Formats: Ebook, Apple iPad, Soft and Hard Cover. For more information, CLICK HERE.
Google+