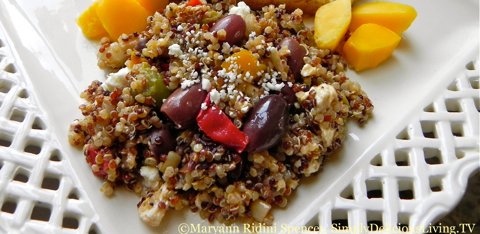 Mediterranean Quinoa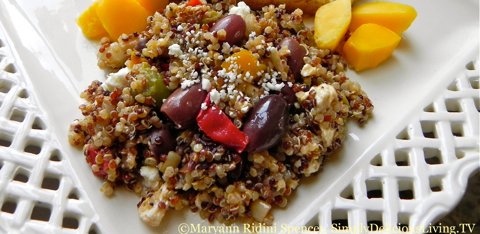 This delicious side can be served as a side to grilled chicken or fish.  You can also serve it adding in herbed tofu or shrimp! It's versatile and even tastes great the next day for lunch!

Mediterranean Quinoa
Author:
Maryann Ridini Spencer
Ingredients
1 c. tricolor organic quinoa
2 c. water
1 ½ c. diced red, yellow and green bell peppers
1 small onion, diced
4 garlic cloves, diced
1 c. diced Greek olives
1 c. Feta cheese crumbles
1 ½ T. extra virgin olive oil
Instructions
In a 1-½ quart saucepan, pour in water and quinoa.
Bring to a boil, then cover the pot and reduce to a simmer.
Cook for approximately 10-15 minutes until all the water is absorbed.
While the quinoa is simmering, in a skillet on the stovetop over low heat, pour in olive oil.
Add in bell peppers, onion, garlic and sauté until lightly golden.
In a large bowl, pour in cooked quinoa and cooked pepper, onion and garlic mixture.
Add in the Greek olives and Feta cheese crumbles and mix well.
Add in your favorite balsamic vinegar dressing to taste and miix well.
Quinoa can be served hot or cold. It even tastes fantastic the next day!
Notes
Basic Balsamic Vinegar Dressing
To make balsamic vinegar dressing, use ⅓ c. good balsamic vinegar, ¾ c. olive oil and garlic salt and pepper to taste. Mix well. Keep in a separate container and use on quinoa to taste.
Google+