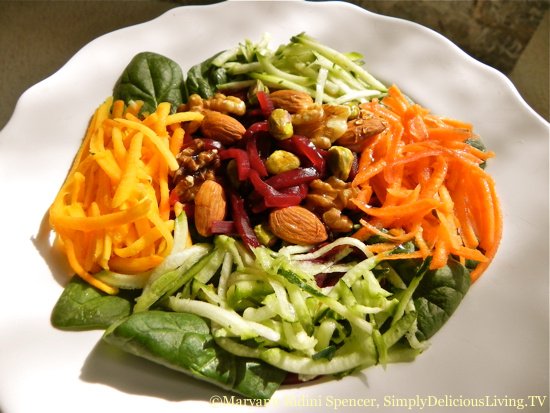 Raw Veggie Salad – Inspired by Raw Food Expo

     The energy is high and the faces are friendly at the 6th Annual Raw Living Expo being held at the Hyatt Westlake Plaza, 880 S. Westlake Boulevard, Westlake Village, from Friday, January 31 to Sunday, February 2, 2014.  The expo features product booths, raw food cooking demonstrations, informative lectures, workshops and classes, music and dancing, movement and yoga classes, and a "Best of Raw" Gala Awards Dinner.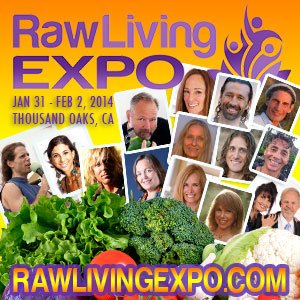 The mission of the expo is to "invite humanity to add more raw, organic plant foods to the diet to increase health, decrease our eco-footprint, and raise our spirits."  You don't have to be a vegetarian, vegan or raw foodie to attend.  In fact, if you keep an open mind, you'll definitely pick up a few tips and enjoy some of the delectable dishes!
     The first lecture on Friday at 9:00am, kicked off with "How to Write, Publish and Promote a Best Selling Book in 90 Days or Less," with author/publisher Nathan Crane (Panacea Publishing).  The talk was extremely informative, and while I'm a published author, I especially gleamed some very helpful tips including a simple truth worth remembering,  "Write when you feel inspired.  That exciting energy emanating from you will always translate to your readers."
     For the first food preparation demo in the Plaza De Cataluna Chef Demo Stage, Culinary Artist and raw food advocate, Diana Stobo, conducted an "Amazing Nut and Seed" Milk Demo Class.  After attending the demo, even though I'm not easily sold, I couldn't wait to pick up her book, "Get Naked Fast!" and even bought a nut-milk bag to make my own nut milk.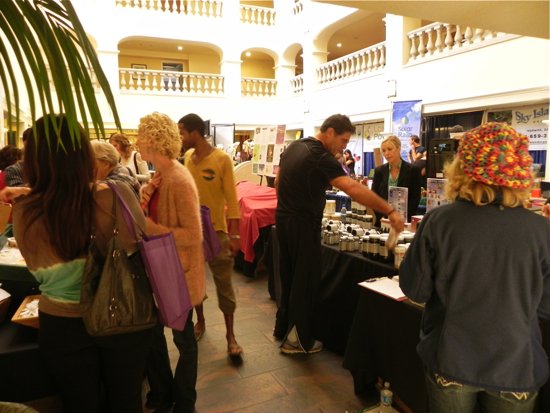 A sampling of the product booths include fare and merchandise from such exhibitors as: Garden of Life, Divine Organics, Whole Foods, Living Light, Lydia's Organics, Vitamix, Berry Breeze and many others.  For a complete list of exhibitors, visit:  rawlivingexpo.com/exhibitors. To view a complete event schedule and for tickets, visit:  rawlivingexpo.com
     Inspired by today's event, I decided to make this especially delicious and healthy "Raw Veggie Salad."  You can serve it for lunch, dinner and even for breakfast with slices of hard boiled egg (and/or mixed in with scrambled eggs! Here's the simple recipe.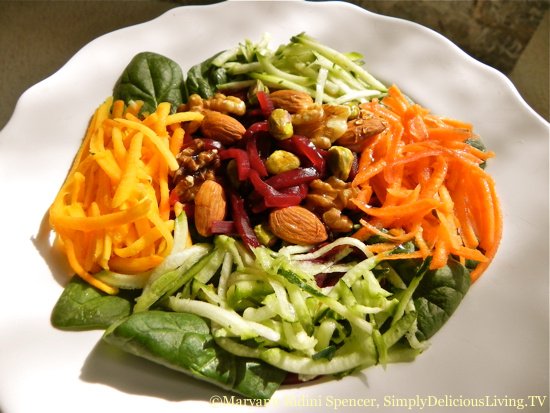 You will need either a Julienne Peeler or Mandoline slicer!
OR
Raw Veggie Salad
Author:
Maryann Ridini Spencer
Ingredients
2 c. organic spinach
½ c. shredded carrots*
½ c. shredded zucchini*
½ c. shredded butternut squash*
½ c. beets*
10 raw almonds
¼ c. raw pistachios, shelled
¼ c. walnuts, shelled and sliced
1 Key lime
2 T. raw honey
sea salt and pepper to taste
*Julienne Vegetables
Wash and slice carrots, zucchini, butternut squash and beets on a Julienne Slicer or Mandoline.
Instructions
In a large bowl, add spinach, carrots, zucchini, butternut squash, beets, almonds, pistachios and walnuts.
Toss well.
Slice key lime in half and squeeze the juice over the salad.
Drizzle honey over salad.
Add in salt and pepper to taste.
Toss well.
Serve immediately!
Notes
What's so wonderful about this raw salad is that even though the vegetables are raw, they are so tender. Using a Julienne slicer or Mandoline is the key to wonderfully delicious, soft, raw veggies!
©2014 – Maryann Ridini Spencer, SimplyDeliciousLiving.com
Watch Simply Delicious Living with Maryann® on PBS Television in Southern California and in First Run Television Syndication.  For more information, visit:  SimplyDeliciousLiving.TV and RidiniEntertainment.com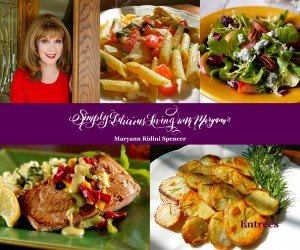 CLICK Maryann's Cookbook to VIEW a SAMPLE. Over 40+ delicious and easy-to-make entrées for people on the go!  Available Formats: Ebook, Apple iPad, Soft and Hard Cover.  For more information, CLICK HERE.
Google+