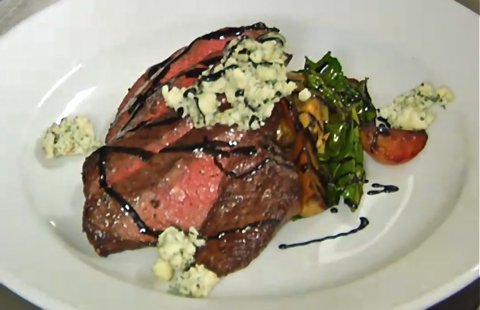 Grilled Skirt Steak with Roasted Beets and Blue Cheese Crumbles
Author:
Chef Tim Kilcoyne
Ingredients
2 – 10 ox Flat Iron Steaks
20 ounces of Roasted Beets*
4 c. beet greens, cleaned and cut into 1 inch pieces
10 ounces Roasted Garlic Cloves*
14 ounces Blue Cheese crumbles
Salt & Pepper to taste
Balsamic Reduction
*Pre-Roast the beets and garlic
Balsamic Reduction:
1 bottle of balsamic vinegar
½ tsp. of refined sugar
Instructions
Making Balsamic Reduction:
On stovetop, pour vinegar in pot. Turn heat on high.
Turn heat on high. When vinegar starts to boil, reduce to medium heat.
Add in sugar and stir.
Simmer until about 75% of the vinegar has evaporated.
Set aside and allow to cool. (Note: reduction will be like a syrup. To make a thicker substance, place pot with vinegar over heat and allow more vinegar to evaporate).
Steak Preparation:
Season the flat iron steaks with salt and pepper.
On a flat top or BBQ, place the steaks and cook for 5 minutes on each side for medium rare.
Add a little olive oil to a sauté pan.
Over medium heat, add the beets, roasted garlic and geet greens. Season with salt and pepper and cook until the vegetables are warmed through.
Place the steaks on two separate plates.
Top the steaks with the vegetables, blue cheese crumbles and drizzle with balsamic reduction.
This Recipe is courtesy of Chef Tim Kilcoyne, Owner and Executive Chef of SideCar Restaurant, 3029 E. Main Street, Ventura, Ca.
Google+