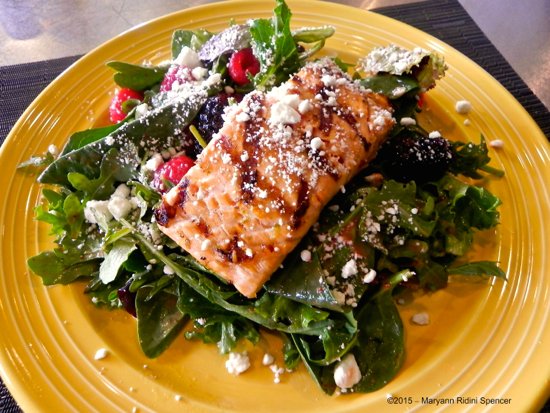 Tequila Grilled Salmon Salad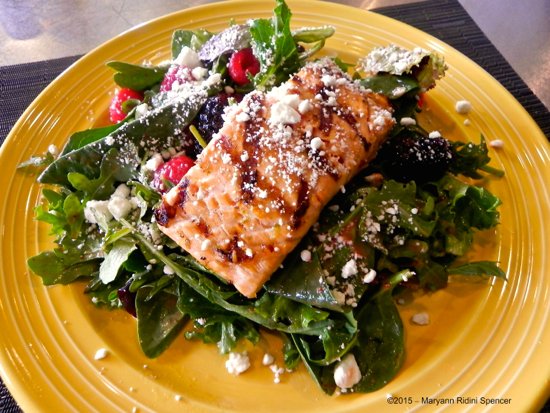 Eating fresh fruits and veggies in season that you purchase locally is good for your health, stimulates the local economy, and helps your community's sustainability. In this Sustainable Ventura News segment, I catch up with Chef Luis Martinez at the Crowne Plaza Ventura Beach's Nom Tequila Grill who prepares a delicious summer salad with ingredients fresh from a local farmer's market!

Tequila Grilled Salmon with Strawberry & Chipotle Vinaigrette
Author:
Maryann Ridini Spencer
Ingredients
Tequila Grilled Salmon
½ c. Tequila
1 c. freshly squeezed lime juice (5 to 6 limes)
½ c. freshly squeezed orange juice (2 oranges)
1 T. chili powder
1 T. minced fresh jalapeno pepper (1 pepper seeded)
1 T. fresh garlic, minced (3 cloves)
2 tsp. kosher salt
1 tsp. freshly ground black pepper
6 Salmon Fillets (6 oz. each )
Strawberry & Chipotle Vinaigrette
1 c. fresh strawberries
¼ c. honey
½ c. rice vinegar
¼ c. freshly squeezed orange Juice
1 chipotle pepper
1 tsp. freshly squeezed lime juice
¼ tsp. sea salt
¼ tsp. garlic, chopped
1 tsp. Dijon mustard
1 c. extra virgin olive oil
1 tsp. fresh cilantro, chopped
salt & pepper
Instructions
Tequila Grilled Salmon
Combine the tequila, lime juice, orange juice, chili powder, jalapeno pepper, garlic, salt, and pepper in a large bowl.
Add the salmon fillets. Refrigerate overnight.
Heat a grill with coals and brush the rack with oil to prevent the salmon from sticking.
Remove the salmon fillets from the marinade, sprinkle well with salt and pepper, and grill about 3 minutes;
Turn the salmon and cook for another 3 minutes, until just cooked through.
Strawberry & Chipotle Vinaigrette
Put in a blender the strawberries, honey, rice vinegar, orange juice, lime juice, salt, garlic, Dijon muster, cilantro chipotle and blend in till is all purée consistence add the olive oil slowly to emulsify the dressing.
Important use within 72 hours.
Recipes Courtesy of Executive Chef
Luis Martinez
C.E.C., Crowne Plaza Ventura Beach

Visit: Nom Tequila Grill
This recipe first appeared on Sustainable Ventura News
Google+