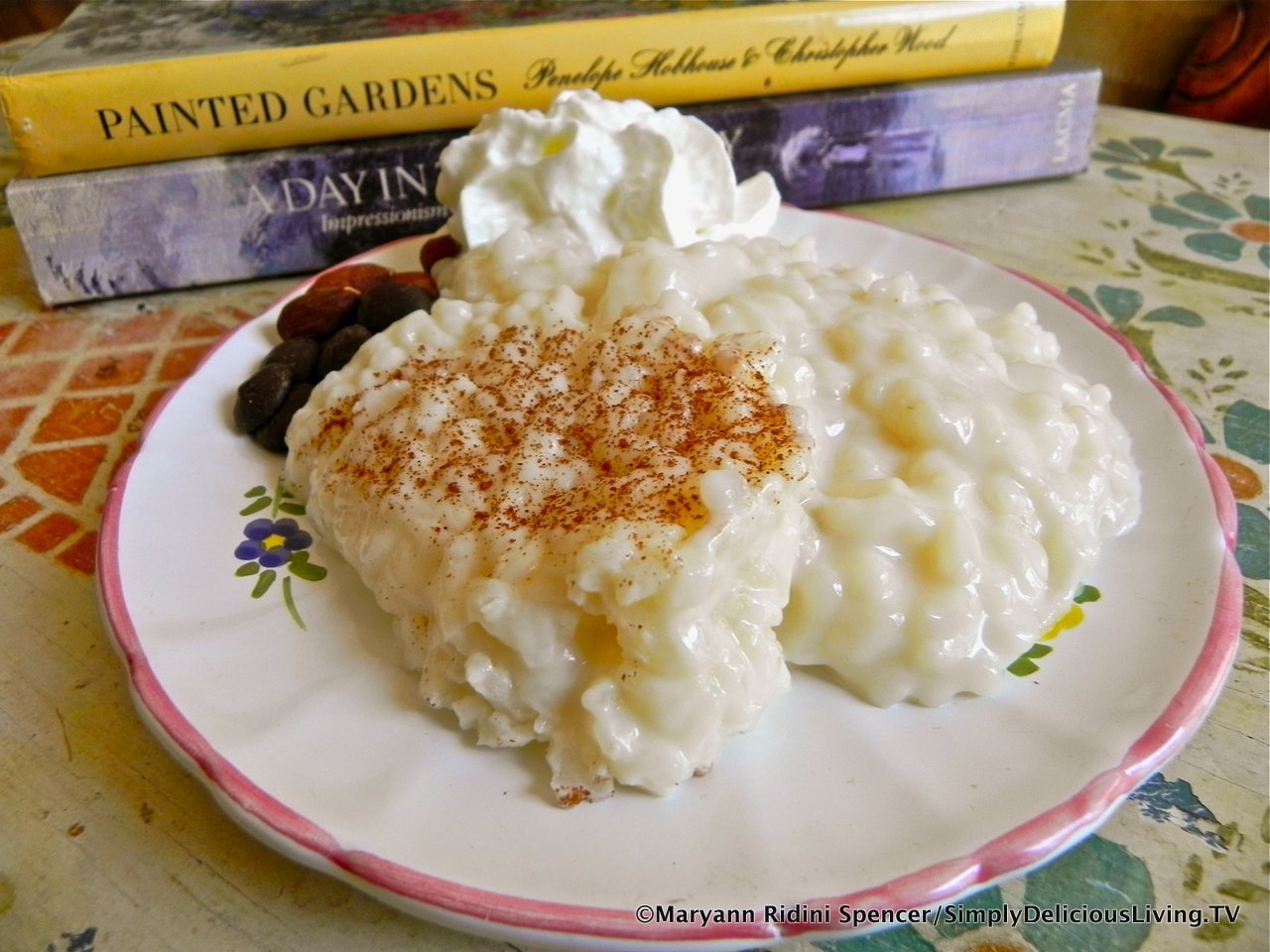 Rice Pudding Heaven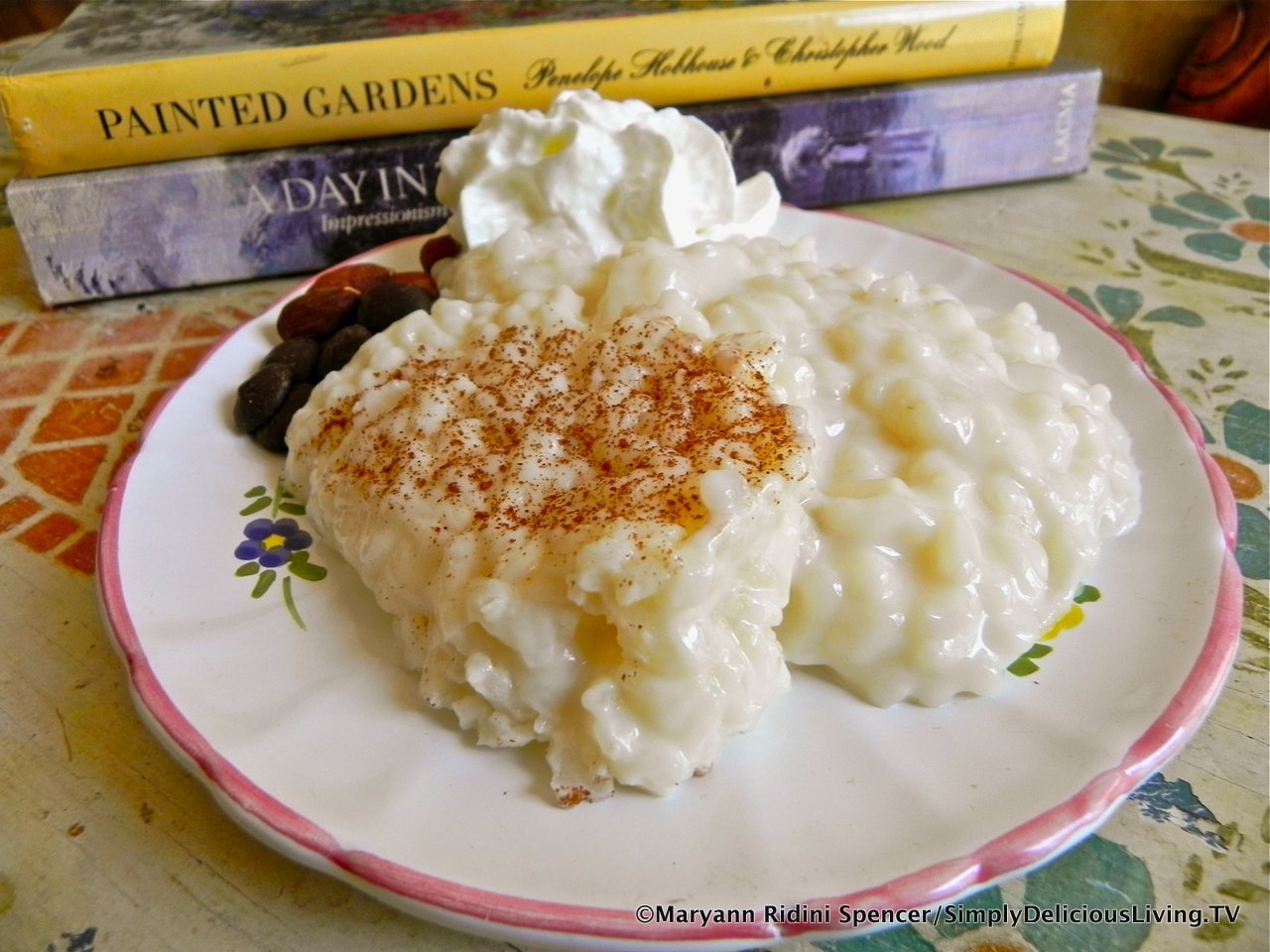 This dish is one of my favorite desserts! It's creamy and sooo soothing. I also love to serve it topped with sliced bananas (or strawberries) and whip cream. Yum!

Rice Pudding Heaven
Author:
Maryann Ridini Spencer
Ingredients
1 c. uncooked basmati rice
6 c. water
1 ½ tsp. salt
4 egg whites
½ c. coconut oil and 2 T. (2 T. will be used to grease the baking dish)*
2 c. coconut milk
1 c. sugar (or ½ c. honey – see note below)**
2 T. vanilla extract
1 T. lemon extract
1.5-2 T. cinnamon
½ c. shredded sweet coconut
Coconut Oil or Canola spray
Instructions
In a large boiling pot (5 quart) on the stovetop, boil rice, water and salt for 20 minutes uncovered.
After rice cooks for 20 minutes, add in coconut oil, coconut milk, sugar and vanilla. Stir well.
Beat egg whites in a bowl with an electric mixer until foamy (They will become like white clouds).
Fold egg whites into the rice mixture in the pot on the stove.
Preheat your oven to 350°F.
Grease a 13x9x2 inch-baking dish with coconut oil.
Pour in rice mixture into the baking dish. (Note: The dish will be very watery and a little lumpy. Not to worry, once the dish cooks and then is put in the frig overnight, the texture changes).
Sprinkle the top evenly with 2 T. cinnamon and shredded sweet coconut.
Spray top of dish lightly with canola spray.
Bake dish in the oven at 350 °F for one hour.
Cool dish for approximately 20 minutes.
When dish is cool, cover with saran wrap or tin foil and refrigerate overnight. (Keeping the dish in the frig overnight will give it a different texture and flavor).
The next day, take the rice pudding out of the frig. You can keep in the baking dish to store. However, what I like to do is scoop all the rice pudding into a large tupperware container and mix it all together. When I serve it, I put about 1 T. of heavy cream (or coconut milk) mixed into each serving. I then slice bananas (or strawberries for a topping — sometimes even adding a dollop of whip cream). Adding in 1-2 T. of coconut milk or cream makes the dish very moist and delicious.
COOKING TIPS:
*If you prefer, instead of using coconut oil you can use 1 stick of butter. However, coconut oil is much healthier for you. You won't even know the difference tastewise.
**Honey is also a much healthier substitute for white sugar. However, it does give the dish a slightly different taste (it will taste quite a bit sweeter), and the dish will also be a slight golden color. My family enjoys the pudding both ways.
©2013 – Maryann Ridini Spencer, SimplyDeliciousLiving.TV
Here's what Dr. Christopher Scott Spencer has to say about some of the ingredients found in this dessert:
This recipe is made with some great ingredients that are not only delicious, but healthy for you. Here's a breakdown of some of the recipe's key ingredients and their healing benefits.
Basmati rice
Basmatic rice comes in brown (unprocessed) and white (processed) varieties and is a popular cooking grain in Indian cooking, naturally low in fat (containing less than 1 g per serving). Each ¾ of a cup serving contains 3g protein. It's also a good source of thiamine and niacin. The fiber content of the brown basmati is higher than the white variety and both versions contain little or no sugar. Additionally, each serving of basmati rice contains a small amount of iron (6 percent of daily value).
Coconut oil
Coconut supports immune system functioning and has anti-inflammatory, antibacterial and anti-viral properties. Coconut oil has been used in treating and/or preventing such conditions as: eczema, dermatitis, psoriasis, periodontal disease, tooth decay, Candida, blemishes and reduces the risk of heart disease, cancer and other degenerative conditions.
Coconut Milk
A creamy liquid made from the meat of mature coconuts, coconut milk is popular in the Philippines and the tropics where coconut trees are abundant. It's easy to digest, lactose-free and contains a host of nutrients including immune boosting vitamins C, E and many B vitamins. It's also rich in magnesium (which regulates the heart's rhythm and supporting function of nerve cells and maintains heart, kidney, brain and muscle tissue). The Phosphorus found in the milk keeps teeth and bones strong and the iron in coconut milk creates red blood cells that carry oxygen throughout the body. Rich in antioxidants preventing free radical damage associated with a number of diseases and conditions such as: Alzheimer's disease, dementia, cancer and cardiovascular disease. The Lauric Acid (found naturally in Mother's milk) is also found in coconut milk. As a result, this Lauric acid may also provide many germ-fighting, anti-fungal and anti-viral properties that are excellent in freeing the body of a number of viruses and bacteria.
Honey
Honey is known as a natural source of carbohydrates that provide strength and works as a natural energy and immune system booster. It's also known as a powerful antioxidant and for its anti-bacterial properties. In ancient times, honey, an antiseptic, was used to treat infected wounds and to promote healing.
Cinnamon
High in nutrients (manganese, fiber, iron and calcium), Studies have shown that just ½ tsp. of cinnamon per day can lower LDL cholesterol and that cinnamon may have a regulatory effect on blood sugar, making it beneficial for people with Type 2 diabetes. In a study published by researchers at the US Department of Agriculture in Maryland, cinnamon reduced the proliferation of leukemia and lymphoma cancer cells. It also has an anti-clotting effect on the blood. When added to food, it inhibits bacterial growth and food spoilage, making it a natural food preservative.
Banana
This food is very low in Saturated Fat, Cholesterol and Sodium. It is also a good source of Dietary Fiber, Vitamin C, Potassium and Manganese, and a very good source of Vitamin B6. One serving contains half your daily requirement of vitamin C.
High in potassium and low in salt, bananas are officially recognized by the FDA as being able to lower blood pressure, and protect against heart attack and stroke. Eating bananas also aid in digestion and are considered a natural antacid.
Enjoy!
##
Google+