Sweet Potato & Cranberry Farro Salad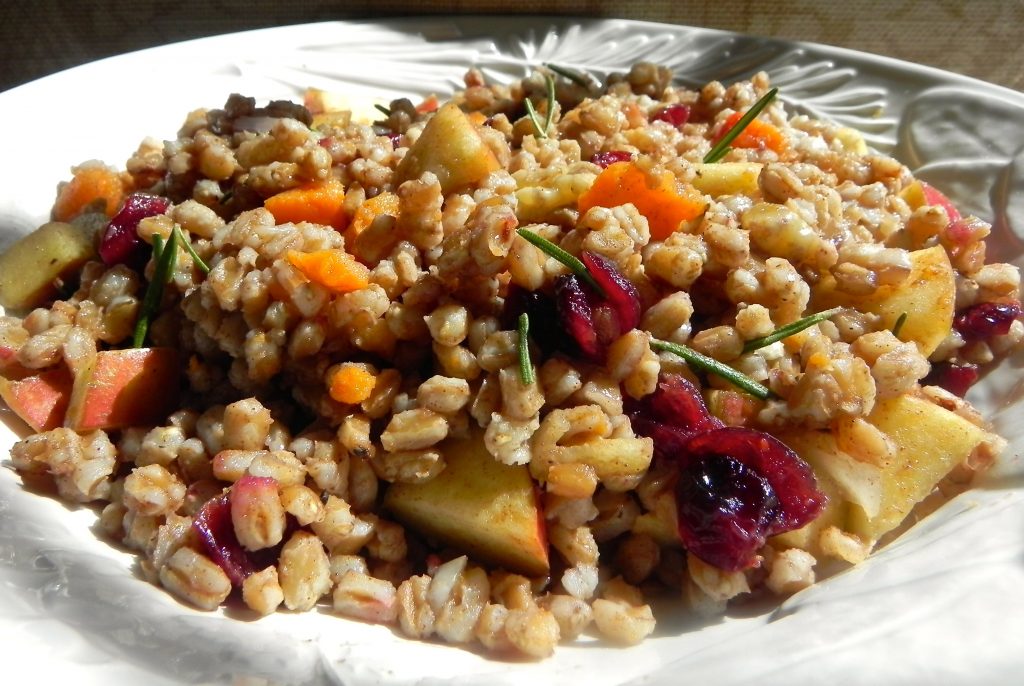 Farro is a delicious grain made of a the grains from different wheat species and has a delicious taste and a crunchy, nutty texture. It's often used in Italian cuisine and this recipe is great to serve as a side dish with grilled vegetables, fish, chicken, or turkey. At our house we also enjoy it for breakfast with eggs — or just a healthy snack! This dish is also fantastic to serve with Thanksgiving dinner!
This recipe can also be found in The Plumeria Café. To find out more about The Plumeria Café and Maryann's novel, "Lady in the Window," (SelectBooks, May 2017), visit: MaryannRidiniSpencer.com
Sweet Potato & Cranberry Farro Salad
Author:
Maryann Ridini Spencer
Ingredients
1 c. farro (cooked to package instructions)
1 c. Fuji apple, washed and diced (skin on)
½ freshly squeezed lemon
¼ c. red onion, diced
1 c. sweet potato, peeled, diced and cooked
¼ c. walnut pieces
½ c. dried orange cranberries
lemon pepper to taste
ground cinnamon spice to taste
fresh rosemary sprigs
1-2 T. organic honey to taste
Instructions
Cook farro to package instructions and place in a large bowl.
Add in apple, lemon juice, onion, sweet potato, walnuts, cranberries, lemon pepper, cinnamon, fresh rosemary sprigs and honey (all to taste). Serve hot or cold.
©2016,
SimplyDeliciousLiving.com/RidiniEntertainment.com
Google+