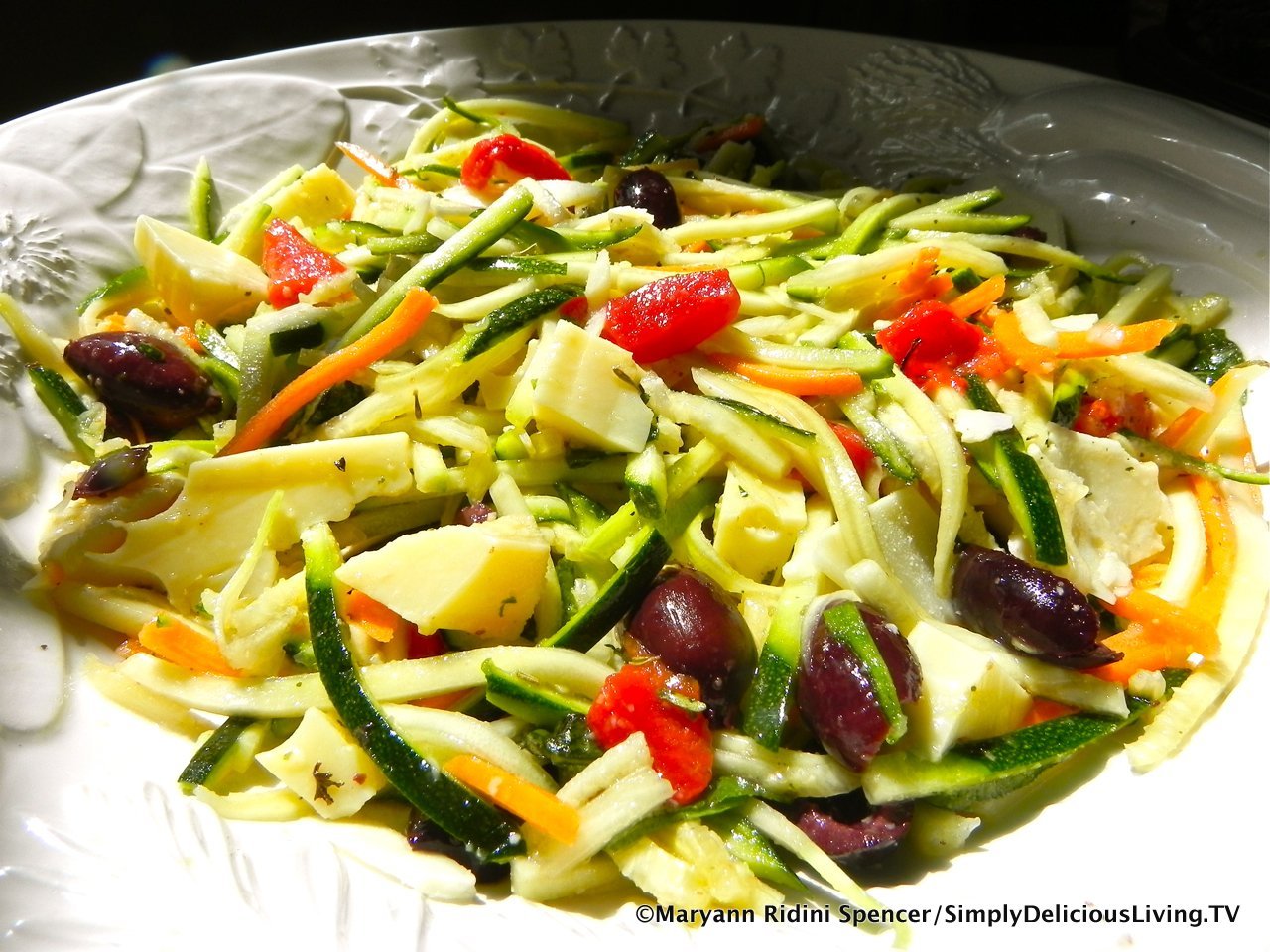 Zucchini Squash Salad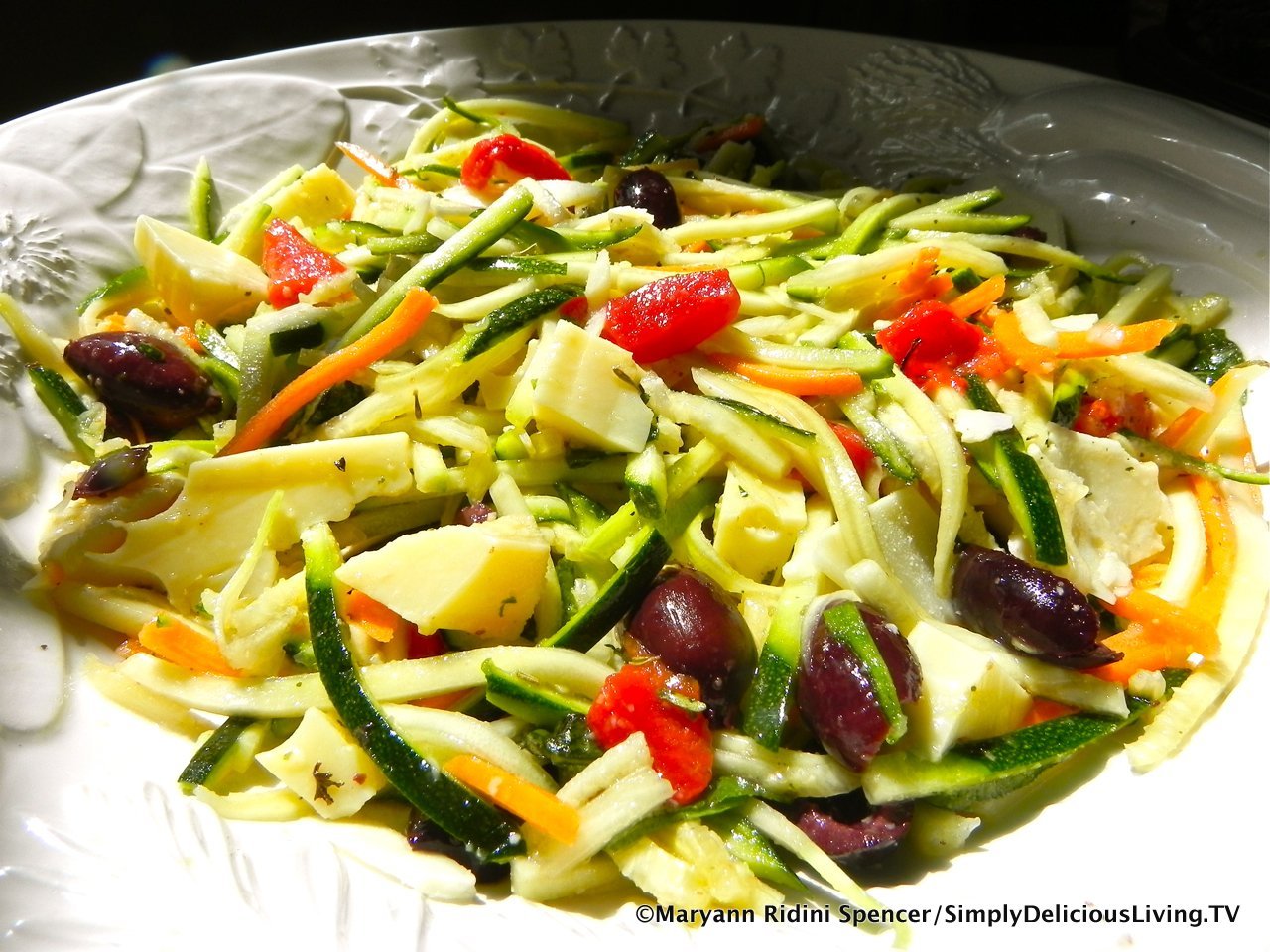 Zucchini Squash Salad
This is one of my favorite salads because the veggies are fresh, raw and oh so tender! For a COMPLETE MEAL IDEA, My family enjoys it with grilled fish, chicken or steak. A great side with this is a baked potato with a dollop of sour cream (or plain Greek yogurt, lemon juice and fresh chives!). This salad is also a fantastic compliment to any burger!

Zucchini Squash Salad
Author:
Maryann Ridini Spencer
Recipe type:
Salad and Veggie Side Dish
Ingredients
3 zucchini squash
4 carrots, shredded
6 fresh basil leaves, chopped
Greek olives (pitted) and sliced in half
fire roasted red peppers, diced
1 ½ c. Jarlsberg cheese, cut into small cubes
½ c. Parmesan/Romano cheese blend
freshly squeezed lemon juice (the juice of one lemon)
¼ c. distilled white vinegar (to taste)
½ c. extra virgin olive oil
1 T. Italian Seasoning
garlic powder (to taste)
garlic salt & pepper (to taste)
Instructions
Julienne zucchini squash on the Mandoline Slicer.
Julienne carrots on the Mandoline Slicer and/or use 1.5 c. pre-packaged, shredded carrots.
In a large bowl, add in Julienne zucchini, carrots, chopped basil, olives, fire roasted red peppers, Jarlsberg cheese, Parmesan/Romano cheese blend and mix.
In a separate bowl, add in vinegar, lemon juice, olive oil, a few shakes of the garlic powder, Italian seasoning, and garlic salt and pepper.
Pour the dressing over the salad and mix well.
Add more garlic powder, Italian seasoning, garlic salt and pepper to taste.
Notes
This salad goes great with a broiled white fish, salmon chicken or steak or as a side with a sandwich.
Equipment: OXO Good Grips Mandoline Slicer – it's very easy to use and has many capabilities!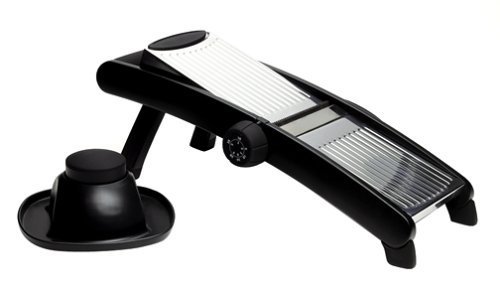 ©2013 — Maryann Ridini Spencer
LIKE Simply Delicious Living with Maryann® on Facebook, CLICK HERE.
SIGN UP for our FREE monthly newsletter – lots of great articles, cooking videos, decorating tips and body•mind•spirit inspirations!, CLICK HERE.
WATCH US on YouTube on your computer, on your mobile device or iphone at SimplyDelishLiving Channel (and/or Maryann Ridini Spencer)
WATCH Simply Delicious Living with Maryann® on PBS Television in Southern California and in First Run Television Syndication. For more information, visit: SimplyDeliciousLiving.TV and RidiniEntertainment.com
Google+