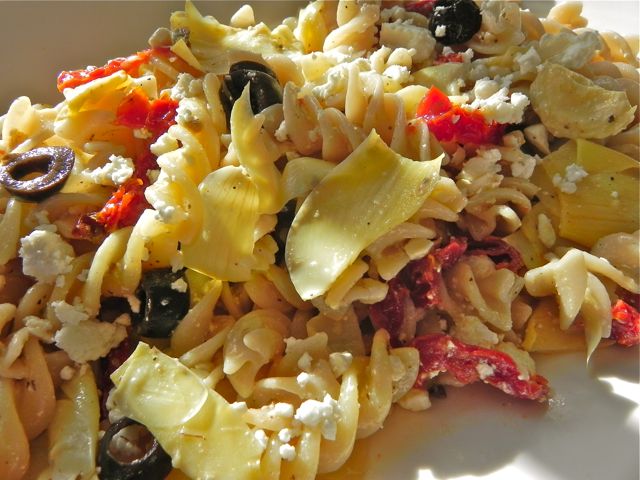 Artichoke, Feta and Sundried Tomato Salad
Artichoke, Feta and Sundried Tomato Salad
Author:
Maryann Ridini Spencer
Ingredients
2 c. whole wheat pasta (for a gluten-free option, use rice pasta)
¼ c. sliced olives
¾ c. artichoke hearts (in water or in oil)
¼ c. sundried tomatoes (in oil)
½ c. Feta cheese crumbles
3 T. fresh squeezed lemon juice
2 T. olive oil
Italian seasoning
lemon pepper
garlic salt
Instructions
Cook pasta per the directions on the packaging.
While the pasta is cooking, in a large bowl, add in olives, artichoke hearts, sundried tomatoes, feta cheese crumbles and set aside.
Once the pasta is cook and drained, pour into the large bowl with the olives, artichokes, etc.
Add in 2 T. olive oil and Italian seasoning, lemon pepper and garlic salt to taste.
Serve warm or cold.
Notes
This recipe is great as a side dish or salad with fish, chicken or by itself.
©2012 – Maryann Ridini Spencer
"Simply Delicious Living with Maryann®" is a FUN and Enchanting journey serving up simply delicious recipes and dedicated to all things home, hearth and joyous living!
Google+