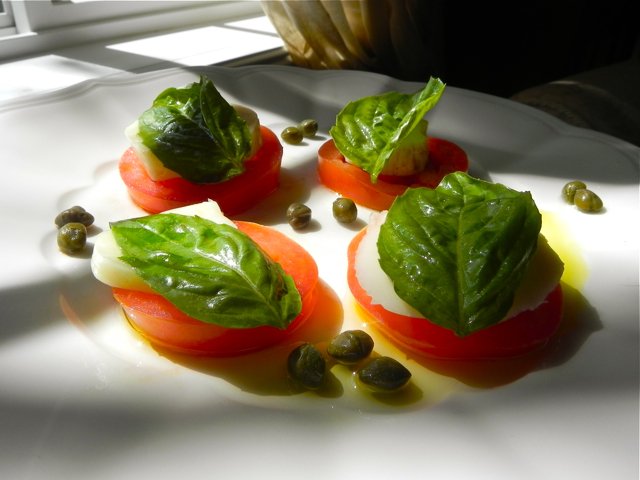 Caprese Salad
Caprese salad is a wonderful salad to with a meal and/or as an appetizer. I sometimes enjoy this dish with a rustic roll for a delicious lunch. The freshly squeezed lemon juice to the balsamic and olive oil adds a wonderful flavor. Enjoy! (To enjoy this recipe gluten-free, make it minus the balsamic!).
Caprese Salad
Author:
Maryann Ridini Spencer
Ingredients
4 Roma tomatoes, sliced into even rounds
16 fresh basil leaves
16 rounds of mozzarella (part skim or buffalo)
Garlic Gold® Oil or extra virgin olive oil
balsamic vinegar
freshly squeezed lemon juice
capers in vinegar (optional)
Instructions
Slice Roma tomatoes (approximately 4 circle slices each tomato).
Place 4 tomato slices on 4 individual plates.
Place mozzarella rounds on top of each tomato slice.
Place a fresh basil leaf on each tomato slice with mozzarella.
Drizzle oil, balsamic vinegar and freshly squeezed lemon juice over the top of each salad.
Spoon capers over the top for a tasty garnish.
Serve Immediately!
©2013 – Maryann Ridini Spencer
Watch Simply Delicious Living with Maryann® on PBS Television in Southern California, in First Run TV Syndication and/or right here on this blog!
Google+