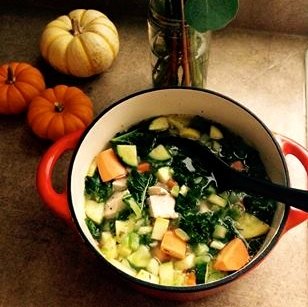 Curb Holiday Food Waste with Green Stew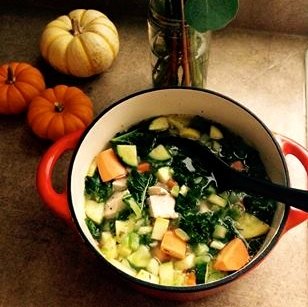 Many of you may know that in addition to Simply Delicious Living, and writing novels, I work as a lifestyle reporter. One of my beats is reporting environmental news (for print & TV). For this Sustainable Ventura News segment (BELOW), which focuses on holiday food waste prevention, I worked with City of Ventura Environmental News Specialist Tobie Mitchell. Tobie cooked up a fun recipe I developed from holiday leftovers adding in a few ingredients of her own (leftover kale and grains). The result — a simply delicious, hearty and nutritious soup that you can enjoy for lunch, dinner or a healthy snack! (Note: For a vegetarian "Green Stew" use vegetable stock and forgo the meat).

Green Stew
Author:
Maryann Ridini Spencer
Ingredients
8 c. chicken or vegetable broth (homemade stock can be made in the slow cooker with the turkey carcass)
2 carrots, diced
2 celery stalks, diced
1 onion, diced
3 garlic cloves, diced
1½ c. sweet potatoes, diced
1½ c. cubed squash
1½c. chopped kale
2 bay leafs
Italian spice seasoning blend
Himalayan sea salt
Extra virgin olive oil
Red chili pepper flakes (optional)
3 c. Leftover turkey or ham diced or shredded (optional)
1½ c. Leftover prepared rice or pasta noodles (optional)
Instructions
Drizzle extra virgin olive oil in a skillet over low heat on the stovetop and add in onions and garlic, celery, and carrots and sauté until slightly golden.
Place the broth, meat, other vegetables, and celery and onion mix, 2 bay leafs, Italian seasonings, and a few dashes of salt and pepper in a large pot*. Bring to a boil and simmer about 1.5 hours or so.
If adding prepared rice, noodles, and/or leafy vegetables, add these for the last 15 minutes of cooking.
Taste the soup and see if it might need more seasoning. For a little "kick" add in a dash of red chili pepper flakes to taste.
Notes
*To cook this stew in the slow cooker, combine ingredients in step 2 and cook on HIGH for three hours. Proceed with the remaining steps.
©2016,
SimplyDeliciousLiving.com/RidiniEntertainment.com
Watch Sustainable Ventura News at Ventura County Star online on the NEWS & LIFESTYLE pages (and also SEARCH "Sustainable Ventura" or "Maryann Ridini Spencer" at vcstar.com)
Sustainable Ventura TV News is reported by Maryann Ridini Spencer and airs on Caps-TV VTV's Channel 15. For more about the televised schedule on CAPS-TV's Channel 15, visit: Caps Media TV Schedule
Also visit: SustainableVentura.TV and MaryannRidiniSpencer.com
Google+