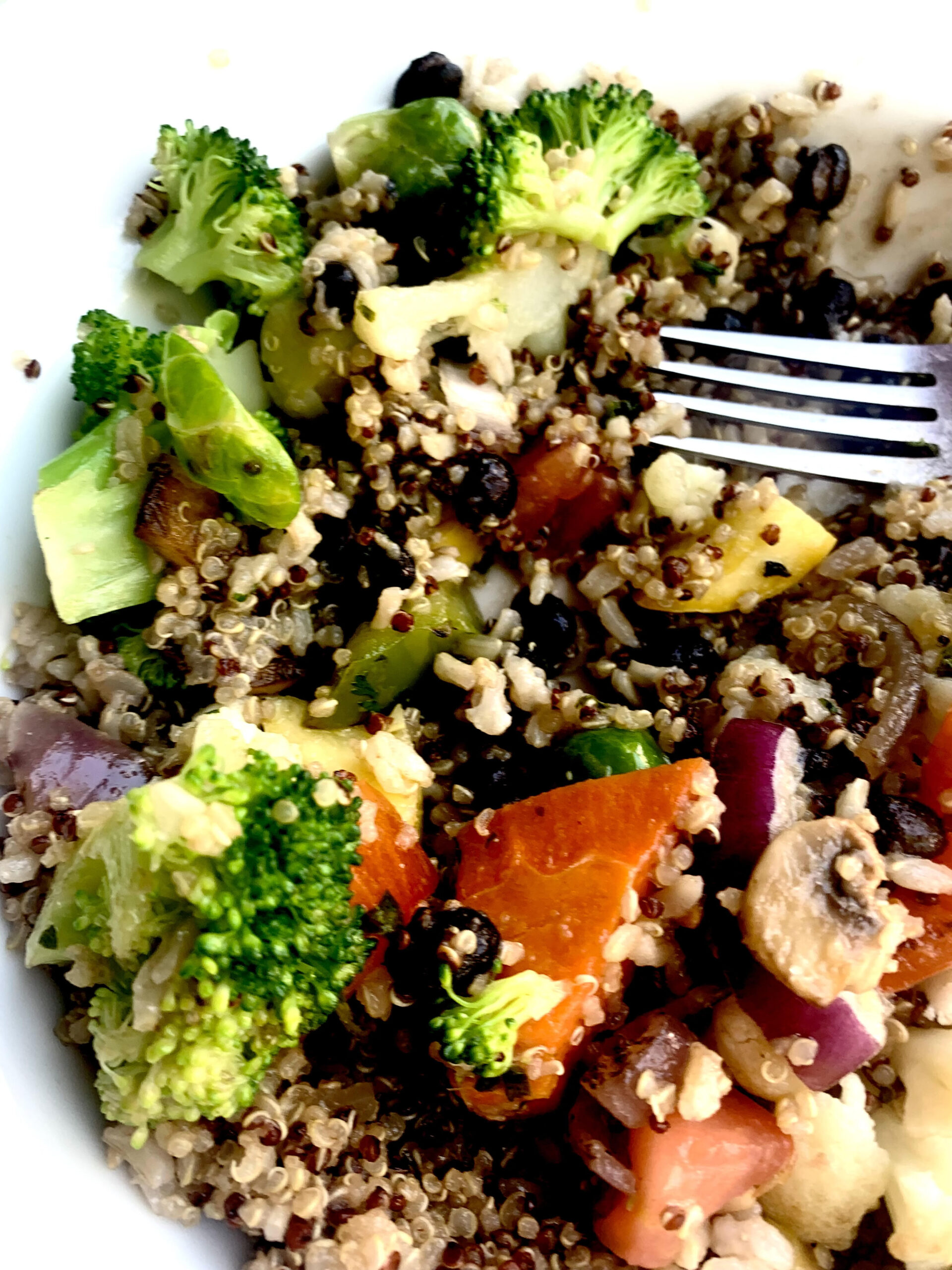 Veggies & Pesto Quinoa
During a recent patio lunch with friends, I fell in love with sautéed veggies over quinoa. So the next day, I recreated the dish my way and topped it with an ingredient that took over the top — fresh pesto. The result was super yummy. What's more, this healthy dish, packed with protein from greens, quinoa & black beans, will leave you feeling so satisfied.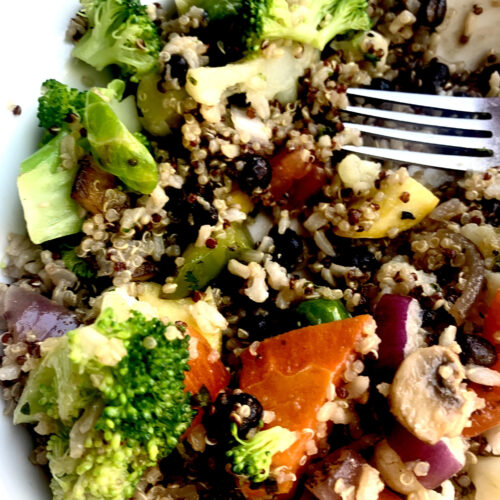 Veggies & Pesto Quinoa
Ingredients
Sauté

Quinoa cooked to package instructions

1/4

c.

onions, diced

1.5

c.

kale, chopped

1/2

c.

carrots, shredded

1.5

c.

frozen (or fresh)veggie mix (broccoli, squash, string bean, or another to your taste)

1/2

c.

black beans

1/2

tsp.

garlic powder

1/4

tsp.

garlic salt

1/4

tsp.

chipotle seasoning (to taste)

Pesto

1

T.

extra virgin olive oil ( 1 T. for saute, 1/4 c. for pesto)

3-4

garlic cloves, diced

3

c.

fresh basil

1/2

c.

vegan Mozzarella cheese

1/4

c.

lemon juice, freshly squeezed

1/4

c.

walnuts (or walnut and pistachio mix)
Instructions
Sauté

In a skillet on the stovetop over low heat, add in a tablespoon of oil.

Add in onions, cook until translucent.

Add in the rest of the veggies.

Add in the seasonings and Worcestershire sauce to taste.

Pesto Preparation

Add all ingredients into a Cuisinart and blend well.

Do a taste test. If you prefer to add in salt, add in adash.

Plate

Place a generous portion of cooked quinoa on a plate.

Add veggie sauté.

Top with a tablespoon of pesto.
Google+