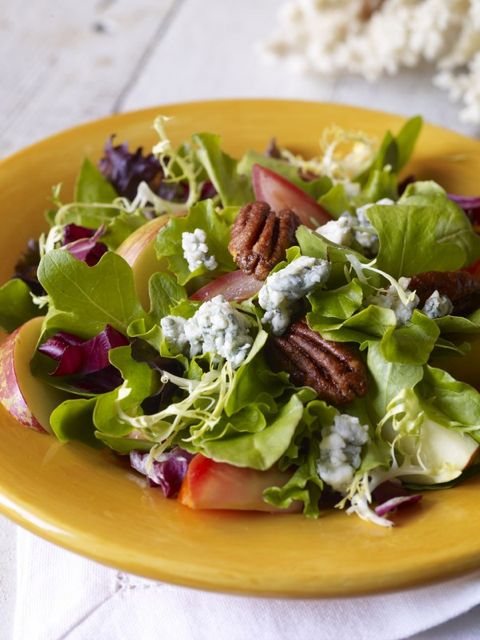 Walnut Blue Salad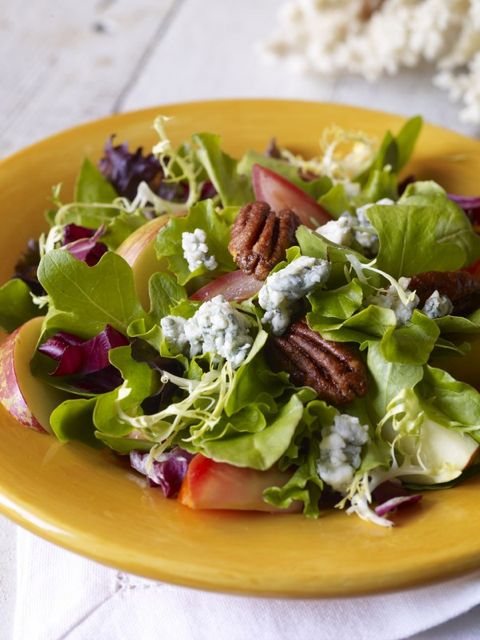 This delicious, tasty salad is a perfect compliment to any chicken, meat or fish dinner. I make it with apples and/or pears. You can also enjoy it for lunch with a sandwich or some hard boiled eggs. Enjoy!

Walnut Blue Salad
Author:
Maryann Ridini Spencer
Ingredients
4 c. mixed Greens (romaine, arugula, radicchio & other)
1 c. Blue cheese crumbles
1.5 c. sliced Apples (Brae Burn, Fuji, Honeycrisp or other sweet apple)
1 cup. candied Walnuts (and/or candied Pecans)
2 Roma Tomatoes, sliced
Garlic salt & pepper to taste
Instructions
In a bowl, add in sliced apples, candied pecans, Roma tomatoes, mixed lettuce and blue cheese.
Mix well.
Pour salad dressing (below) over top of salad, mix well. Add in garlic salt and pepper to taste.
Raspberry Vinaigrette
Author:
Maryann Ridini Spencer
Recipe type:
Salad Dressing
Ingredients
1 T. Dijon Mustard
½ tsp Salt
1 Garlic clove, diced
1 tsp Sugar
½ tsp Pepper
½ c. Olive oil
4 T. of raspberry wine vinegar
2 T. of chives or chopped scallions
Instructions
Whisk all ingredients together in a bowl.
Slowly dribble in olive oil (taste testing as you go).
Drizzle vinaigrette mixture over salad mixture.
Mix & again, tasting as you go!
Dish out 4 individual salad servings on pretty plates.
Serve Immediately!
©2011 – Maryann Ridini Spencer
"Simply Delicious Living with Maryann®" is a FUN and Enchanting journey serving up simply delicious recipes and dedicated to all things home, hearth and joyous living!
Watch the show on Time Warner Cable ON DEMAND® throughout Southern California (approximately 1.8 million digital subscribers). With your remote, Go to ON DEMAND, FIND IT ON DEMAND, COOKING & DINING and scroll to the SIMPLY DELICIOUS tab. In Ventura, the show can also be seen on CAPS-TV, Mondays, 8:00pm with rebroadcasts weekly.
To watch the show Online and PRINT OUT the RECIPES, visit our RECIPE & VIDEO blog at: http://www.SimplyDeliciousLiving.tv
Read the SIMPLY DELICIOUS LIVING Monthly SYNDICATED COLUMN in Natural Awakenings Magazine and in the Ventura County Star, "VC Style" at http://blogs.venturacountystar.com/vcstyle
Google+