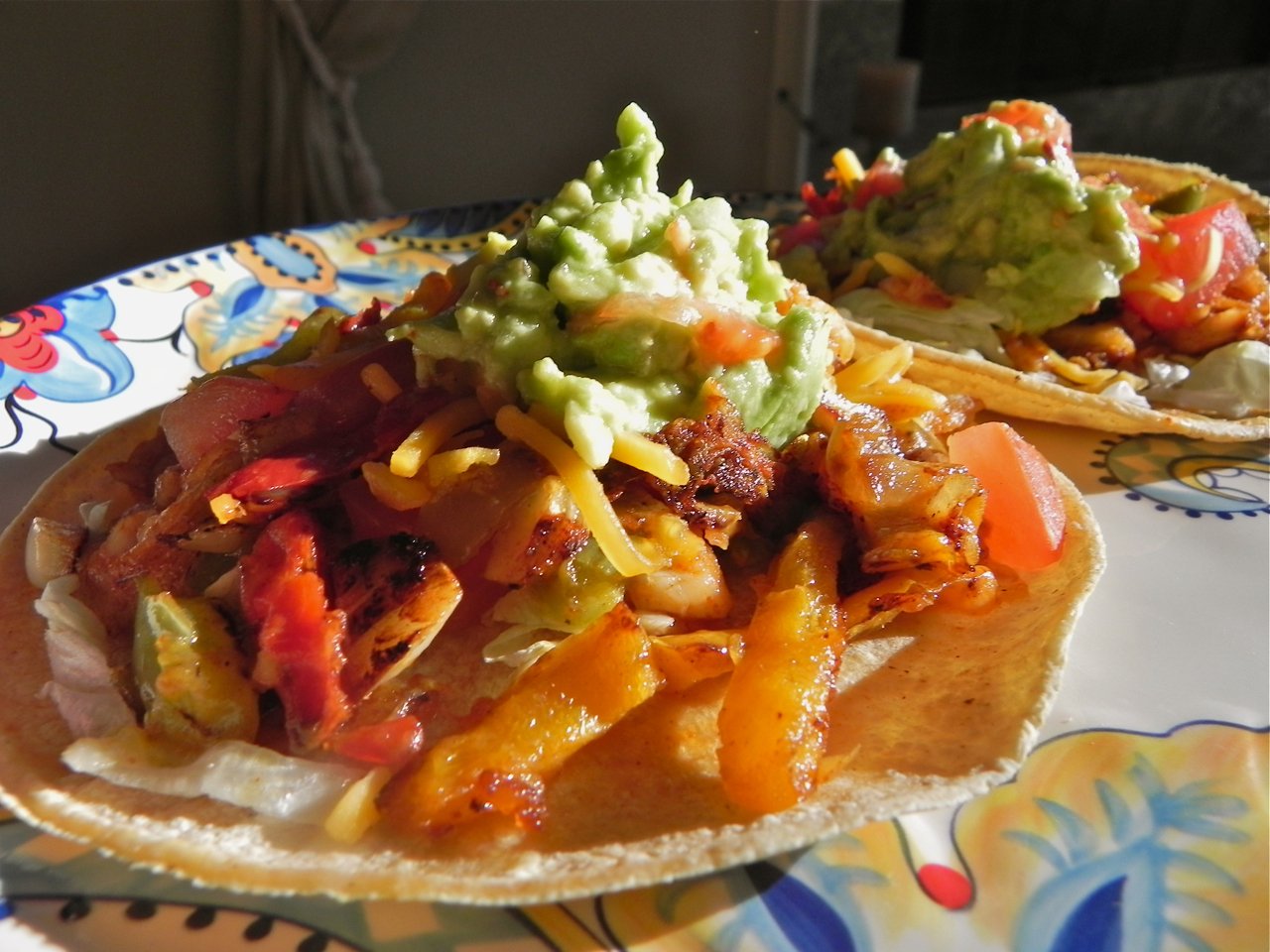 Fish Tacos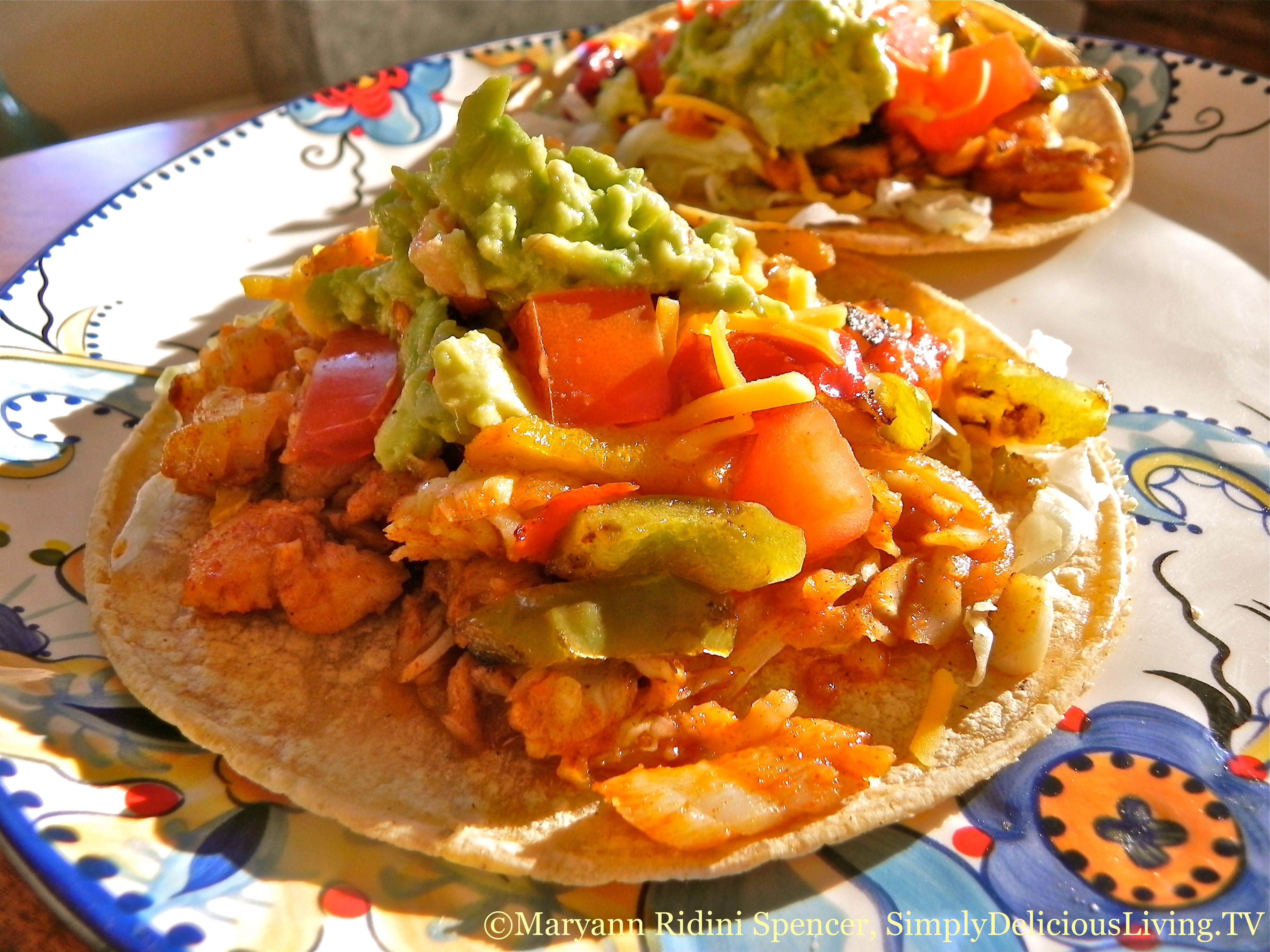 When I'm craving comfort food – and I want something delicious, but that something that won't make me feel guilty, I cook up this fish taco recipe. It's an easy-to-make meal, made with fresh and natural ingredients that you can whip up in under 20 minutes! Great for Cinco de Mayo (Sunday, May 5) and every day!
Fish Tacos
Author:
Maryann Ridini Spencer
Ingredients
2 tilapia fillets
½ package of McCormick Taco Seasoning Mix to taste (For a gluten-free option do not use seasoning mix. (Use only a recipe of: Red Chili Pepper flakes, a dash of paprika, a dash of onion powder, garlic salt and pepper to taste).
1 small onion, diced
1 green pepper, diced
1 red pepper, diced
4 garlic cloves, diced
2 Roma tomatoes, diced
sharp cheddar cheese, shredded
2 c. shredded lettuce (or shredded cabbage)
garlic salt and pepper to taste
coconut oil or extra virgin olive oil
4-5 corn tortillas
Maryann's Chunky Guacamole recipe
Instructions
In a skillet on the stove top, cook tilapia fillets in coconut oil about 5-8 minutes until done.
Remove fish from skillet and place in a large bowl.
Break apart the fillets with a fork so that the fish is in tiny chunks. Set aside. Clean the skillet.
Place skillet on the stovetop with 1 T. coconut oil.
Add in onion, garlic, peppers, garlic salt and pepper to taste.
Cook until onions and peppers are soft and slightly golden.
While onion and pepper mixture is cooking, stir occasionally.
Shred cheddar cheese and place on a large dish.
Dice tomatoes and place on the dish next to the cheese.
Shred lettuce and place next to lettuce and cheese.
When onion and pepper mixture is cooked, put mixture into a pretty bowl by itself. Serve with warm corn tortillas and build your own tacos! Get my Chunky Guacamole recipe!
©2013 — Maryann Ridini Spencer
For a pretty Cinco de Mayo table, try something like this: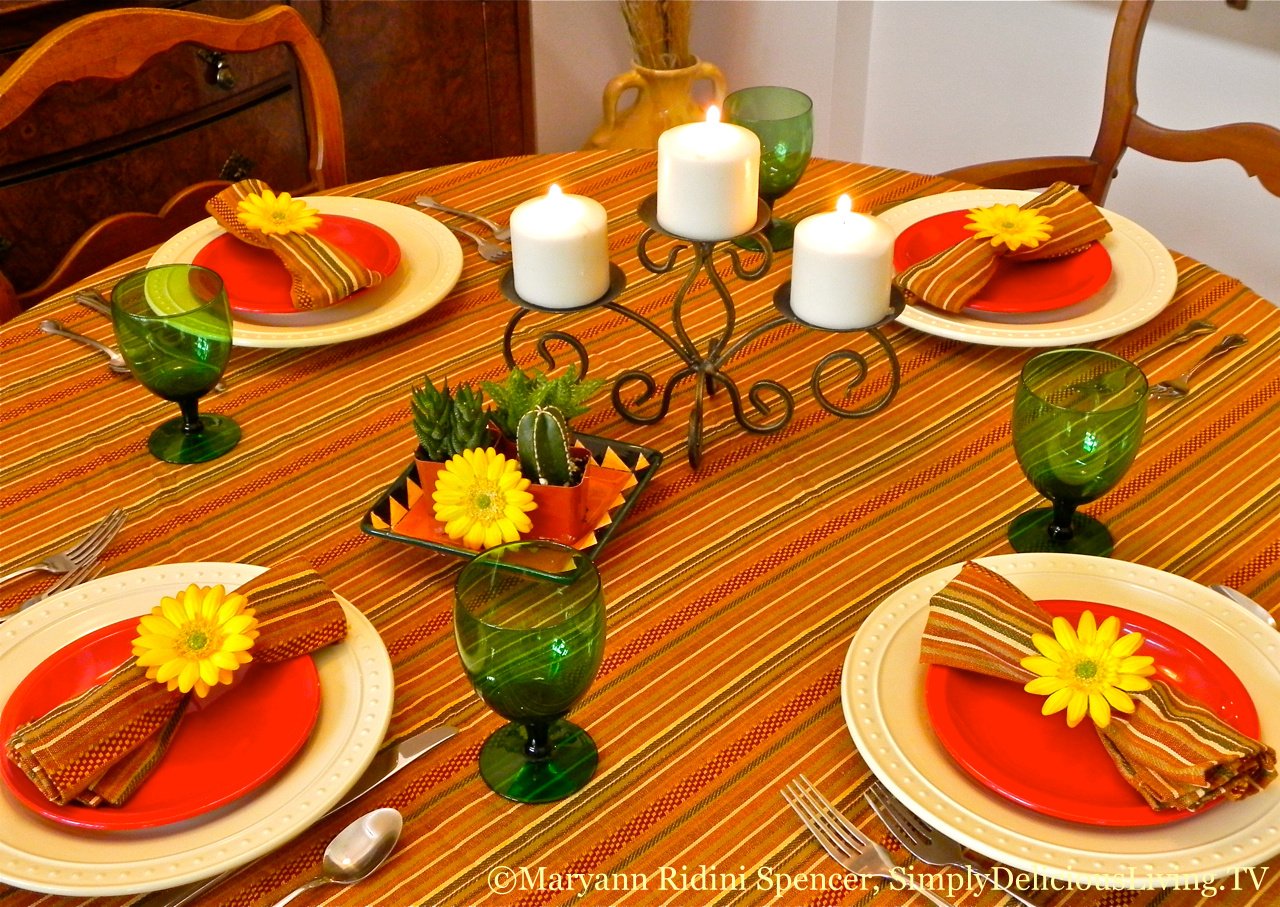 •Pull out a striped table cloth (with matching or vibrant colored napkins).
•Mix and match plates (biege with orange, yellow, green or red).
•Pair place settings with green, gold or red goblets or glasses.
•For a fun place setting visit your local nursery and put some succulents together with cactus. At Michael's I found a faux flower that I placed in the middle of this centerpiece!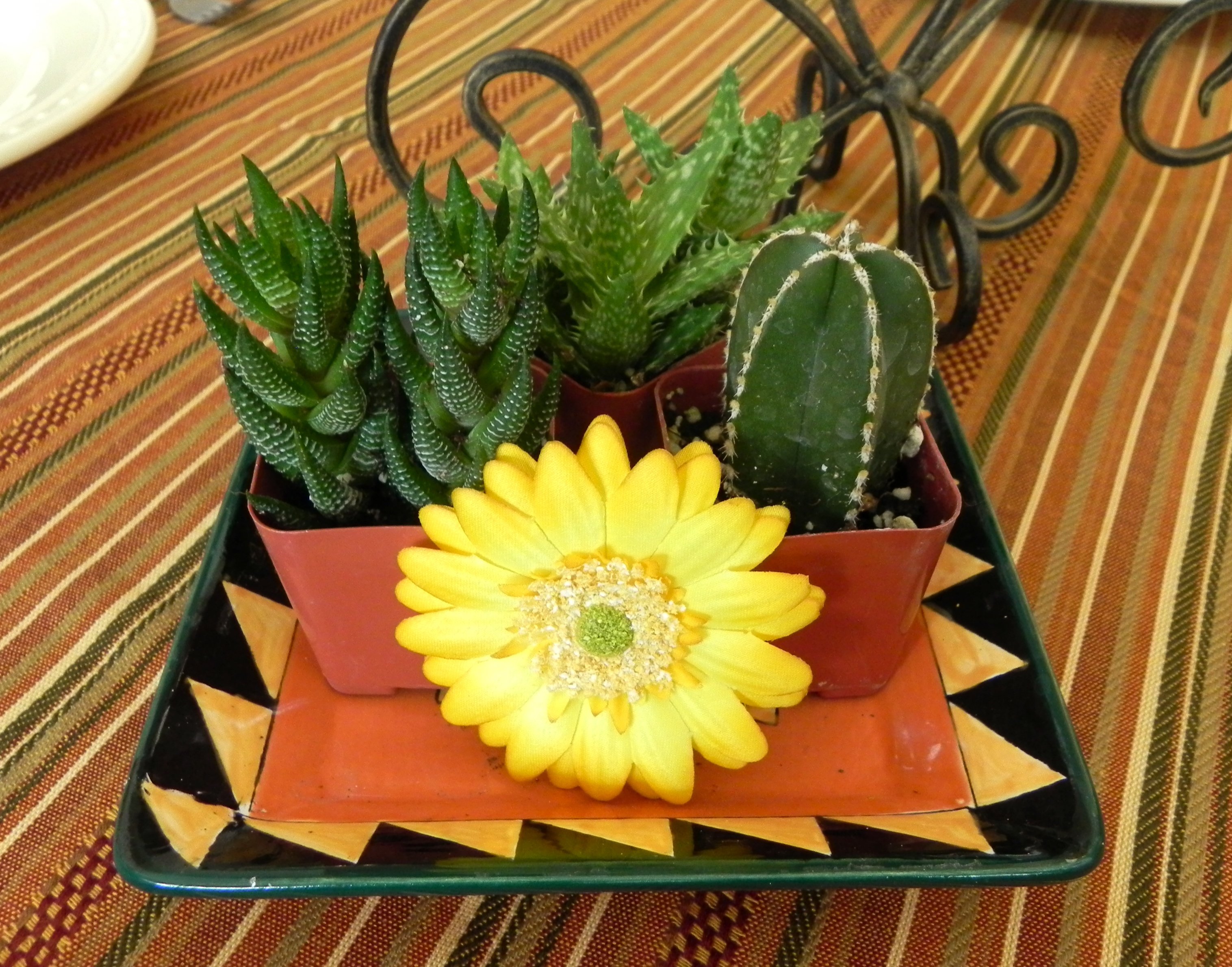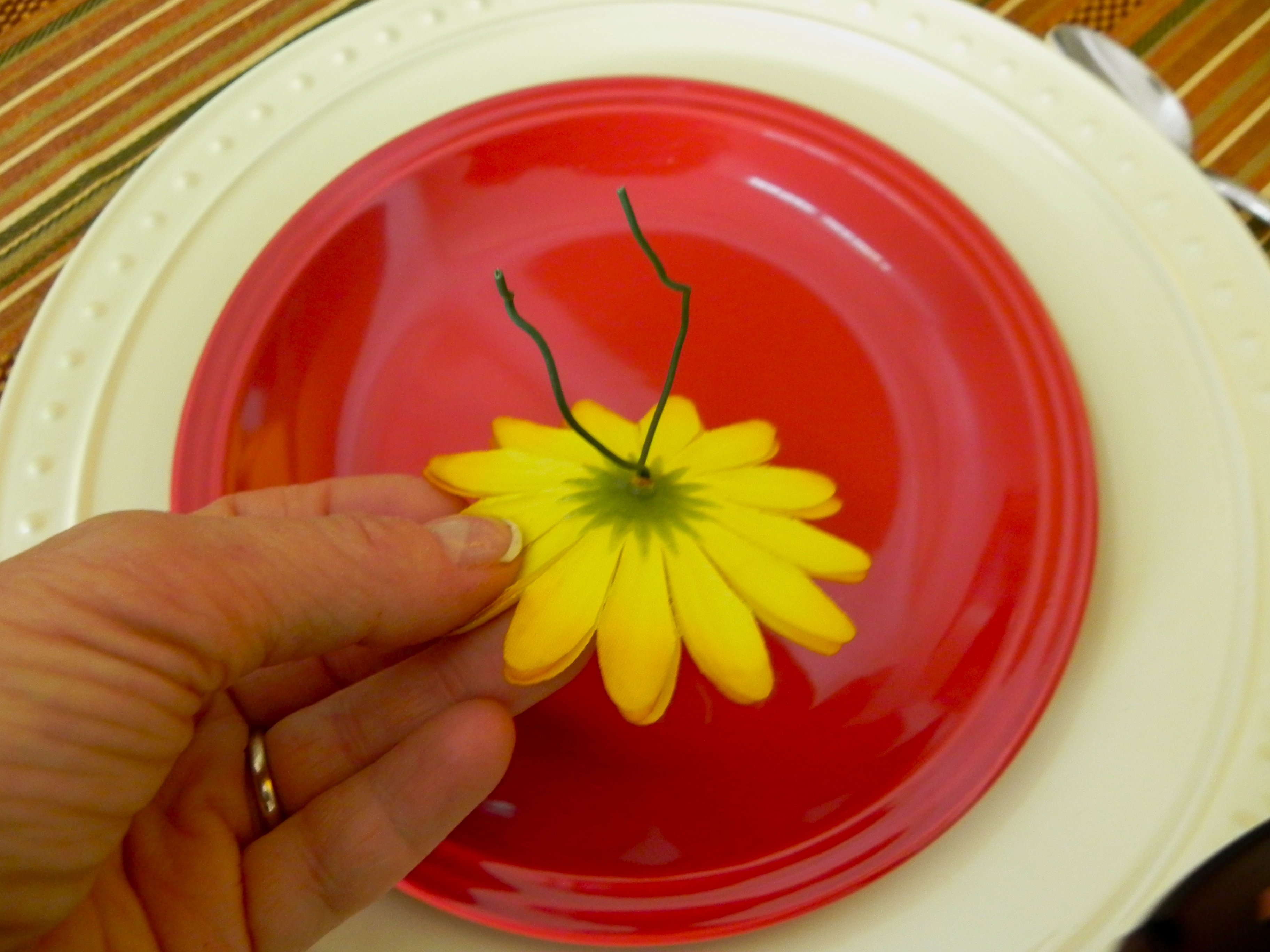 Have fun and GET CREATIVE. ENJOY!
Watch Simply Delicious Living with Maryann® on PBS Television in Southern California and in First Run Television Syndication. For more information, visit: SimplyDeliciousLiving.TV and RidiniEntertainment.com
###
Google+